Carl Paladino Makes Racist Comments Targeting President And First Lady In 2017 "Wishlist"
His comments include wishing President Obama dies from mad cow disease and that the First Lady "return to being a male."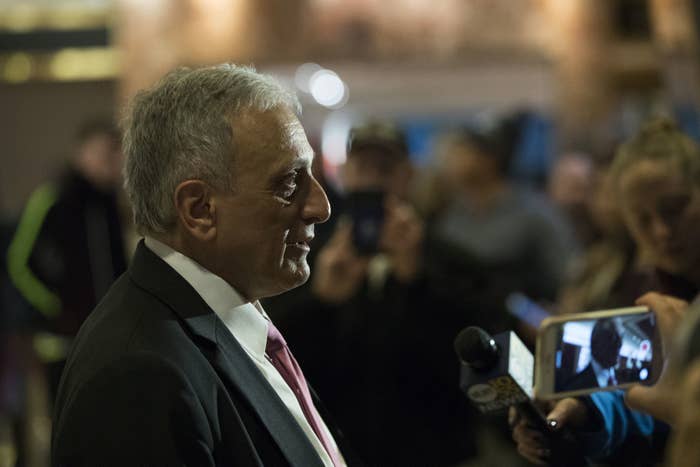 President-elect Donald Trump's New York campaign co-chair, Carl Paladino, said that his wish list for 2017 includes President Barack Obama dying from mad cow disease and First Lady Michelle Obama returning "to being a male" and going to live in Africa with a gorilla.
Paladino's comments were published by Buffalo, NY alternative weekly newspaper Art Voice on Friday in response to a set of questions posed to local politicians and business owners.
In response to what he would like most to happen in 2017, Paladino responded he would like that "Obama catches mad cow disease after being caught having relations with a Herford. He dies before his trial and is buried in a cow pasture next to Valerie Jarret, who died weeks prior, after being convicted of sedition and treason, when a Jihady cell mate mistook her for being a nice person and decapitated her."
In addition to targeting the president and Jarrett, a senior adviser and friend to Obama, Paladino responded that he would like the first lady to be what goes away in 2017.
"I'd like her to return to being a male and let loose in the outback of Zimbabwe where she lives comfortably in a cave with Maxie, the gorilla," Paladino's response said.
The Trump transition team provided a statement to news outlets including BuzzFeed News that distanced the president-elect from the comments Paladino made.
"Carl's comments are absolutely reprehensible, and they serve no place in our public discourse," the transition team's statement said.
Paladino has confirmed to news outlets he made the comments and denied that the comments were racist in a statement he sent to the Washington Post.
"It's about 2 progressive elitist ingrates who have hated their country so badly and destroyed its fabric in so many respects in 8 years," he said.
Paladino, who has requested that photos of the president-elect be hung in Buffalo schools, also confirmed that he is involved in Trump's transition to the White House.
"I don't think Mr. Trump particularly cares what I have to say," Paladino told the Post. "He knows me. I was active with him, and I still am active with him."
Paladino, a Buffalo businessman who has a history of making controversial statements, once unsuccessfully ran for governor of New York. But his comments drew the ire of the current governor of New York.
In a tweet, Gov. Andrew Cuomo condemned Paladino's comments as "racist" and "ugly."
"Paladino has a long history of racist and incendiary comments. While most New Yorkers know Mr. Paladino is not to be taken seriously, as his erratic behavior defies any rational analysis and he has no credibility, his words are still jarring," read part of Cuomo's statement. "His remarks do not reflect the sentiments or opinions of any real New Yorker and he has embarrassed the good people of the state with his latest hate-filled rage."
Some of his fellow Western New Yorkers also spoke out against his comments.
"Mr. Paladino has done this in the past, so that was not surprising whatsoever. What was surprising, though, were the direct attacks on the president and on first lady in such demeaning ways, in such tone that many have described as 'racist' and as 'sexist'," said Barbara Seals Nevergold, president of the Buffalo Public Scools Board of Education (on which Paladino also serves), in a video posted to Twitter.

Editor of the Investigative Post Jim Heaney, in the same article where Paladino made his racist comments, said that Paladino is what he'd like to see go away in 2017.
"Carl Paladino. Enough, already," he wrote.
However, Jeff Mucciarelli, co-owner of Buffalo's 31 Club, said he'd like to see Paladino run for mayor in the upcoming year.
Paladino did not respond to a request for comment.