Bernie Sanders Returns To Washington — And Is Trying To Bring His Revolution With Him
The Vermont senator returned to the Capitol this week with a raised national profile and a powerful base of supporters.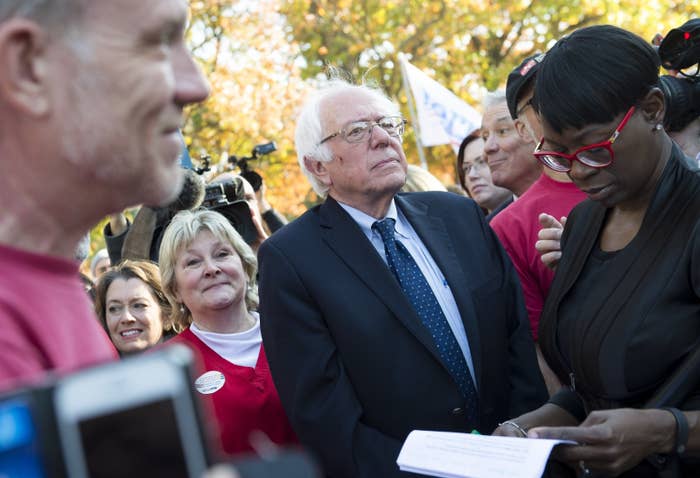 WASHINGTON — Sen. Bernie Sanders returned to Capitol Hill from his run for the White House with the gleam of a celebrity.
His campaign raised his national profile, and the independent from Vermont spent some time this week with some of his most fervent supporters — and quite a few said they'd like to see him make another run at the White House in 2020.
"Being 71 and having the kind of energy and health I have, I don't believe in saying anybody's too old to do anything," said Libby Deroo, 71, from New York. "Age has nothing to do with it. It's your mindset, your frame of mind."
Sanders would be 79 by the time Election Day 2020 comes around and would have to get through (a likely easy) reelection in 2018. The enthusiasm for his ideas — and his candidacy — would need to endure another four years. Sanders says for now he's focused on his work in the Senate but told the Associated Press he wasn't "ruling out anything."

Sanders made his first post-election rally appearance on Thursday near the Capitol at a National Nurses United rally. It wasn't the crowd he was used to seeing on the trail but hundreds excitedly gathered to hear his remarks, that sounded remarkably similar to a campaign speech. And the event was far from a funeral for the hopes of Democrats and other progressives: the mood was celebratory, specifically over the defeat of the Trans-Pacific Partnership.
"I keep thinking we should send Bernie Sanders lots of vitamins and tell him to get his rest and exercise, but, you know, if nothing else, I think he will be a huge influence in who runs," said Danielle Meitiv, 47, from Maryland.
Even without a 2020 run, it is clear Sanders' voice has been amplified, and Democrats know it.
Sanders was included in the new Senate leadership team, but it is still unclear how much influence he will have there. A senate Democratic aide said he was given a spot at the table because Sanders was able to speak to a lot of the "very real" political angst people were feeling.
Because there is no party registration in Vermont, Sanders never had to switch from being an Independent despite running for president as a Democrat. His aides say that since Sanders had been elected as an Independent by his constituents, he plans to finish his term out as an Independent. And though he will continue to caucus with the Democratic minority, Sanders has made clear in recent days that he'll continue to be critical of the party where he sees fit.
"If we are going to go forward successfully, the Democratic party has got to recognize some very important realities that Donald Trump in fact did recognize," Sanders said at the rally. "And that is, yes, we are better off today economically than we were eight years ago, we made a lot of progress in a lot of areas. But. But. There are millions of people today, working class people, middle-class people, low-income people, who are living in despair, and we have got to recognize that."

Sanders is also trying to play a role in shaping the Democratic National Committee, endorsing progressive Rep. Keith Ellison for chair. It was Sanders after all, who claimed that the committee had unfairly favored Clinton in the presidential primary and when hacked emails showed officials were indeed hostile to Sanders. Congresswoman Debbie Wasserman Schultz abruptly stepped down as chairwoman following the release of the emails.
Sanders is now trying to position himself as something of a compass for a Democratic party trying to rebuild — while taking a bit of an "I told you so attitude." In his new book, Our Revolution: A Future to Believe In, Sanders goes back further to the 2014 election and questioned whether Democrats would hear the wake-up call then they were receiving to get "ordinary people" excited and involved, especially as millions of workers were "falling further and further behind."
Sanders has also now pledged to work with President-elect Donald Trump if Trump "has the guts to stand up" to corporations, echoing a message from other Democrats like Elizabeth Warren. But on issues like climate change, he's promised to fight Trump.
It's still an open question in Washington just how much of an effect Sanders will have on the caucus .
"He is who he is. He is going to be a thorn on the side of the Trump administration just like he would have been a thorn in the side of a Clinton administration," Jim Manley, a former top aide to Sen. Harry Reid, told BuzzFeed News. "He's got his views, and they resonated very well on the campaign trail, at least with certain groups, but the question still is how much of an effect it's going to have in the Senate. His colleagues accept him as a fellow Democrat, but the question is how much he's going to get them on board with what he's trying to do."