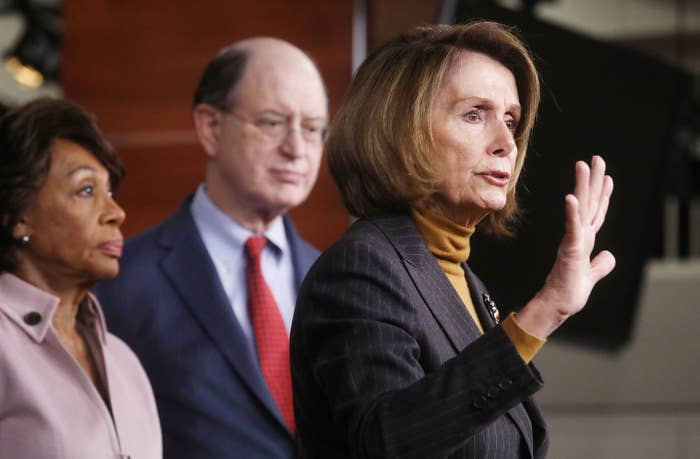 WASHINGTON — House Democrats have a lot to say about President Donald Trump's administration, but they are not ready to use the I-word — at least, not yet.
While their voter base has spent the lion's share of Trump's young administration protesting and pushing to boot him from the White House, House Democrats say they're not ready to talk about impeachment.
"I don't think we ought to be talking about that right now," said Virginia Rep. Gerry Connolly. "Impeachment is a last resort, not your first resort. We need to pursue this where it takes us, but I think we're way too early in the game to be talking about that, even talking about it. I reject talk of that. … It's not useful for Democrats."

Even as Leader Nancy Pelosi has questioned "the consistently dangerous and incompetent conduct of the Trump administration" following the resignation of Gen. Michael Flynn as national security adviser, she and other House Democrats have shied away from a question about whether they thought fallout could lead to impeachment.

"We're not here to talk about that. We're here to talk about accountability to the American people. We're talking about truth and consequences," Pelosi said at a press conference this week, where she was joined by the ranking members of several committees. "Impeachment [is] about another subject. It's about whether the president has broken the law. That's not what we're talking about here."
While Democrats are holding their fire for now and pursuing several investigations into the administration, they're at odds with a voter base that is all for impeachment. The hashtag "Trump Impeachment Party" went viral this week.
Jim Manley, a longtime aide to former Senate Majority Leader Harry Reid, said that Democrats in Congress are right to skirt the subject of impeachment, particularly at this early stage. "I would suggest to House and Senate Democrats to keep their powder dry until we see how this all plays out," he said.

Still, as Democrats have avoided the question of impeachment, they have been plenty comfortable making allusions to the Watergate scandal, which resulted in President Richard Nixon's resignation. Congressional Democrats, including New York Rep. Joe Crowley to Maryland Rep. Elijah Cummings — both high-ranking members — have repeatedly echoed former Sen. Howard Baker's famous question, "what did the president know, and when did he know it?" in recent days.
"I think the Howard Baker Watergate term is an excellent term to be applied to a similar circumstance which currently exists. That's why you're hearing it repeated… If there is an analogy to be made, so be it," Democratic Whip Steny Hoyer told reporters this week when asked about Democrats' repeated use of the language.
While Democrats are hesitant to get ahead of themselves with the mention of impeachment, they also hesitate to rule it out completely. Many say that they will wait to see what comes of all of the investigations in the works into the Trump administration's actions and its ties to Russia.
"I think it's premature right now to talk about those things, but, you know, we're trying to get to the bottom of everything. Let's see what the future will tell us," said New York Rep. Eliot Engel when asked by BuzzFeed News if he thought it was too early to bring the subject up. "I think we just have to see where the facts take us before we start talking about what might or might not happen down the road."

Notably, Reps. Maxine Waters of California and Joaquin Castro of Texas have mentioned that it may be necessary to pursue impeachment, if the circumstances line up. Waters has previously said that Trump is leading himself into impeachment.
"You don't impeach people for no reason," Waters told BuzzFeed News, drawing a line. "The facts have to be there."
Castro's main battle with Trump has been over his controversial travel ban. Castro called for an investigation from the Justice Department to see if the administration violated court orders related to the ban and brought up the possibility of impeachment.
"If it's determined that the president directed the federal agencies to disobey the judiciary, then I will file a resolution of censure. If the president does it again on that issue or another issue, then we will seek to remove him from office," Castro told BuzzFeed News.
Since Democrats are in the minority, it is difficult for them to accomplish much without cooperation from Republicans, but at some point, whether they make a push for impeachment could become a major political question for the party.
Public Policy Polling, a Democratic polling firm, found that three weeks into Trump's administration, voters were split on whether they would like to see Trump impeached, with a steady increase in support of impeachment since his inauguration.
"Part of the reluctance is that nobody runs for office and comes to Congress to impeach a president," Castro said about Democrats' unwillingness to say they will seek to impeach Trump. "It's very historically significant, and everyone understands that."
When asked whether he thought that would change, especially as the next election nears, Castro said, "I hope not."
But to some, Democrats concerns about the next election are irrelevant.
"I think impeachment is not something that's decided by time or, you know, antiquity or, you know, how long something's been sitting on a shelf," Arizona Rep. Ruben Gallego told reporters earlier this month when asked about Castro's early mention of the word impeach. "It's decided by violations of the Articles of Impeachment in the Constitution."