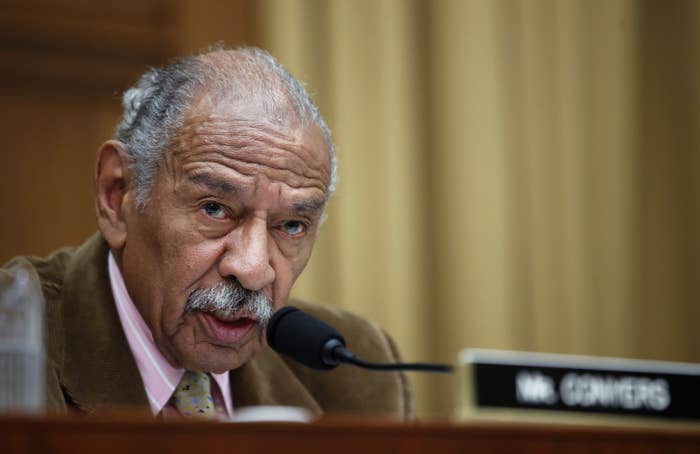 An attorney for Rep. John Conyers said the Michigan congressman will not resign from Congress, despite multiple sexual harassment claims that have surfaced this week.

"At this point we have to say enough is enough. Mr. Conyers, the congressman, my client, is not going to bow down to political pressure to step down, resign, step aside," Conyers' attorney, Arnold Reed, told BuzzFeed News. He added that Conyers denies the allegations.
Asked if Conyers would take any legal action in light of revelations of the sexual harassment allegations that have been made against him (including one that had been settled with a confidentiality agreement), Reed said, "absolutely not."

"There's no legal action for Mr. Conyers to seek."
On Wednesday, Rep. Gregory Meeks told CNN that Conyers should step down from his post as ranking member on the powerful judiciary committee while the allegations are investigated. Reed told BuzzFeed News that would not happen.
"There will be no change. He will not bow down to opportunistic pressure being put on him from individuals to do that," he said.

Before speaking with BuzzFeed News, Reed spoke with CNN and told the outlet that "if everybody that was facing 'allegations' — including the president, members of the House and Senate — resigned, we'd have a lot of unemployed people walking around."
The allegations against Conyers surfaced Monday in a BuzzFeed News report, which drew on court documents indicating the congressman repeatedly made sexual advances to female staff members. The documents also showed that Conyers settled a complaint in 2015 with a former employee who alleged she was fired because she would not "succumb to [his] sexual advances." As part of the settlement, Conyers did not admit fault. After BuzzFeed News published its investigation, Conyers confirmed the 2015 settlement, but denied the sexual harassment allegations.
The documents, which include four affidavits from former staffers, show that Conyers temporarily returned the employee at the center of the complaint to his office's taxpayer-funded payroll for her to receive more than $27,000 in a hushed settlement.

The House Ethics Committee opened its own probe in Conyers' behavior and the secret settlement, following BuzzFeed News' reporting. And several members of the House, including House Speaker Paul Ryan and House Minority Leader Nancy Pelosi, called on the Ethics Committee to get to the bottom of the allegations and called for Congress to review how it handles cases of harassment on Capitol Hill.
On Tuesday, BuzzFeed News reported that another former staffer alleged sexual harassment and a hostile environment in Conyers' office, citing public court documents. The woman had sought to file a lawsuit against Conyers and two of his employees for harassment and retaliation, but abandoned the case after her request to keep it sealed was denied. Melanie Sloan, an ethics lawyer in Washington, DC, alleged Wednesday to the Washington Post that Conyers was "inappropriate and abusive" when she worked for him on the House Judiciary Committee.
"Mr. Conyers is going to have a press conference where he's going to address some of these allegations that have been raised against him," Reed said. "He's not going to run and cower from these allegations. Mr. Conyers will address the public after the holiday about these allegations."