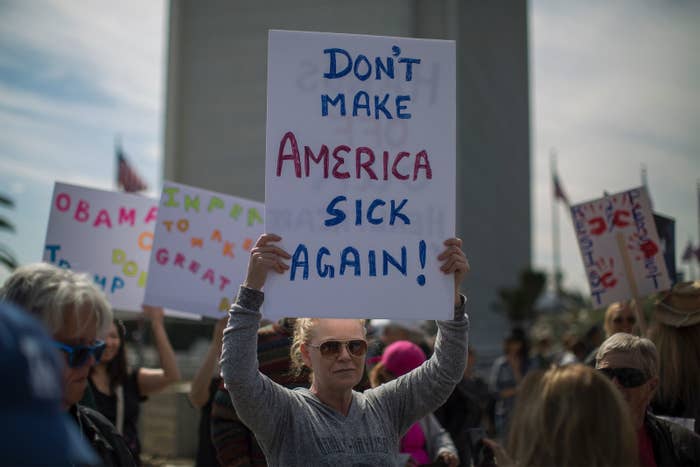 WASHINGTON — Red state Democrats are hearing something unusual from their constituents ahead of tough reelection battles next year. Sure, their conversations with voters at home are still heavily focused on Obamacare. But after years of fielding complaints about the law, what they're hearing now are worries about it going away and what will happen when Republicans replace it.

For years, vulnerable Democrats have run away from embracing the health care law, a product of their party's own making, amid catastrophic electoral losses. But now that a Republican repeal plan is working its way through Congress — with the support of President Donald Trump — Democrats facing reelection in red states say they are seeing a shift in the way their constituents are talking to them about Affordable Care Act and many are now actively defending the law.
"I think as people realize that there is not an alternative that is being presented that in any way improves their lives — yes it's turning. And it will turn more as time goes on," Sen. Claire McCaskill told BuzzFeed News.
McCaskill, of Missouri, is one of several Democrats expecting to face a tough 2018 reelection race in a state Trump won, and it's unlikely the health care debate will be put to bed before then.
Like McCaskill, Montana Sen. Jon Tester, who falls in the same 2018 camp, said he's been hearing a lot of feedback and concern about health care.
"I've been talking to my constituents since after the election. Extensive hearings around the state, public forums, talking to hospital folks, patients, nurses, doctors. Everybody is nervous," Tester said.
Last week, House Republicans introduced the American Health Care Act, a bill that has earned criticism from both Democrats who say it'll strip health care for millions and from conservatives who have painted it as a watered-down version of the Affordable Care Act. This week's report from the Congressional Budget Office has caused even further strife over the bill, peeling away even moderate Republican senators who are worried about constituents paying higher prices for coverage.
The Democratic Senatorial Campaign Committee, which has taken a do what you need to get reelected approach with vulnerable Democrats concerned about Obamacare in the past, is now posturing itself as on offense on the issue in what should be a defensive cycle.
The DSCC is already focusing on how the new GOP health care proposal will affect the elderly, women's health and opioid treatment programs (a DSCC spokesman told BuzzFeed News the opioid epidemic is becoming a "kitchen-table issue" in conservative areas). Democrats in blue and red states have addressed these issues before, but the difference now is that there is finally a Republican proposal to size them up against.
"It's hard to imagine a more dramatic political difference," former Rep. Tom Perriello, a Democrat who was voted out of office in 2010 in part due to fierce opposition to the health care law, told BuzzFeed News. Perriello, who is currently running for governor of Virginia, supported the ACA and vigorously defended it during his two years in office. Back when it was still "hypothetical," he said, it was easy for people to imagine the worst about the health care law. But now it's gone from "something that was very difficult to explain to something where people are desperate to ensure that it's not taken away."
"The fact that it has become a huge political advantage at this point is just a bonus, but it was really about trying to fix the system," Perriello said.
The DSCC has already sent out a memo targeting several potential Republican Senate candidates who hold seats in the House, pointing out that they will "carry the baggage" of votes on the new GOP health care bill into the 2018 elections. The committee specifically named Rep. Kevin Cramer, North Dakota's sole representative in the House, who is currently considering a Senate bid against Sen. Heidi Heitkamp, as well as Reps. Jackie Walorski and Luke Messer, who are considered potential challengers to Indiana Sen. Joe Donnelly next year. Heitkamp and Donnelly are two of several vulnerable Democrats facing reelection in a red state next year.
Rep. Ben Ray Lujan, head of the Democratic Congressional Campaign Committee, said that health care will be a major offensive issue for Democrats in the House as well. "Yes, this will be an issue come the midterms in 2018," Lujan told BuzzFeed News.
Outside of Washington, there has been a notable increase in engagement among the liberal base since the election — including high-profile protests and record numbers of phone calls to congressional offices — and health care is a top issue. Liberal groups even launched a Save My Care bus tour that traveled to different states to highlight the ways the ACA has benefitted Americans.
"I can just tell you from my state, I think there's a deep reservoir of support for [Obamacare]," Pennsylvania Sen. Bob Casey told BuzzFeed News, despite the fact that President Trump narrowly won his state in 2016. "I think it's always been there, but I think with the threat to it that's emerged since President Trump took office and with the Republican Congress, I think people are maybe more intense or vigilant about their defense of it."
Of course, some Democrats said from the get-go — and many more say now — that there are problems with Obamacare itself that need to be fixed. That message hasn't changed, but they find themselves able to reframe the argument now that the seven-year-old law is in danger.
Oregon Rep. Peter DeFazio, who comes from a traditionally blue district that Democrat presidential candidate Hillary Clinton only won by just a few hundred votes last year, told BuzzFeed News that many people "just sort of took [the ACA] for granted," and that they didn't have a good understanding of how it worked. At one of his town hall events, DeFazio said a person stood up and told him to "tell the government to get [its] hands off my Medicare."
"It's now becoming an individual problem, which always changes the dynamics," DeFazio, who has long argued for fixes to the law, told BuzzFeed News.
Many Democrats, like Connecticut Sen. Richard Blumenthal and Vermont Sen. Patrick Leahy who represent safe blue states, say that their message has not changed at all.
But the circumstances are drastically different. Of the major players who helped draft and push through the legislation, Obama and former Senate Majority Leader Harry Reid are gone and both of their jobs are now held by Republicans. House Democratic Leader Nancy Pelosi, who holds little power in the minority, is the only one left.
Scott Mulhauser, a longtime senior Democratic aide, told BuzzFeed News that for years Obama was a "real convenient campaign foil" for many GOP candidates. "What people are finding is with the president gone, suddenly they don't have their bogeyman anymore," Mulhauser said.
A lot can happen between now and the next election, but Democrats have several polls currently working in their favor. They show the Affordable Care Act has become more popular since Republicans took the wheel and began working to repeal it.
"Americans, now more than ever before, support retaining the Affordable Care Act with fixes and that certainly helps in our message," said Connecticut Sen. Chris Murphy. "Americans want us to talk about preserving this law now, so that has to be a big part of Democrats' message, no matter where you're running."
Virginia Sen. Tim Kaine agreed the atmosphere has made it easier for some of his more vulnerable Democratic colleagues to talk about Obamacare back in their home states. Some of the reddest parts of his state, he added, are the ones who would be most affected by the GOP health care proposal.
"I think many of us have expected that when there was real jeopardy of it being ripped out of people's hands like there is right now, that a lot more people would get engaged," Kaine said. "We're saying the same things, you know, but in the past, the threats were sort of theoretical. Now they're real, and people are really seeing, wow, you know, I could lose a lot. And when the plan now is on the table, finally after seven years, 'what do you want to do?' 'OK we want to do this.' People can see how much is at stake."