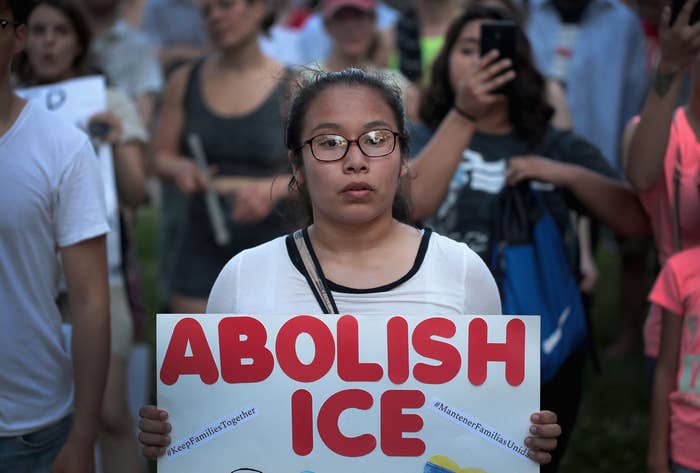 The Democratic Party is suddenly dealing with an internal conflict over how to handle one of the agencies responsible for enforcing the country's immigration laws: leave it be, seriously reform it, or shutter it entirely.
The debate over abolishing the US Immigration and Customs Enforcement agency is pitting potential future party leaders against the Democratic old guard and against one another, as the party tries to find a winning message and platform against President Donald Trump.
"I think the focus should be on President Trump's hard-line immigration policies, and not on ICE," Texas Rep. Henry Cuellar, a relatively moderate Democrat, told BuzzFeed News on Monday. He noted the agency is just in charge of enforcing the administration's policies, and said the calls to abolish ICE are "dangerously misguided."
The debate was propelled into the mainstream by Alexandria Ocasio-Cortez, the 28-year-old progressive who upset Rep. Joe Crowley in New York's primaries last week on a platform that included abolishing ICE. And the calls come after weeks of stories about family separations at the border. Trump, who tweeted over the weekend that the "Liberal Left" wants to "get rid of ICE," has only upped the ante.
Several Democrats in both the Senate and the House have come out in support of abolishing ICE in the past several days as protests against Trump's border policy took place across the country.
At least two House Democrats are working on legislation that would create a commission to "redesign and restructure" the agency.
"Where we really come down to is, you need to start over," Wisconsin Rep. Mark Pocan, who is working on the bill with Washington Rep. Pramila Jayapal, told BuzzFeed News on Friday. "The president has broken ICE so badly that their brand is damaged beyond repair."
ICE is charged with enforcing "federal laws governing border control, customs, trade and immigration to promote homeland security and public safety." It was established in 2003, and while immigration is its "largest single area of responsibility," it is also in charge of cracking down on a range of other illegal activity, including "human smuggling," and preventing terrorism.
In the Senate, Sens. Kirsten Gillibrand of New York and Elizabeth Warren of Massachusetts, who are both seen as potential 2020 presidential candidates, have come out in support of abolishing ICE. Warren on Saturday called for "replacing" ICE with something more effective, and last week Gillibrand told CNN "you should get rid of it, start over, reimagine it, and build something that actually works."
"I think there's no question that we've got to critically reexamine ICE and its role and the way that it is being administered and the work it is doing, and we need to probably think about starting from scratch," California Sen. Kamala Harris, another possible 2020 contender, said in an interview with MSNBC. The White House, in a series of unusual tweets for its official account, pushed back on Harris and Warren.
But other Democrats in Congress are not only dismissing the idea but also suggesting the calls run counter to their party.

"We need border security, OK? I've heard there's some people out there saying we should get rid of ICE. That's kind of like Republicans saying we should get rid of the IRS," Washington Rep. Adam Smith, the ranking member of the House Armed Services Committee, told reporters after last week's elections. "We need immigration enforcement, though not like this. ICE does not have to do what President Trump is telling them to do."
A Senate Democratic aide told BuzzFeed News "it's important that the people who are calling to abolish ICE define what that means," adding that otherwise it would just be a "reflexive slogan."
Democratic congressional leadership has largely a cautious approach to the issue so far, either not commenting or suggesting reforms instead of outright abolition.
House Democratic leader Nancy Pelosi is calling for an "immediate and fundamental overhaul" of the agency, her spokesperson Drew Hammill said in a statement. Senate Minority Leader Chuck Schumer called for "reform" last week, but he reportedly noted it has "functions that are very much needed."
"ICE is tasked with important responsibilities to keep America safe, but the policies they are pursuing under [the president's] leadership do not reflect American values, including separating families at the border," Mariel Saez, a spokesperson for House Democratic Whip Steny Hoyer, said in a statement to BuzzFeed News. She added that Hoyer "is focused on taking back the House in November, so that Congress can conduct greater oversight on the practices and effectiveness of ICE and enact comprehensive immigration reform."
The Congressional Hispanic Caucus, a Democratic group, circulated talking points on the subject that were provided to BuzzFeed News by a senior Democratic aide and first reported by the Daily Beast. In them, CHC criticizes the agency, but argues that abolishing ICE "without changing President Trump's disastrous, underlying immigration policy will not solve the problem."
Trump, meanwhile, is eager to capitalize on the split over ICE among Democrats. In tweets, he has tried to broadly and falsely paint the whole party as wanting "Open Borders" and suggested Democrats may next want to get rid of "all police."
"What he's doing [is] he's taken a couple of folks that have come out and said that they want to abolish ICE, some members of Congress and members-elect, and he's trying to paint every Democrat with saying that we [want to] abolish ICE," Cuellar said. "I do not foresee the Democratic caucus taking the position to abolish ICE."
"The president is trying to play jiu-jitsu. In other words, using our own force against us."
CORRECTION
Nancy Pelosi is the House Democratic leader. A previous version of this story misstated her title.