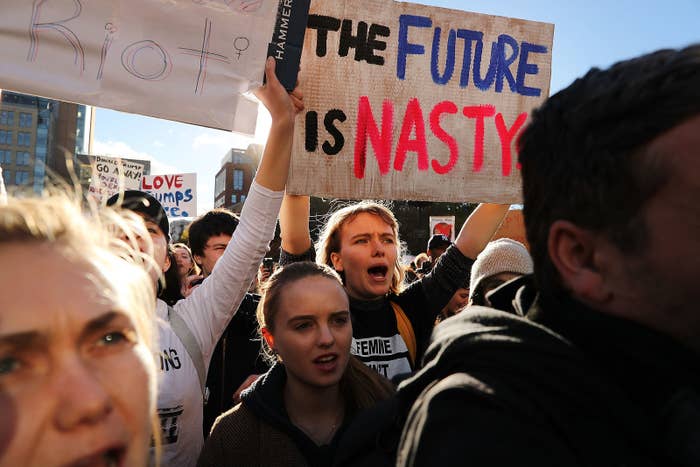 WASHINGTON — The day after Donald Trump is sworn in as president, protesters will gather in the nation's capital to ensure he can't ignore their displeasure with him as he sits in the Oval Office.
A women's march is being organized in Washington for Saturday, January 21, 2017, the day after President-elect Donald Trump takes office.
The event is still clearly a work in progress. What began as a "Million Women March" is now being called the "Women's March on Washington," according to the national Facebook page for the event.
"This is all about a grassroots movement of women," Fontaine Pearson, a national organizer, told BuzzFeed News, adding that the event grew faster and bigger than anticipated. "We're just watching it grow."
Protesters are quickly organizing and plan to come far and wide: More than 40 state and regional pages are listed on the Facebook page for the event.
"I think it's my obligation as someone who still has hope in this nation to fight for more than just me," Joanna Smith, the Utah state organizer for the march, told BuzzFeed News.
The protesters are set to travel from Lincoln Memorial to the White House, according to the New York Times.
Pearson said the permit process will begin soon, and there is no indication that the event will not be approved.
The march is being marketed as inclusive, open to anyone who supports women's rights.
The Facebook event also says the protesters are looking for hosts in the District of Columbia area and more organizers to join the cause. Inauguration weekend is traditionally very busy in Washington, so organizers are encouraging participants to begin lining up accommodations for their visit.
"I think it's bigger than Donald Trump," Pearson said about the march. She added the protestors do not dispute that he was elected fairly but will be marching to show that Trump "embodies" what so many women have had to put up with.
As of Saturday morning, more than 37,000 people have RSVP'd to indicate they will attend the event.
"We recognize that there's something we can do here. And we recognize that there are lessons that were learned immediately," Smith said.