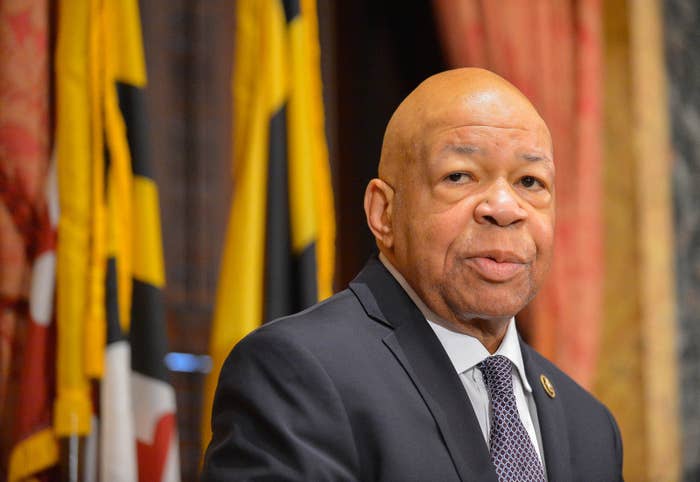 One of the most prominent Democrats in the House of Representatives has been absent from Capitol Hill for nearly two months following a surgery at the end of May.

Maryland Rep. Elijah Cummings, the ranking member of the Oversight and Government Reform Committee, "underwent a minimally invasive medical procedure ... to treat aortic stenosis" on May 24, according to a press release from his office at the time. Cummings "will remain in the hospital for a few days and will return to his normal schedule thereafter," the release stated.
But as of July 19, Cummings has not returned to Capitol Hill. The Democrat last voted on May 23 and has not voted since.
Cummings' absence has been easy to miss — by almost all appearances, Cummings' office has been operating normally since he left. His official Twitter account has been filled with updates, often tweeting multiple times per day. And since May 24, Democrats on the Oversight Committee have sent at least 17 letters bearing Cummings' signature, at regular intervals, most of them seeking information from the Trump administration related to the committee's Russia investigation and other administration actions.
During Cummings' absence, former Rep. Jason Chaffetz resigned from his seat in Congress and Rep. Trey Gowdy was selected to take over as chairman of the Oversight Committee on June 8. (Gowdy has since steered the committee away from the Russia investigation). However, a Gowdy spokesperson told BuzzFeed News that the two members "have spoken frequently over the phone since Chairman Gowdy took over as Chairman."

Meanwhile, Cummings' office says that the congressman has been home recovering and doing physical therapy.
"From conducting oversight of the voting rights commission to the latest ties between Trump affiliates and the Russians, Ranking Member Cummings is as busy and active as he has ever been," a spokesperson from Cummings' office said in a statement to BuzzFeed News, adding he has been in close contact with staff.
His office did not immediately respond to follow-up questions about whether Cummings has been personally signing the letters sent in his capacity as ranking member on the Oversight committee.

The committee's vice chairman, Rep. Gerry Connolly of Virginia, said that he spoke with Cummings last week and he's "raring to come back." Connolly and other committee Democrats have been filling in for Cummings, including at a markup on Wednesday.
"He's very aware of and has input on hearings and markups and statements and letters," Connolly said. "I think there's been a lot of continuity and no disruption."
"I want to make sure he feels 100%, and you know, when you're recovering after surgery, if you come back prematurely, you can do yourself some damage, and we don't want that."
A staffer who works for another member of the Oversight committee told BuzzFeed News that Cummings has been "in regular touch," adding: "I know for a fact he's calling the Dem[ocratic] staff director, apparently he's calling like every hour."

Asked how Cummings' absence had gone largely unnoticed, the staffer said: "I think that the biggest element is that the committee has just been so inactive since Chaffetz's departure."
A spokesperson told BuzzFeed News on Wednesday the congressman did not need additional surgery. A May statement from his office said the procedure, called transarterial aortic valve replacement, is intended "to correct narrowing of the aortic valve." The American Heart Association calls the procedure "minimally invasive."
When BuzzFeed News checked in with Cummings' office soon after the procedure, a spokesperson said the surgery "was not unexpected."
"He opted for this procedure after consulting with his physician," the spokesperson said in an email in May.
His staff would not say when Cummings planned to return to Capitol Hill.
"I know the ranking member is hoping to come back soon, but we've been hearing that for a while," the staffer for another Oversight committee member said.

Meanwhile, Maryland politics has been charging toward 2018. On Wednesday, Cummings' wife Maya Rockeymoore, a Maryland consultant, told the Washington Post that she is weighing a gubernatorial run for next year.
Cummings, however, is still recuperating.
"The Congressman deeply appreciates his caregivers, the dedicated staff at Johns Hopkins Hospital, and the warm messages and outpouring of support he has received — in fact, it energizes him," Cummings' spokesperson told BuzzFeed News in an email.