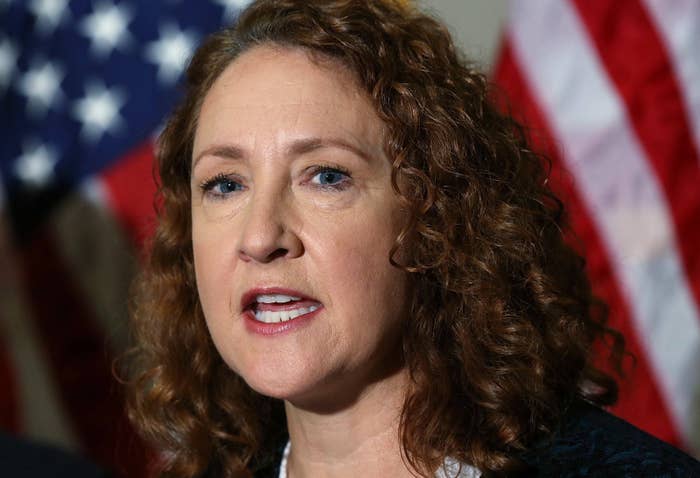 Connecticut Rep. Elizabeth Esty will not run for reelection after facing significant backlash over her handling of a former chief of staff's threats and harassment toward another former staffer.
Tony Baker, her former chief of staff, stayed in his position for three months after Esty, a House Democrat, first learned of the allegations, the Washington Post reported last week.
"I have determined that it is in the best interest of my constituents and my family to end my time in Congress at the end of this year and not seek re-election," Esty said in a statement Monday afternoon. "Too many women have been harmed by harassment in the workplace. In the terrible situation in my office, I could have and should have done better."
"To the survivor, I want to express my strongest apology for letting you down. In Congress, and workplaces across the country, we need stronger workplace protections and to provide employees with a platform to raise concerns, address problems, and work to reduce and eliminate such occurrences, in the first place. In my final months in Congress, I will use my power to fight for action and meaningful change."
Baker was accused of verbally abusing and punching a former staffer in Esty's office. "You better fucking reply to me or I will fucking kill you," Baker reportedly said in a voicemail to Anna Kain, a former Esty staffer who was reportedly in a relationship with Baker at one point, in May 2016, according to the Washington Post. After Baker left her office, Esty wrote him a positive recommendation letter for a new job with Sandy Hook Promise, the Post reported.
Connecticut Sen. Chris Murphy, who used to represent Esty's district, said in a statement that he supported her decision not to seek reelection.
"I have spoken to Elizabeth at length over the past few days, and I support her decision to not seek re-election. No one should ever be harassed, assaulted or intimidated at work. Elizabeth knows she handled the dismissal of her former Chief of Staff badly," Murphy said. "The decision she made today is the right one for her, and I look forward to working with her during the remainder of her term."

Earlier Monday, Esty requested an expedited House Ethics Committee inquiry to look into the matter.
She had faced calls to resign from prominent Connecticut Democrats over the weekend. Her House colleagues, away from Washington for recess, were silent on the matter. House Minority Leader Nancy Pelosi praised her decision to request an inquiry but did not call on her to step aside.
"Ms. Kain is to be commended for her courage in coming forward and telling her story. As Congresswoman Esty has acknowledged, her actions did not protect Ms. Kain and should have. Congresswoman Esty has now appropriately requested an expedited review by the Ethics Committee.
Esty represents the same district that the Sandy Hook Elementary School shooting took place in. She was elected in 2012.
The district is competitive; Esty and Hillary Clinton narrowly won it in 2016.