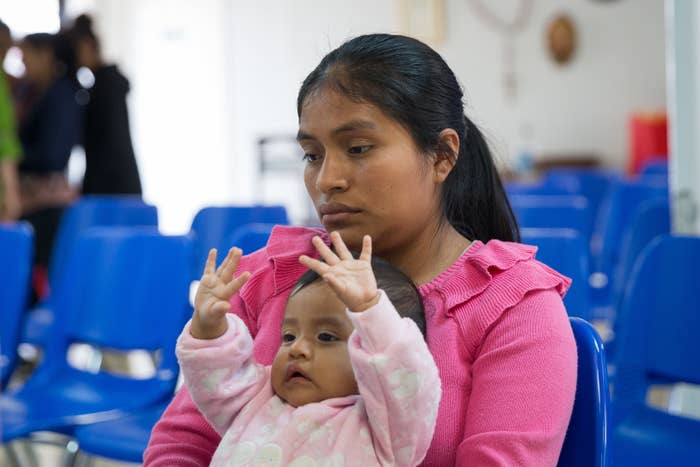 California Rep. Jackie Speier is asking 23andMe, a popular DNA testing company, to help reunite children separated from their parents under President Donald Trump's "zero tolerance" policy.
Speier, a Democrat, said she spoke with executives at 23andMe on Thursday to see if the company could play a role in bringing families back together. Speier's suggestion comes in the midst of a scramble to figure out what the next steps are for some of these families, given that there's a lack of a plan on how to bring them back together.
"I was just trying to think, how are we going to connect these two? How can we guarantee that the parents are going to get their own child back?" Speier told BuzzFeed News. "I'm thinking, how else are we going to do that? So I was encouraging them to look at whether or not they could provide some kind of assistance here."
Asked what she was told by the company, Speier said: "They were going to think about it."
Speier said she knows the CEO of the company, but added that that wasn't who she had spoken to. She said she was concerned about a lack of record keeping for the families who have been separated, and she was concerned that some parents were not getting information sheets related to their children.
"If they're under two, they don't know [who their parents are]. It's horrible," Speier said of the children affected by the policy. "Someone just said to me, it's a war crime. You know, I think that's a good way of putting it."
A spokesperson for 23andMe told BuzzFeed News in a statement that the company is "more than happy to support efforts that can help with the tragic separation of thousands of children from their parents. Connecting and uniting families is core to our mission and something we care deeply about."
Later Thursday the company's CEO Anne Wojcicki tweeted, "we would welcome any opportunity to help." In another tweet, she said that the company had "offered to donate kits and resources to do the genetic testing to help reconnect children with their parents," adding that they were "waiting to see the best way to follow up and make it happen."
Andy Slavitt, who worked on health care policy under former president Barack Obama, made a similar suggestion to Speier's on Twitter Thursday.

But Stat News reported there could be several obstacles in the way of using DNA testing for such a purpose, ranging from privacy concerns to consent issues with minors.

23andMe is just one of several companies that have been critical of the Trump administration's policy. On Wednesday, several airlines distanced themselves from the policy and said they wanted nothing to do with transporting children who had been separated from their families.
At least 2,342 children have been separated from their parents as a result of the Trump administration's zero tolerance policy, which prosecutes adults who enter the United States illegally.
UPDATE
This story was updated to include CEO Anne Wojcicki's tweet indicating that 23andMe has now offered to donate DNA kits.