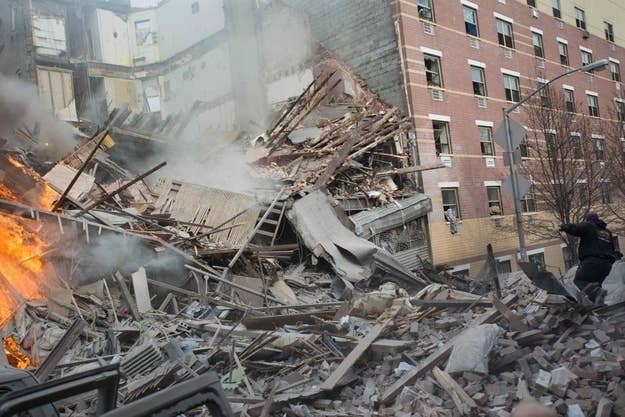 Updated — Mar. 13, 7:10 p.m. ET:
At least eight people are confirmed dead and 60 others injured following a gas explosion and building collapse in East Harlem on Wednesday. Five residents were still unaccounted for early Thursday morning, the New York Police Department said. A temporary shelter set up by the Salvation Army was housing 66 people displaced by the explosion.
New York Mayor Bill DeBlasio, at a press conference on Thursday, urged anyone who has been affected by the blast to come forward for assistance. As the East Harlem neighborhood has a large Hispanic population, DeBlasio gave his assurance that everyone will be helped, "regardless of immigration status."
Three of the eight victims killed in the massive blast that could be felt from blocks away were identified as Griselde Camacho, 44, Carmen Tanco, 67, and Rosaura Hernandez-Barrios. The other four victims were pulled from the rubble overnight, firefighters said.
"This is a tragedy of the worst kind. There was no indication in time to save people. We've lost two people already," DeBlasio said during a news conference on Wednesday.
"Want to emphasize to all family all friends: We are expending every effort to locate each and every loved one," he said. DeBlasio said the city did not want to speculate yet as to how many are missing, but the AP is reporting that more than a dozen are still unaccounted for.
"Some might be safe and sound elsewhere in the city," DeBlasio said.
New York City Fire Department Commissioner Sal Cassano said the first call about the explosion and collapse came in at 9:31 a.m. ET. Emergency response teams arrived on the scene to find two five-story tenement buildings, at 1644 and 1646 Park Ave., collapsed. One building had six occupied units; the other had nine. The buildings also housed Spanish Christian Church and Absolute Piano on the ground floor.
Emergency officials were working to extinguish the fire and searching the rubble for missing survivors. More than 250 firefighters are on the scene, Cassano said.
"It's going to be a long, extended operation," Cassano said of the recovery efforts.
According to a spokesperson for Con Edison, the electric company received a call at 9:13 a.m. from a resident at nearby 1652 Park Ave., who said she smelled gas coming from outside her open window. The Con Ed crew arrived in the area just before the explosion at the other buildings, the spokesman told WNBC-TV.
One tenant told the Associated Press that residents had complained repeatedly in the past few weeks about "unbearable" gas smells.
One 18-year-old at the Red Cross Center in East Harlem searched for his Aunt, 43, who had lived in one of the collapsed buildings for "five or ten years," but she could not be found.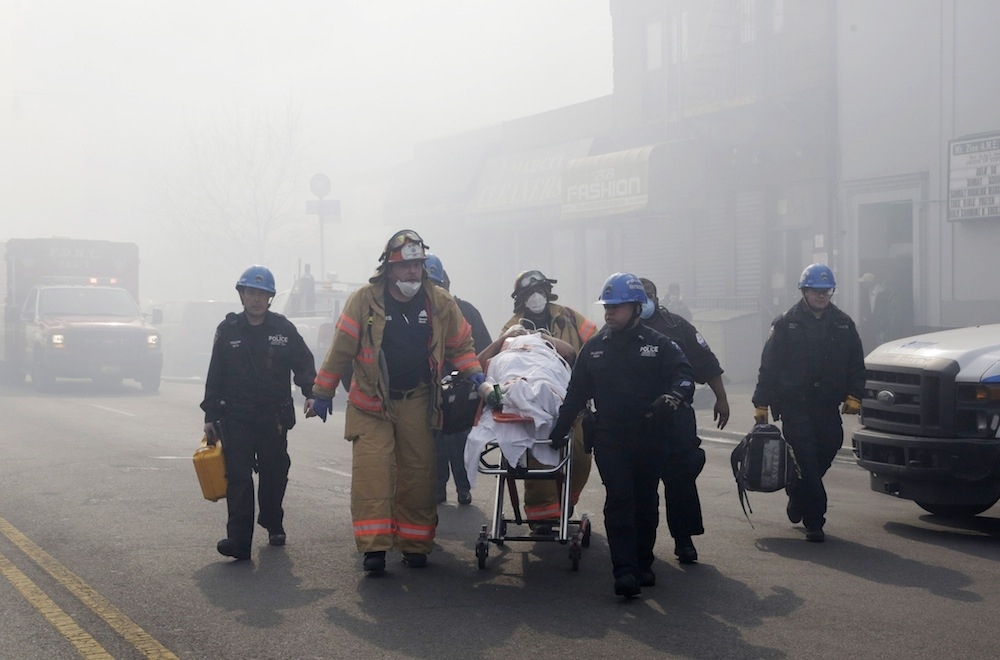 Residents were evacuated from nearby buildings. The Red Cross set up a center at a P.S. 157 at 176 East 115th St. for those needing assistance or searching for missing family and friends.
City officials said there were no current work permits on file with the Department of Buildings for the buildings. According to department records, 1646 Park Ave. had in 2008 been found to have "several vertical cracks which is hazardous for the safety of the structure." There were no records indicating any gas or plumbing violations in either building.
The buildings are adjacent to the tracks that carry Metro-North's New Haven, Harlem, and Hudson Lines.
"It sounded like the Metro-North blew up. It scared the shit out of me," a woman living across the street told BuzzFeed.
Residents close to the collapsed buildings report hearing a large boom around 9 a.m. that shook nearby buildings.
"It was an explosion — BOOM — I was in KFC. It shook the whole building," neighborhood resident Ismael Ruiyz said. "I saw a woman come out with a baby covered in debris."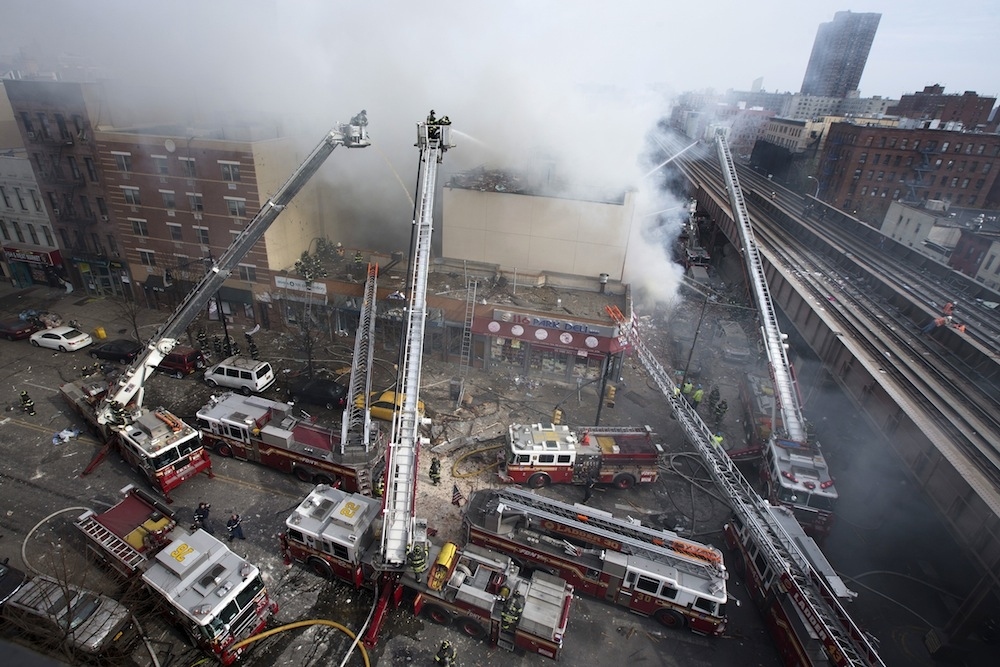 The location of the reported explosion and building collapse.
Witnesses around the city were posting photos of the scene.
Witnesses on the scene describe loud explosions, breaking windows, and the chaotic scene that followed.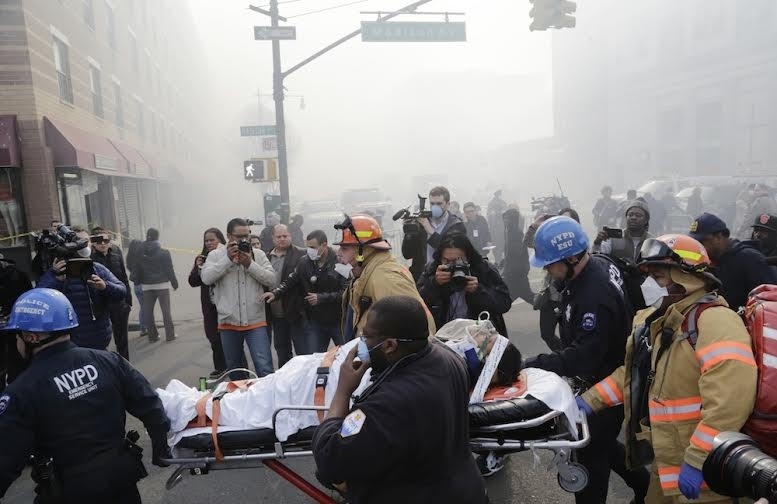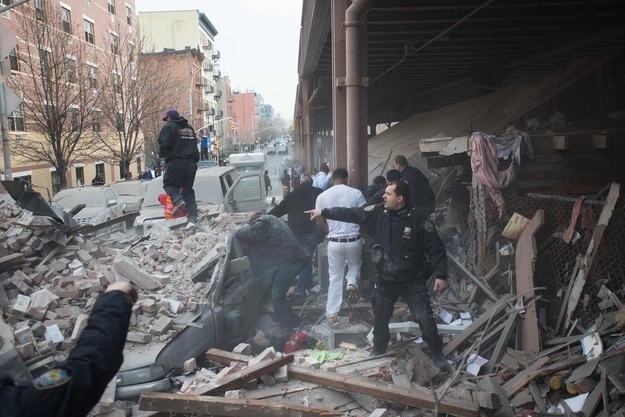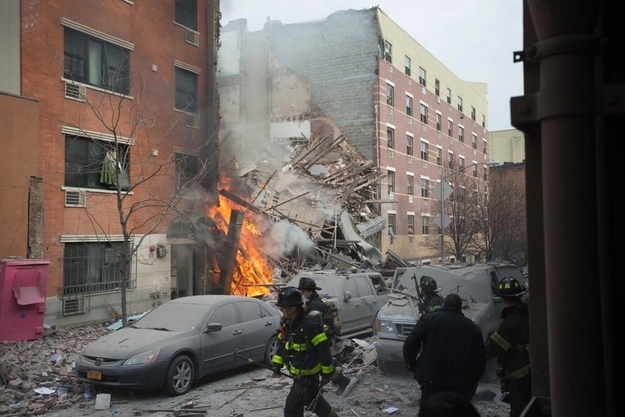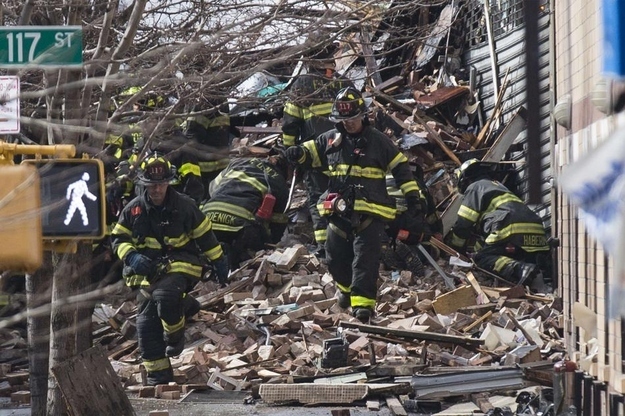 The White House issued a statement offering "thoughts and prayers" and commending first responders.
Rep. Charlie Rangel, who represents the affected area, tweeted "My heart goes out to the victims & their loved ones. Praying for all those who have suffered loss due to the explosion in Harlem"