Report: Russian Official Says Anti-Gay Law Will Not Be Enforced During Olympics
Officials continue to give conflicting statements on whether legislation is going to apply to athletes and visitors to the Sochi 2014 Winter Olympics.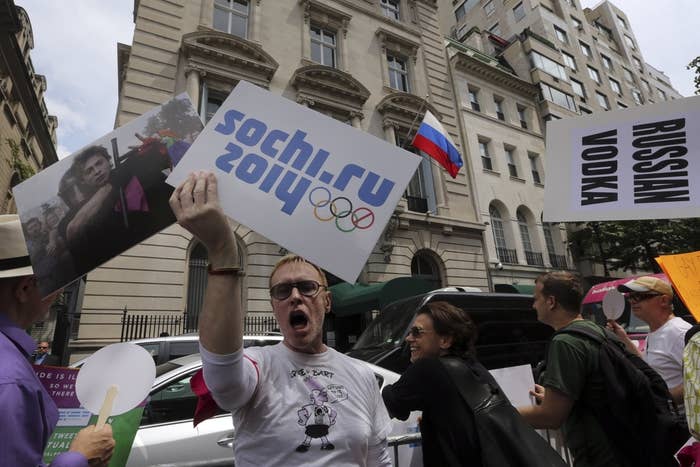 Igor Ananskikh, the head of the Russian Duma Committee on physical training, sports and youth, said Friday that the country will not crack down on gay rights activism when it hosts international athletes and fans during the 2014 Olympics in Sochi, according to reports.
"The Olympics is a major international event. Our task is to be as politically correct and tolerant as we can be. That's why we made the decision not to raise this issue during the Games," Ananskikh said, according to Interfax news agency.
Ananskikh's remarks come a day after Russian Sports Minister Vitaly Mutko said that Russia's anti-LGBT propaganda law would remain in effect during the Winter Games.
"No one is forbidding an athlete with non-traditional sexual orientation from coming to Sochi, but if he goes onto the street and starts propagandizing it, then of course he will be held accountable," Mutko said.
The back-and-forth over whether the law, which authorizes the 15-day jailing of foreigners and fines for both foreigners and Russians who are convicted of "promotion of non-traditional sexual relations among minors," will be enforced during the Olympics has been taking place since Russian President Vladimir Putin signed the legislation in June.
Last week the IOC announced that it had received assurances "from the highest level of government in Russia that the legislation will not affect those attending or taking part in the Games."
UPDATE: IOC Statement
On Friday, Andrew Mitchell, IOC spokesman, sent the following statement: "For the time being we would stick with our reassurances from deputy PM Kozak that this law will not affect athletes, officials, spectators at the Games. Indeed, on Wednesday it was reported that his spokesman said that they might even suspend the law during the Games.
"As for [Thursday]'s reported comments – we'd rather not comment on the translation of reported comments of the Sports Minister - we rest with comments made directly to us by deputy PM Kozak."