Young Women Soccer Players Inspired By The National Team's Parade In New York City
"This team is so awesome."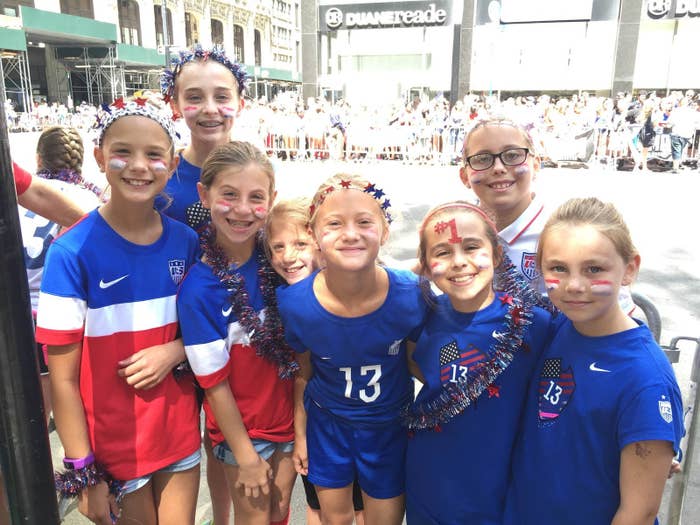 Jelanie Deshong, a senior New York City Council aide, was wearing a Clint Dempsey shirt with the name taped over to read "EQUAL PAY" at the Women's World Cup ticker-tape parade in New York City on Friday.
He'd altered the shirt days before, when he'd read reports about the discrepancies in pay — salary and World Cup bonuses — between the championship women's team and the U.S. men's team.
Suddenly he felt a tap on his shoulder.
Deshong turned around and Gloria Steinem was smiling at him. "I like your shirt," she said.
"I thought I was going to pass out," he said later.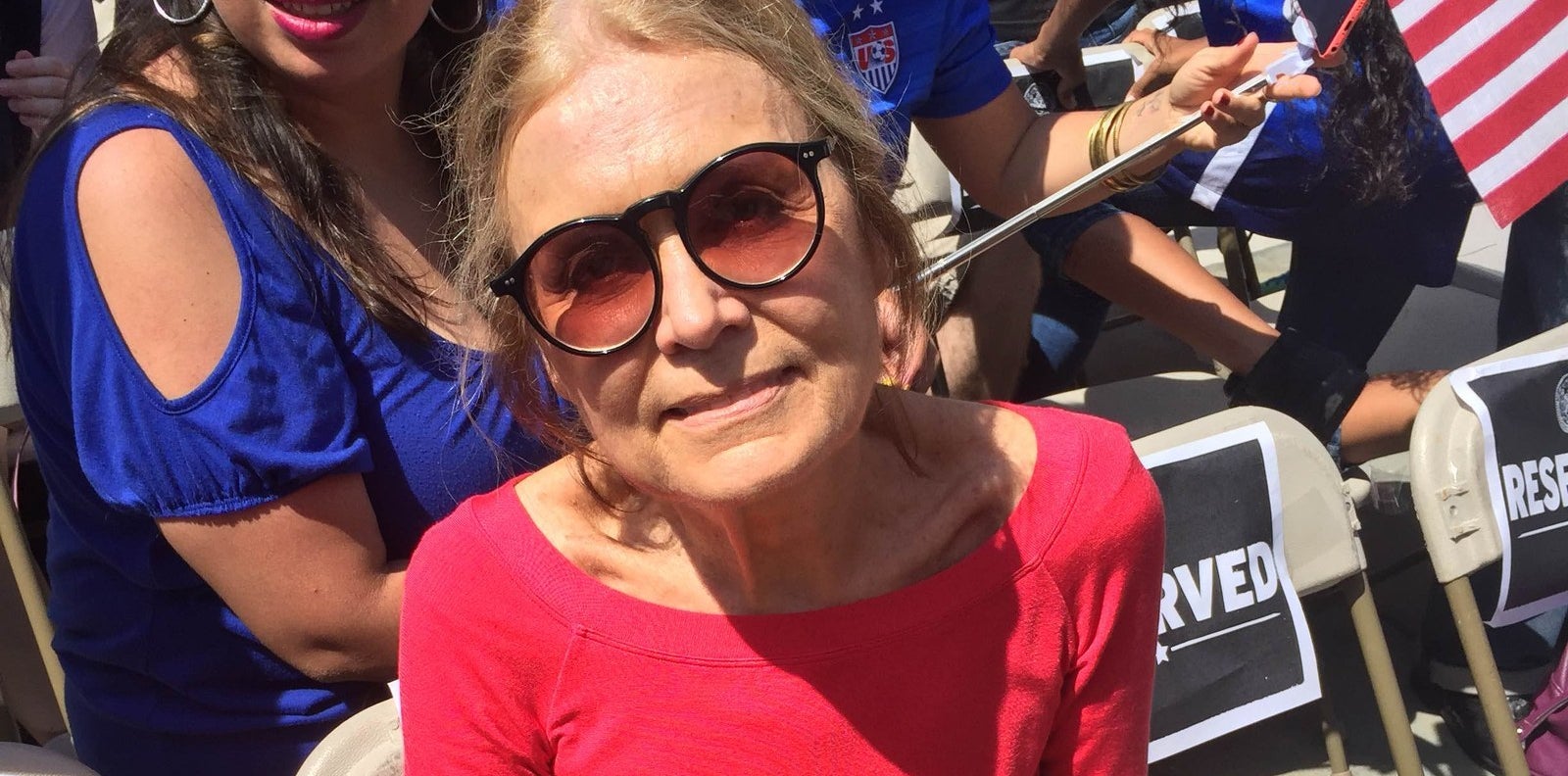 Steinem had a front row seat for the parade and ceremony at City Hall, the first in the city celebrating an all-women's team. They defeated Japan in a 5–2 victory on July 5 in the FIFA World Cup.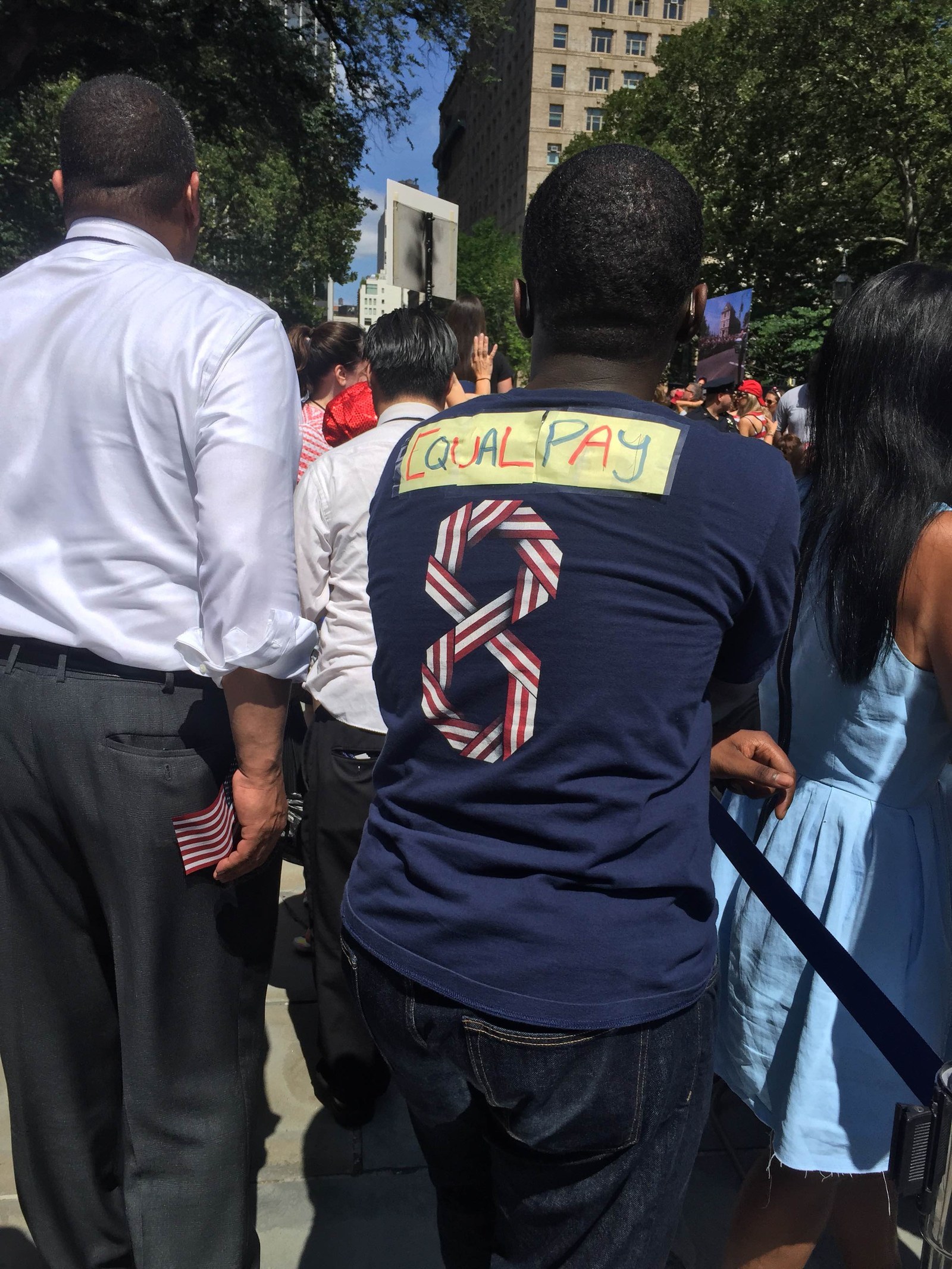 "This is one of the few times I've been able to come to something like this for a celebration, rather than a demonstration," the women's rights leader told BuzzFeed News. "It's very important that we show it's OK for women to be strong. It's a psychological thing."
Along the parade route and within the ticketed area at City Hall, young girls in soccer jerseys — showing the colors of the U.S. Women's National Team or their own local clubs — ran around in red, white, and blue face paint and jumped excitedly in anticipation of seeing their heroines.
Steinem smirked when asked about the importance of these young girls seeing the team honored in such grandiose fashion. "You'll have to ask them," she said, knowingly.
Twelve-year-olds Bryanna and Julianna of Pennsburg, Pennsylvania, were along the parade route long before the team's float went by. They are young players, and when their mother, Doren Thompson, learned there would be a parade, she thought, We need to go. This is history in the making.
They left home before 4 a.m. to arrive at 7 a.m. for the 11 o'clock step-off, each of them in their own Women's National Team jerseys.
Julianna, who plays defense and is a goalie, had broken her arm recently while diving to make a save, and had wrapped her cast in red, white, and blue medical tape.
"This team is so awesome," said Thompson, referring to the three-time world champions. "You never hear the word 'I' come out of their mouths. It's always, 'my teammate.'"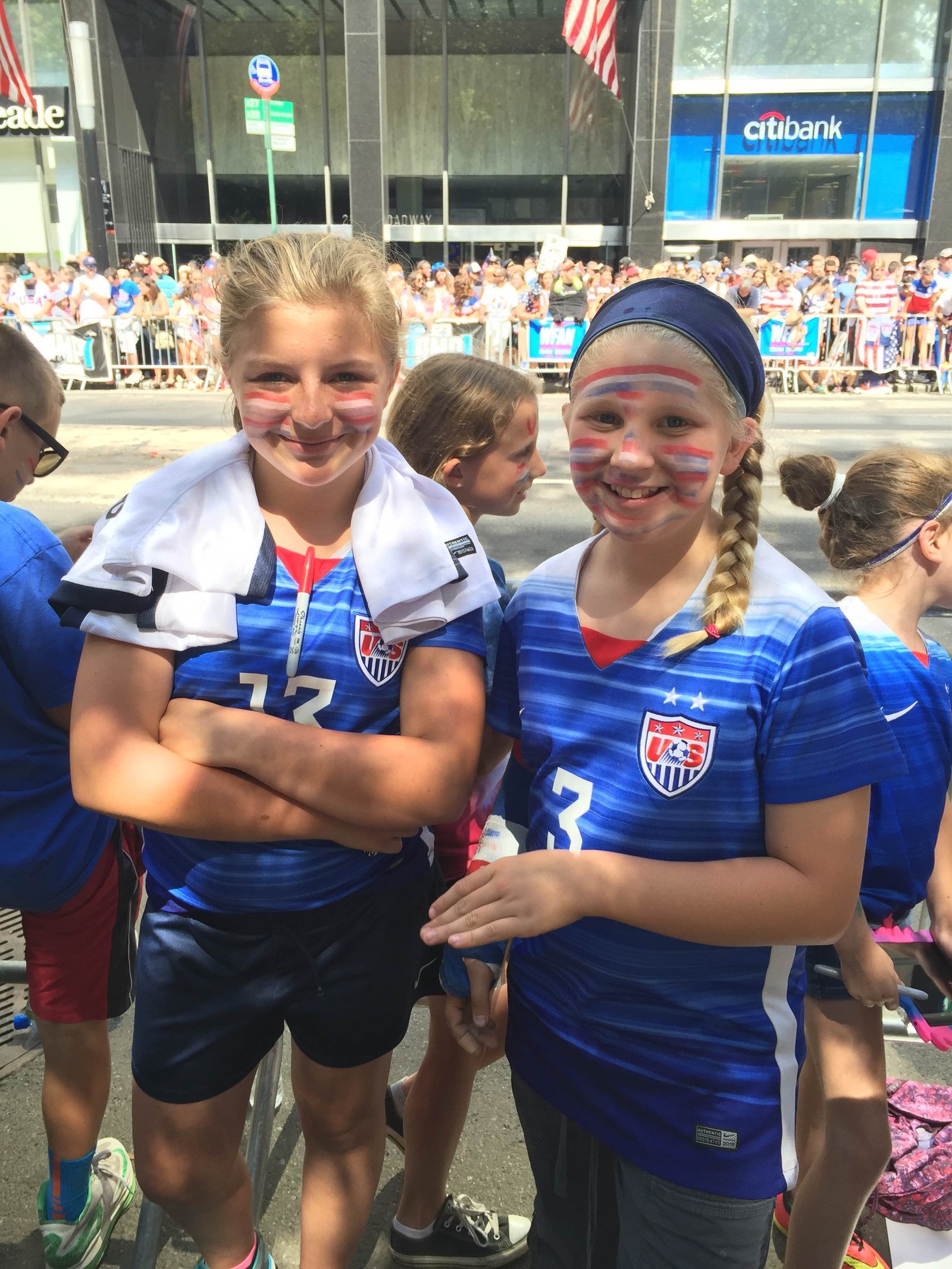 Across the street, eight girls who play for the East Islip Falcons, a U-11 team on Long Island, were huddled and hanging on to the metal barriers on Broadway Street. They had a front row spot to watch the parade.
"I knew they were gonna dominate!" said Isabella, who is a goalie. "It was awesome that they got their comeback on Japan!"
One of their coaches, Bill Alexander, said the parade showed the girls that with "hard work and dedication, women in sports can also get recognized."
"It gives them a way to be close to their role models," he said as the girls chatted, buzzing with excitement.
Inside the gates of the City Hall ceremony, the Gotham Girls Football Club, a U-16 travel team in New York, swarmed around in their yellow jerseys. Their trip was short: They practice at Pier 40 in Chelsea.
Two of the players, Julia, 15, and Amelia, 14, broke off from the group and waved American flags excitedly as the parade moved up Broadway.
Team manager Faviana McGrody, 45, said she didn't have the opportunity to play soccer in college. "It's so great to see these women athletes so admired," she said.
"It's lovely that girls now have opportunities — not just at this level; no one says they have to go to the Olympics — but just that girls can stay involved in sports through their teens and beyond if they'd like."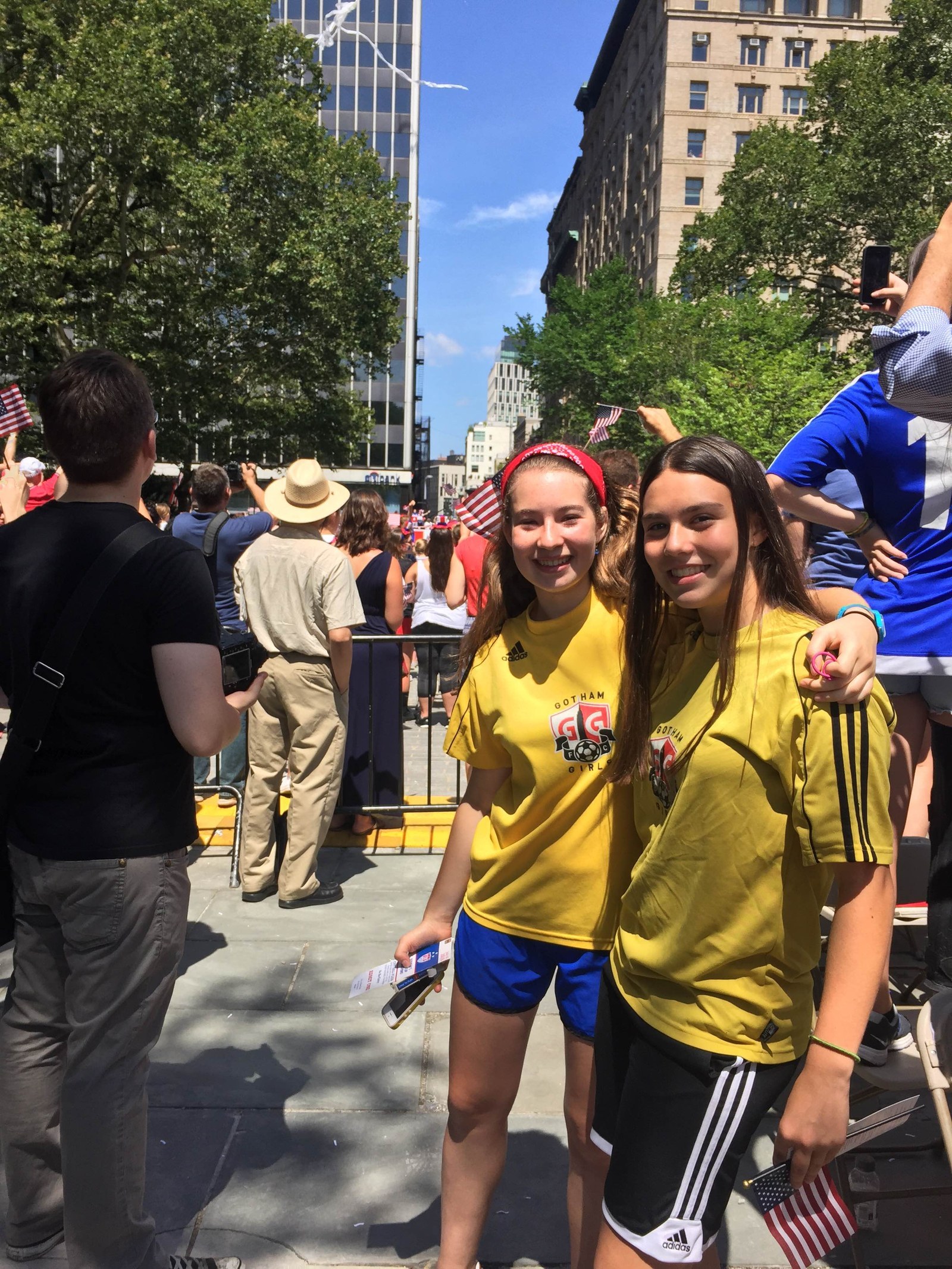 Among dozens of American flags and banners celebrating their World Cup victory, the Women's National Team players were called to the stage one by one by Good Morning America anchor Robin Roberts. Once assembled, they took to the front of the stage to hoist their trophy and dance to "Uptown Funk."
They were champions, they were the first all-women's team to be honored in the Canyon of Heroes, and they were glorious in their triumph.
Mayor Bill DeBlasio, who joked that his wife, Chirlane McCray was the "most excited person at the parade today," presented the team with a key to the city.
He said the championship team reminded us of the "power of women, the strength of women, and the need to create a more equal society for all."
"Young women will watch that game and they will tell their daughters — and their sons — about that 2015 championship team that made history and opened minds, and brought us together. This is what it really means to be one nation, one team."