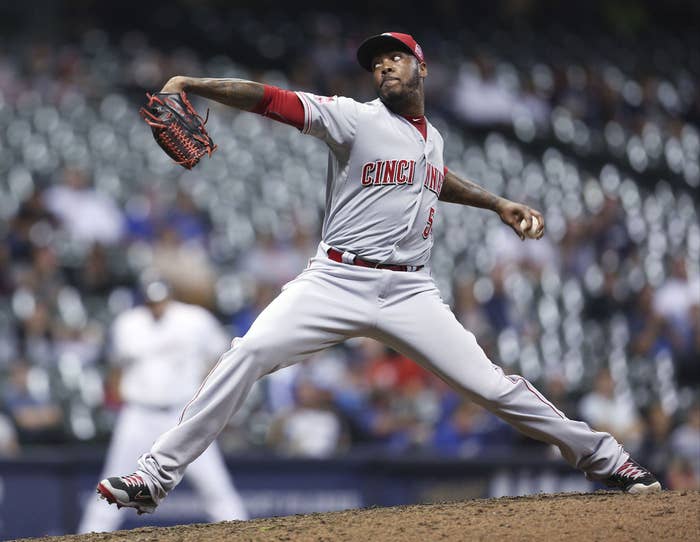 Newly acquired Yankees pitcher Aroldis Chapman will not face criminal charges related to an alleged domestic violence incident at his home last year in Florida, prosecutors confirmed to BuzzFeed News Thursday.
Chapman, 27, was not arrested following an argument with his girlfriend in Davie, Florida. Chapman's girlfriend told police at the time that during the argument Chapman "pushed her against the wall" and "choked" her.
Chapman told police that after the fight was broken up by "friends and family," he went to his car, got his pistol out of the glove compartment, and locked himself in the garage.
He then shot several shots inside the garage and threw his pistol away inside the garage, he told police.
The Davie Police Department, citing inconsistencies in accounts of the event, sent the case to the Florida State Attorney's office.
In a memo, the State Attorney's office said there was "no reasonable likelihood of conviction."
Chapman is still subject to punishment from Major League Baseball after its investigation into the October incident is completed. Last season, MLB implemented a new policy for handling domestic violence cases that gives the commissioner the authority to determine punishments for players regardless of criminal proceedings. Commissioner Rob Manfred will "definitely" announce the result of the investigation and any corresponding sanctions before spring training, a source told BuzzFeed News.
At the time of the alleged domestic violence incident, Chapman was in his sixth season with the Cincinnati Reds. The police report from the October incident was revealed in December during MLB's annual winter meetings, where many offseason player transactions are completed.
One the same day the police report was published by Yahoo Sports, Chapman's rumored traded to the Los Angeles Dodgers never came to pass, and he was instead traded to the Yankees in late December.
Chapman threw all 50 fastest pitches recorded during the 2015 MLB season, regularly reaching 103 MPH. He finished the season with a 1.63 ERA over 66.1 innings with 116 strikeouts.
With the Yankees, Chapman joins one of the best bullpens in the league. Chapman is scheduled to become a free agent following the 2016 season, but if he is suspended by the league for more than 46 games, he will be under Yankees club control for an additional season, per the league's rules on service time and free agency.
The State Attorney's full memo is below: