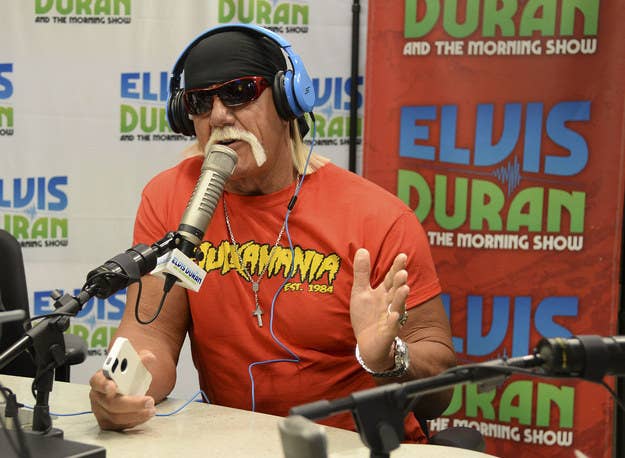 World Wrestling Entertainment (WWE) has terminated its contract with wrestler Hulk Hogan amid allegations that he made racist comments.
WWE said in a statement Friday:
WWE terminated its contract with Terry Bollea (aka Hulk Hogan). WWE is committed to embracing and celebrating individuals from all backgrounds as demonstrated by the diversity of our employees, performers and fans worldwide.
The National Enquirer reported Friday that Hogan made the comments in a sex tape with Heather Clem, wife of his friend Bubba the Love Sponge Clem. BuzzFeed News could not independently confirm the comments.
The sex tape is part of Hogan's $100 million lawsuit against Gawker, which posted an edited version of it before pulling it down due to a judicial order.
Shortly after WWE announced Hogan's firing, the wrestler released a statement:
Eight years ago I used offensive language during a conversation. It was unacceptable for me to have used that offensive language; there is no excuse for it; and I apologize for having done it. I believe very strongly that every person in the world is important and should not be treated differently based on race, gender, orientation, religious beliefs or otherwise. I am disappointed with myself that I used language that is offensive and inconsistent with my own beliefs. It is not who I am. I continue to work every day to improve as a person, and this matter is an important learning experience for me in that regard. As a result I am resigning from my contractual relationship with the WWE.
Hogan's professional wrestling career started in the 1970s. During the wrestling heyday of the 1980s and 1990s, Hogan won the WWF World Heavyweight Championship 12 times. In 2005, he was inducted into the WWE Hall of Fame. He most recently served as host of WrestleMania 31.
Last night, after WWE had scrubbed Hogan from its website, Hogan tweeted what many believe is an allusion to his firing.
Virgil, who wrestled with WWE during the '80s, also defended Hogan on Twitter: