WNBA Says It Will Have Final Say Over Isiah Thomas' Ownership Stake In New York Liberty
The former Knicks executive, who was found guilty of sexual harassment of a fellow executive, was named president and part owner of the New York Liberty on Tuesday.
The Knicks announced Tuesday that Isiah Thomas was named president of the WNBA's New York Liberty and that he will have an ownership stake in the team.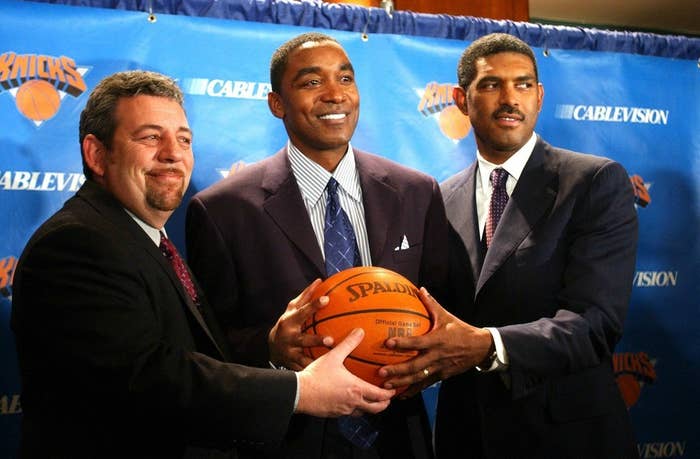 In a statement, Thomas said: "I am honored to have the opportunity to lead the New York Liberty and help the franchise reclaim its position as one of the elite teams in the WNBA."
The same statement included comment from Knicks owner James Dolan, and a short list of accolades Thomas racked up during his NBA career and after.
Missing from the abbreviated biography, though, is that Thomas was successfully sued for sexual harassment in 2007 by Anucha Browne Sanders, a former Knicks executive. Thomas was a front office executive and coach for the Knicks at the time.
Browne Sanders was fired for complaining about Thomas' harassment, and the jury found Madison Square Garden and James Dolan liable for millions of dollars for retaliation and for allowing a hostile work environment.
In testimony, Browne Sanders said Thomas " routinely addressed her as "bitch" and "ho" in outbursts over marketing commitments. He later did an abrupt about-face, declaring his love and suggesting an "off-site liaison." He later resigned from his positions.
Thomas's position with the Liberty was met with immediate backlash and confusion by some media and fans.
However, WNBA President Laurel Richie released a statement saying that Thomas' ownership stake is subject to approval:
The Madison Square Garden organization announced that Isiah Thomas has been named president of the New York Liberty and that he will take an ownership interest in the team, pending WNBA approval. New owners are approved by our WNBA Board of Governors, and this process has not yet begun.
Though the WNBA did not take an immediate stance on Thomas' hiring, the statement appears to send a message that the hiring will be scrutinized.
Thomas' role as president of the Liberty, however, is not subject to board approval. How the WNBA will proceed if his ownership is vetoed but he remains president is yet to be determined.
Madison Square Garden released this statement, saying they don't believe the allegation allegations against Thomas:
"We did not believe the allegations then, and we don't believe them now. We feel strongly that the jury improperly and unfairly held Isiah Thomas responsible for sordid allegations that were completely unrelated to him, and for which MSG bore responsibility. In fact, when given the opportunity, the jury did not find Isiah liable for punitive damages, confirming he did not act maliciously or in bad faith. We believe Isiah belongs in basketball, and are grateful that he has committed his considerable talent to help the Liberty succeed."