What's Next For Aaron Hernandez?
The former NFL star faces 15 total criminal charges in the state of Massachusetts. How his lawyers will proceed with his cases depends on one murder charge, on which a jury has been deliberating for five days.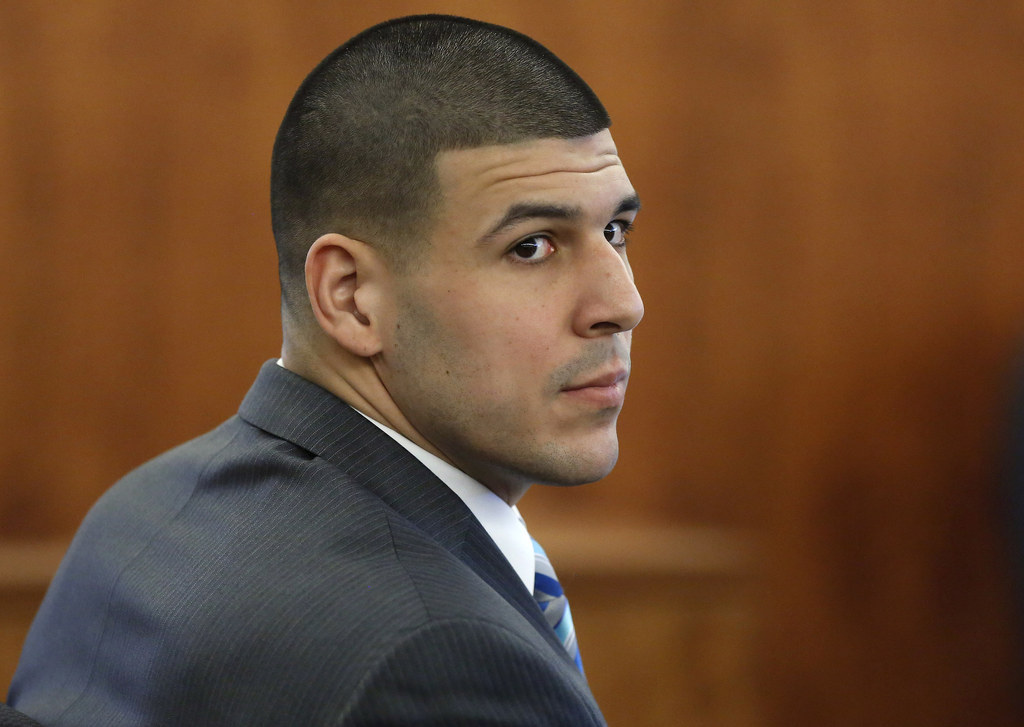 A Massachusetts jury's ultimate decision in Aaron's Hernandez's trial — Monday is their fifth day of deliberating over one murder charge and two weapons charges — will likely have an impact on the 12 other criminal accusations still outstanding against the former NFL star.
The trials are going to act as a legal "series of dominos," Daniel Medwed, a criminal law professor at Northeastern University, told BuzzFeed News.
Hernandez is currently on trial in Bristol County for the murder of his friend, semipro football player Odin Lloyd, along with a single gun and ammunition charge each. If the jury finds he was guilty of the murder charge, then they will have to decide if it was first- or second-degree murder.
If Hernandez gets first-degree murder — which is contingent on premeditation or extreme cruelty and carries a life sentence without parole — he will likely resolve the remaining 12 charges by pleading out, Medwed said. He added that this approach would likely be favored by Hernandez's lawyers and prosecutors. One of Hernandez's lawyers, Charles Rankin, declined to comment for this article.
If Hernandez gets second-degree murder — or anything less — he could be eligible for parole in 15 years. "Then it becomes tricky," Medwed said. "His other charges will affect his parole eligibility and also his likelihood of success on parole."
That means Hernandez's attorneys will likely decide how to proceed with his Boston case based on what is more likely to protect his eligibility and likelihood of receiving parole, Medwed said.
(Another option is a plea deal. But Gregg Miliote, the director of communications for the Bristol County District Attorney's Office, told BuzzFeed News that Hernandez and his attorneys did not make any attempt to reach a deal for his current trial.)
His remaining charges, all brought by the Commonwealth of Massachusetts, include:
In Suffolk County (Boston):
Double homicide
Three counts of armed assault with intent to murder
Assault and battery by means of dangerous weapon
Unlawful possession of a firearm
In Bristol County:
Possession of high-capacity feeding device
Unlawful possession of a firearm
Unlawful possession of ammunition
Assault and battery of an inmate
Criminal threats against corrections officer
Hernandez is also a defendant in four civil suits in Massachusetts and Florida.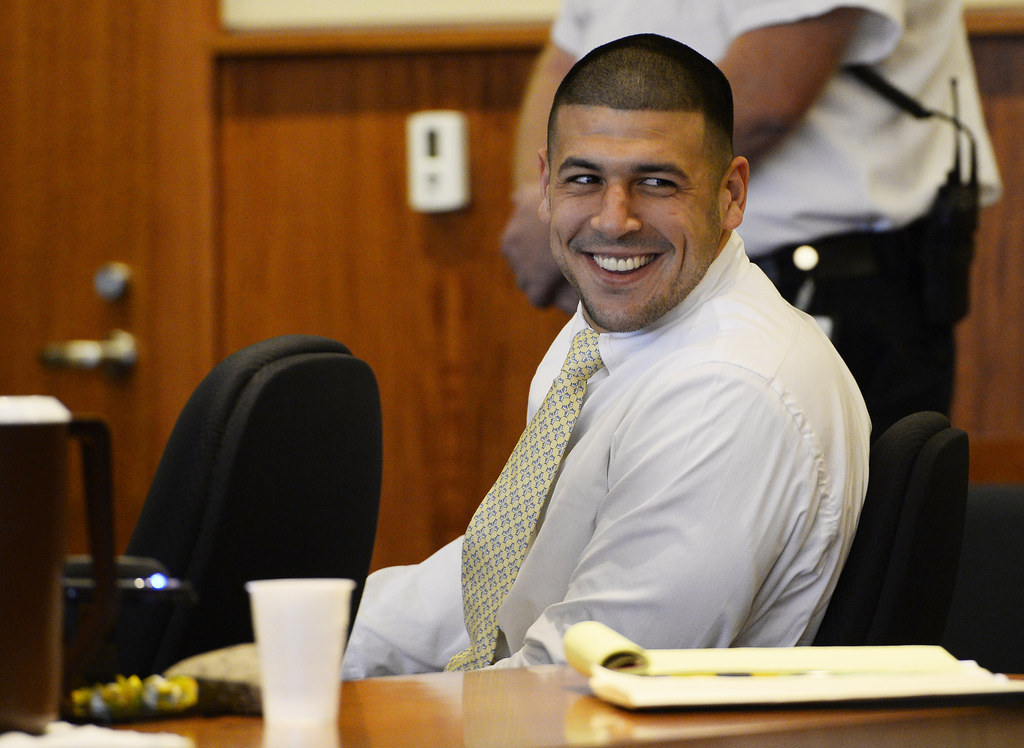 Unlawful possession of a firearm, on which Hernandez faces three charges, carries a two-and-a-half- to five-year sentence. Each count of armed assault with intent to murder carries a mandatory five-year sentence with a maximum of 20 years if convicted. And a single assault and battery by means of a deadly weapon conviction can yield up to 10 years if convicted.
Hernandez's double homicide trial in Boston, which is set to begin in May, will present a further set of challenges for the former New England Patriot.
In that case, prosecutors charged Hernandez with fatally shooting two men in a drive-by after leaving a Boston nightclub in 2012. He was not investigated in this case until he was arrested for the Lloyd murder — and a witness who was in the car with the victims at the time recognized Hernandez as the alleged gunman.
The altercation allegedly began when one of the men spilled Hernandez's drink in the club. A .38 caliber revolver, the same type of gun used in the drive-by, was later recovered in the trunk of a car driven by a 19-year-old woman from Bristol, Connecticut, which is Hernandez's hometown.
Hernandez's team could attempt to reach a plea deal in Boston, where the evidence against him — including an alleged murder weapon and eyewitnesses — presents them with a difficult case. Medwed said they must weigh this option by assessing the risk of going to trial and receiving a first-degree murder conviction and life sentence without parole.
Medwed warns that prosecutors in Boston might be disinclined to accept a plea deal based on the strength of their case and the fact that his other trial took place in a separate county. "If there's a feeling that Hernandez received a compromised verdict...and justice wasn't served" in the Lloyd case, "the DA might feel compelled to take the case to trial," he said.
Hernandez's second set of gun and ammunition charges were originally coupled with his current murder and weapons possession charges. During a search of Hernandez's home, investigators said they found a .22 pistol and a Hungarian AK-47 knockoff in a Camry in his garage.
If Hernandez does go to trial on the Boston charges, court filings raise questions about whether he can afford them.
Hernandez is currently being represented by high-powered defense attorneys James Sultan, Rankin, and Michael Fee. In 2014, Sultan and Rankin filed a motion claiming they might no longer be able to represent him for financial reasons. They have continued to act as Hernandez's counsel through the trial.
Hernandez was one year into a five-year, $40 million contract with the Patriots at the time of his arrest. Fox Sports calculated his total NFL earnings at $11.2 million, but that is the gross amount before significant deductions for agents' fees and taxes.
In 2012, Hernandez paid for a North Attleborough, Massachusetts, house with $1.3 million cash, records show. In December 2013, Lloyd's family had the assets of the house frozen as part of their wrongful death civil suit filed against Hernandez. If his family wins, they will likely receive returns from the sale of the home. If Hernandez keeps the house, he may need the asset as he faces his other civil suits — one of which, filed by a former close friend in Florida, alleges Hernandez shot him between the eyes over a bar tab in 2013.
If Hernandez can't continue to afford them, who will represent him in his upcoming charges?
Under Massachusetts law, people accused of serious crimes such as murder can possibly obtain private attorneys who can apply to be paid through public taxpayer funds though the state Committee for Public Counsel Services. A client's financial status is not a consideration in the process. A spokesperson for the committee told BuzzFeed News that as of Monday, Hernandez's current attorneys have not contacted them.