Washington Redskins Coach Says RG3 Is No Longer The Starting Quarterback
Head coach Jay Gruden on Monday said Kirk Cousins will be the team's 2015 starter.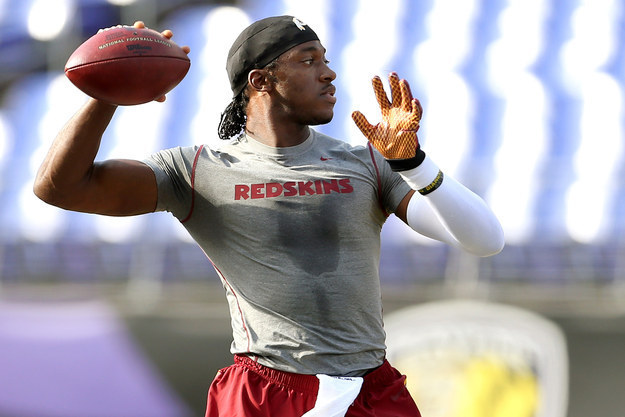 After three seasons as the Washington Redskins's starting quarterback, Robert Griffin III — widely known as RG3 — was benched in favor of Kirk Cousins, head coach Jay Gruden announced during a press conference Monday.
"It's Kirk's team," Gruden said.
It has long been rumored that team owner Dan Snyder instructed the coaching staff to stick with RG3 as the starter no matter the circumstance. Tensions between the new coaching staff and the alleged demands of the front office reached a breaking point during an Aug. 21 preseason match against the Lions, when Gruden kept RG3 in the game behind an alarmingly subpar offensive line.
RG3 completed two of five passes and was sacked three times — for a combined 17 yards lost. He took several hard hits, and many wondered why Gruden let him get pounded.
RG3 left the game with a pinched nerve and a possible concussion. Later that week, the team announced that an NFL neurologist cleared RG3 to play. But, the next day, the same neurologist walked back his decision and the team announced their starter would sit out for "one to two weeks" before being re-evaluated.
Reports later surfaced that Gruden was increasingly unhappy that team management wanted to stick with RG3 as starter. The ordeal led the 25-year-old quarterback to say, "I just work here," during a press conference.
Gruden on Monday praised Cousins' performance in offseason training camps over RG3's continually changing health status.
"Robert has done some great things, no question," he said. "But moving forward, with all the things we've studied over the course of training camp and [organized team activities], we just feel like Kirk has earned the right to be the starting quarterback for 2015."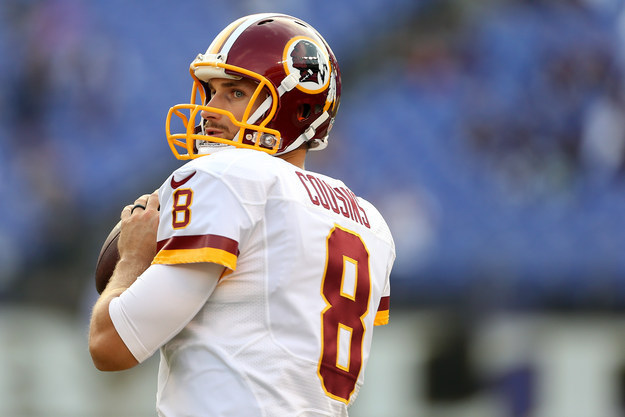 The Redskins drafted RG3 in 2012, after his Heisman-winning season at Baylor University. The team traded away their first-round picks through 2014 and their second-round pick for 2012 to take the promising, mobile quarterback.
RG3 was named starting quarterback before Week 1 of his rookie season, and played 15 total games. He took a hit to the knee late in a game mid-season, and Cousins was brought out to finish the game and start against the Cleveland Browns while RG3 recovered. That year the Redskins earned their first playoff berth since 2007, but RG3 suffered a knee injury during the first round of the playoffs against the Seattle Seahawks and the team didn't advance.
In that playoff game, then-head coach Mike Shanahan left RG3 in despite it being obvious to opposing players — not to mention viewers at home — that he was playing on a weakened knee. While attempting to recover a fumbled snap, RG3 planted his foot, but his knee gave out, tearing his ACL and LCL. The team has not appeared in the playoffs since.
The second-year starter performed poorly in 2013, and was shut down with three games left to go in the season. Cousins, his backup, finished out the year. In 2014, RG3 was again plagued by injuries, and was benched for Colt McCoy until he too was injured.
Overall, Cousins has started nine regular season games with Washington. In 2014, he completed 126 of 204 passes for a 61% completion rating. But he threw nine interceptions over those six games — four of those in one game. Cousins' statistics have improved so far this preseason.
"It's a good problem to have to have three quarterbacks that are competing and working their butts off and I feel like all three of them are capable quarterbacks," said Gruden.