Ayesha Curry tweeted that the NBA Finals are "rigged for money" after her husband, Warriors point guard Steph Curry fouled out of Game 6 Thursday night and threw his mouthguard into the stands, earning a technical foul and an ejection.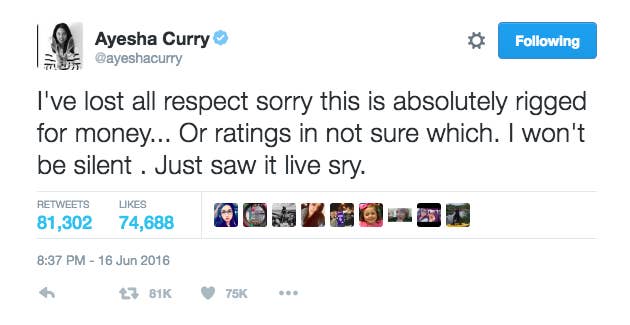 Ayesha eventually deleted the tweet — 82,000 retweets later. She later explained that she had "tweeted in the heat of the moment because the call was uncalled for" and that "Police racial profiled my father and told him to remove credentials and tried to arrest him. It's been a long night for me. I apologize:"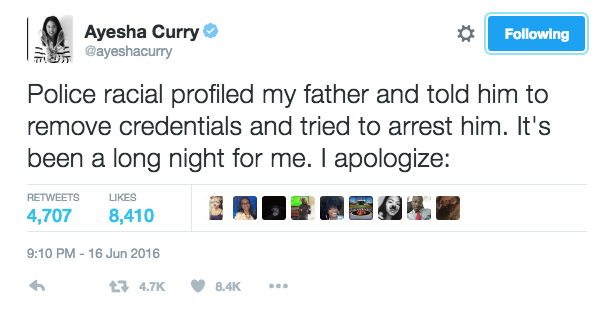 Before the game, Ayesha tweeted that the Warriors' family bus was being held outside Quicken Loans Arena: "10 mins til game time and the whole teams families are sitting here on a bus. They won't let us in yet. Interesting tactic though. Again."
The Warriors were up 3–1 in the rematch series against the Cleveland Cavaliers, but after two stompings by the Cavaliers, the series is tied 3–3 and will head back to Oakland for Game 7.
Ayesha's tweet appears to refer to questionable calls against Steph during Game 6, and questionable calls against the Warriors throughout the series. (It is important to note that the Warriors have gotten plenty of calls going their way throughout the series as well — it's the nature of imperfect officiating in a fast-paced game.)
The idea Ayesha seems to be pushing is that the NBA is trying to get the series to go to seven games to maximize drama, exposure, and, yes, money. Or, if we're talking ratings, maybe ABC/ESPN or their parent company Disney convinced the league to rig the series?
At this point we're getting into tinfoil-hat conspiracies that kind of ignore the fact that the Cavaliers — especially LeBron James and point guard Kyrie Irving — have been outright dominant, and that the Warriors have struggled on both ends of the court.
By the end of Game 6, it was clear that many of the Warriors are close to snapping, and emotions are high on both sides of the championship series. The Warriors, after all, have to defend their record-breaking 73–9 regular season record, because what's it mean if they don't finish with a ring? The Cavaliers, on the other hand, are looking to bring Cleveland its first professional sports championship since 1964.
No one should expect the wife of a back-to-back NBA MVP to take an objective view of his games, but Ayesha's tweet will certainly be brought up in the days leading up to Sunday's Game 7, and for the already frustrated Warriors, it's going to be a long couple of days.