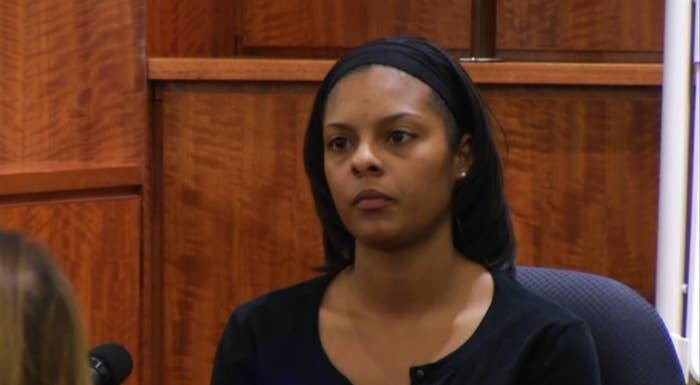 On day two of the Aaron Hernandez trial, Shaneah Jenkins, Odin Lloyd's girlfriend at the time of his murder, testified about the nature of the relationship between the victim and the defendant.
Shaneah is the sister of Shayanna Jenkins, Hernandez's fiancée and mother of his daughter. Shayanna and her daughter are still living in Hernandez's mansion in North Attleborough, MA. At the beginning of Shaneah's testimony, when asked to identify key characters in the case, she said her sister was not present in the courtroom.
Despite testifying in a case involving the murder of her boyfriend, with her sister's partner as the defendant, Shaneah remained calm and focused on the stand. She told the court that she graduated with a bachelors degree in criminology, and is currently enrolled at New England Law School in Boston.
Shaneah told the prosecutor that she met Hernandez when he began dating her sister when they were in high school in Bristol, Connecticut. She met Odin Lloyd while he was doing electrical work for a company that brought him to Bristol from Massachusetts a few weekends each month. She says they met in January of 2012 and were dating by March of 2012, traveling back and forth between Bristol and Boston on weekends.
Lloyd and Hernandez met for the first time on Shaneah's birthday — August 9, 2012. After that, Shaneah and Lloyd would often go to North Attleborough to visit her sister and Hernandez.
Shaneah said she had no knowledge of Hernandez and Lloyd hanging out independently, and the weekend of Lloyd's murder was the first circumstance of which she knew. They saw each other fairly often during visits to North Attleborough; Shaneah described their relationship as "cordial." She said the men bonded over marijuana, though, and during their visits Lloyd and Hernandez would often retreat to the defendant's "man cave" to smoke blunts.
Yesterday, Hernandez's attorney, Michael Fee, made a point of presenting the relationship between Hernandez and Lloyd as close and convivial. In his opening statement, Fee also told the jury that marijuana was a central bond in their relationship. He said, much to the amusement of media in attendance, that Hernandez called Lloyd "The Blunt Master."
It's still unclear what role the use of marijuana will play in the cases made by the defense and prosecution, but the men's affinity for getting high has quickly become a major theme during the first two days of the trial.
Shaneah told the jury that at the time of Lloyd's murder, she perceived the men as entering the "beginning stages" of a friendship.
During yesterday's opening statements, prosecutor Patrick Bomberg said Hernandez was the key participant in the murder because he was the only person seen with Lloyd that evening who had a close relationship with him. Hernandez's defense said the personal relationship between the men should be seen as a reason why Hernandez would not murder him.