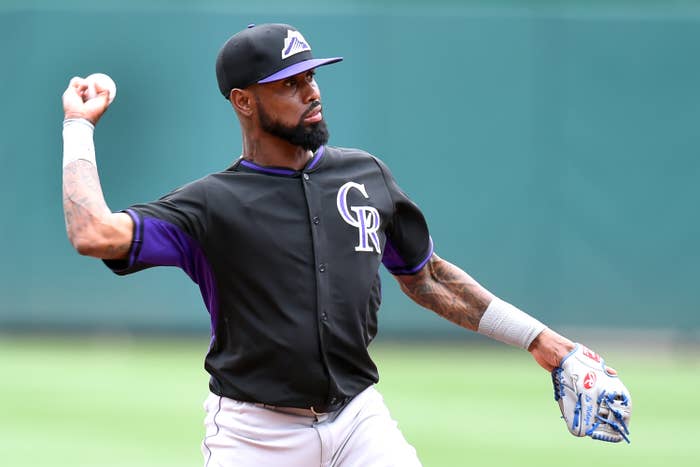 Colorado Rockies shortstop Jose Reyes has been suspended until May 31 by MLB following an investigation into domestic violence allegations from his wife, Katherine, in October 2015. He will not appeal.
Katherine told police in Maui, where the two were on vacation, that Jose had grabbed her by the throat and pushed her into a glass balcony door.
Reyes was arrested and charged in the alleged incident, but the case was dropped in March when Katherine declined to work with prosecutors on the case.
Reyes was put on paid leave by MLB as the league proceeded with its own investigation. He will repay the salary he took while on leave.
He will be docked in pay for 52 games, according to Jeff Passan of Yahoo Sports, which will result in $7.06 in lost salary.
In a statement, Reyes said:
I want to apologize for everything that has happened. I am sorry to the Rockies organization, my teammates, all the fans and most of all my family.

I am happy to put this all in the past and get back to doing what I love the most, playing baseball.

My wife Katherin has remained by my side through everything and for that I will be forever grateful.
The league's new domestic violence policy does not require a criminal conviction to levy sanctions. MLB Commissioner Rob Manfred has broad discretion in issuing suspensions in domestic violence and cases related to sexual assault.
Yankees reliever Aroldis Chapman was suspended 30 games at the beginning of the season. Chapman's suspension, which was agreed upon by the league and the MLB Players Association, was the first domestic violence suspension under MLB's new policy.
Reyes has played thirteen MLB seasons, and was traded to the Rockies in 2015 from the Toronto Blue Jays.