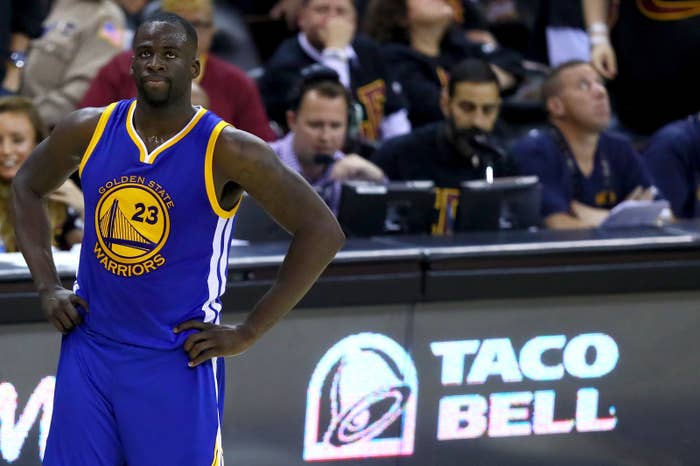 The man who alleges Draymond Green slapped him early Sunday morning outside a bar said the argument first began at a different venue on Friday night when the NBA player belittled him after bumping into him.
Green, who plays with the Golden State Warriors, was arrested early Sunday and cited for simple assault, before he was released from jail on $200 bond.
The other man involved was Jermaine Edmondson, a football player at Michigan State University, which Green also attended.

In a statement given to East Lansing police, Edmondson said he was at the bar Rick's American Café on Friday night near campus, when Green "bumped into" him and then began talking to Edmondson's teammate.
"I asked who he was to think that it's okay to bump into somebody without saying excuse me," Edmondson told police. "He then said, 'I pay for n*ggas like you scholarships.' I then started to say, 'You have me messed up,' before I was choked out by two guys who were with him."
Edmondson said bar employees tried to defuse the situation, but Edmondson "heard [his] girlfriend yell" and learned "she said she was choked by another one of the guys who were with Draymond."
The next night, Edmondson said he saw Green again at another bar, Conrad's, around the corner from Rick's. Edmondson said that after the bar closed, he confronted Green on the sidewalk outside the bar and told him "last night wasn't cool."
"As he responded to me he began to poke me on my shoulder and I tell him that he doesn't need to put his hands on me, we can just talk. As I started to talk again, boom, I'm punched in the jaw," Edmondson said.
In the police report, a responding officer said that he was near Conrad's bar and heard "a loud slap sound" before Green and Edmondson began walking separate ways.
A responding officer wrote that as he was being handcuffed and arrested Green said "some excited utterances, including that he was sorry for slapping the subject and wanted to speak with him to make things right."
In a statement on Monday, the Warriors said they were "aware" of the arrest and were "collecting information" on the situation.