Patriots Fan Sets Up GoFundMe Page To Pay Team's $1 Million Deflategate Fine
The team is valued at $2.6 billion, by the by, and Tom Brady himself has made well over $150 million throughout the course of his NFL career.
One particularly intrepid Patriots fan has set up a GoFundMe page to pay the Patriots' $1 million fine for Deflategate.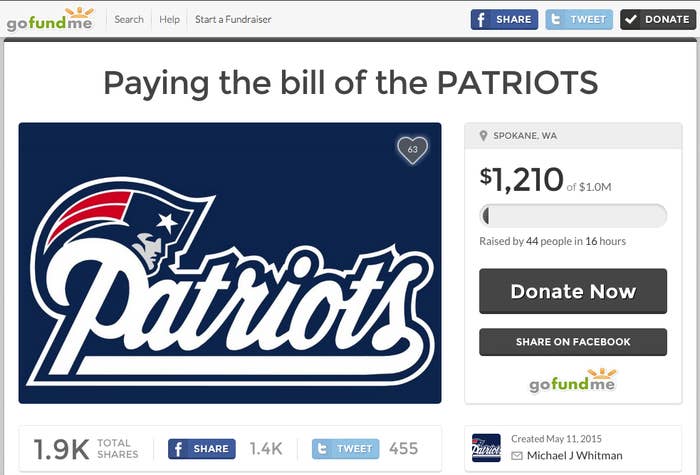 On the page, Patriots fan Michael J. Whitman said he knows the $1 million goal will be difficult to reach:
We obviously know we won't reach One Million Dollars, however we do believe the fine is bulls**t and want to help anyway we can. So whatever is donated will be donated to the New England Patriots in help with the fine!
As we venture with this, we will do frequent updates to show progression of this! If enough is made to make the travel, we will fly down there (on our own expenses) and deliver a check in person!
In August 2014, Forbes valued the New England Patriots at $2.6 billion, ranked behind only the Dallas Cowboys in wealth. Team owner Robert Kraft has a net worth of $4.3 billion, according to Forbes.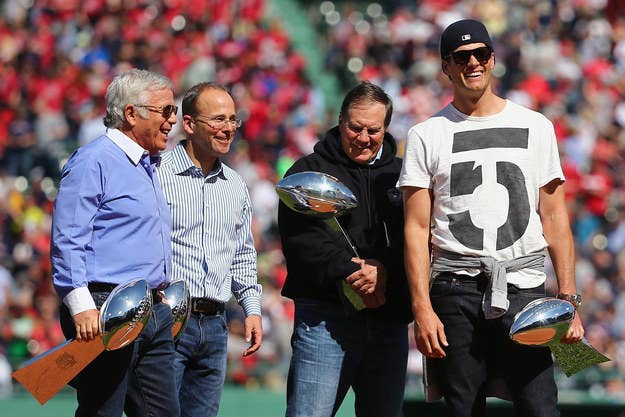 Comments on the GoFundMe page express support for the team and criticism of NFL Commissioner Roger Goodell, who did not determine the suspension.
Fans have started donating money to the fund in $12 increments.
Chuck Lusignan, who donated the quarterback-appropriate amount to the fund admitted that he knows "the Pats don't need the money but it would be great to reach the goal and give it to charity of Mr. Kraft's choice. That's the kind of fans that the BEST organization in the NFL we are. Go Pats!
Daniel Knowles, who donated $10, said: "I'm not exactly rolling in the cash but I can do this for a cause."
A comment on a $10 donation from Matt Keohan contains a quote from Martin Luther King Jr. "Injustice anywhere is a threat to justice everywhere," the comment says, followed by "Pats Nation."