In October, the Philadelphia 76ers and Papa John's Pizza announced a partnership called, "Sixers Win, You Win."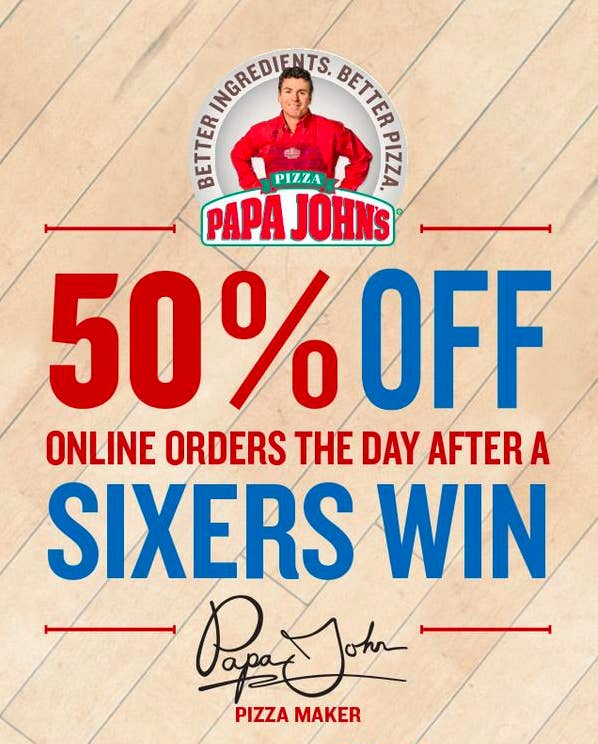 The concept seems simple enough, right? An NBA team wins a game — something they're expected to do 20-50 times per year — and fans get to celebrate by paying 50% less to demolish a pizza or two in the name of victory.
Papa John's has a few different promotions with professional sports teams: New Yorkers can get 50% off pizza the day after the Yankees score at least six runs; Heat fans also get 50% off after wins. Peyton Manning owns a bunch of Papa John's locations and is now making a hell of a lot of money as a second income thanks to legally high Coloradans buying up Papa John's Frito Chili Pizza and whatnot.
But, there's a problem:

The Sixers have lost their first eleven games of the 2014 NBA season. So, not only are the Sixers denying their weary fans the simple taste of victory, they're making them pay full-price to stifle their sorrows with slices.
Even worse, there's no telling when this Sixers team will get it together to beat someone. Anyone. I mean, Joel-Hans Embiid, their highest paid player, is an injury-prone 20-year-old who is yet to play a game due to a foot injury.
Papa John's has accepted the fate of their flailing business partners, so they've changed the 50% off promotion to be active when the Sixers score at least 90 points in a game.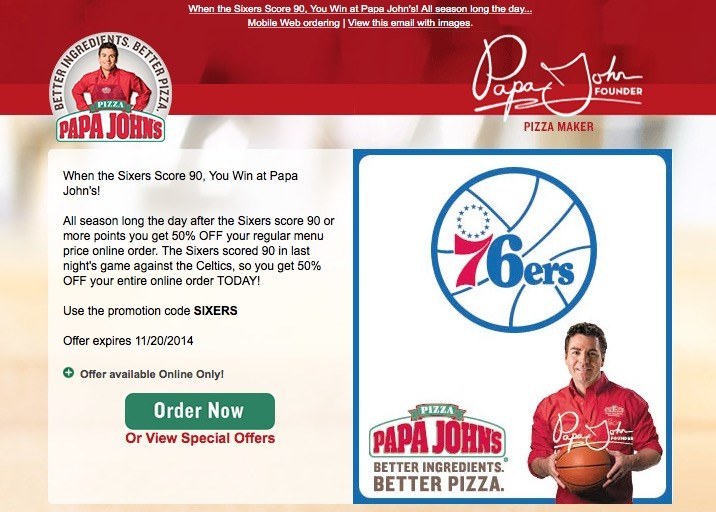 Eric Freeman at Yahoo's Ball Don't Lie blog has a good analysis of how often the Sixers are likely to help out their fellow Philadelphians:
The team is averaging just 88.6 ppg, worst in the league, but they have scored 90 points in five games and come within three points of the mark on three more occasions. If we opted to define a Sixers win as scoring 90 points, then their 5-6 record with three narrow losses would be good enough for the eighth-best record in the East and hope for a playoff berth. Instead, it will just allow fans to order cheaper Papa John's pizza, which might be the life equivalent of finishing in this terrible conference's final playoff spot.
Congrats to Sixers fans on their upcoming discounted pizza. And to the Sixers themselves, well: