Orioles Employees To Be Paid For Week Of Missed Work During Baltimore Unrest
The organization informed employees Tuesday that they will receive full pay for the week of games rescheduled or moved due to the riots.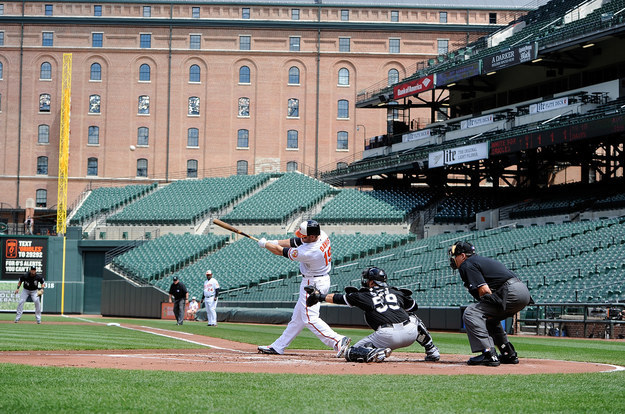 Orioles employees were informed Tuesday that they will be compensated for the week of games that were rescheduled and relocated due to riots in late April.
In a letter obtained by BuzzFeed News that was posted next to an employee time clock, the Orioles called the circumstances "extraordinary."
Beneath the Orioles logo, the notice said:
Due to the extraordinary circumstances that led to several cancelled or rescheduled games, the Orioles organization will compensate all hourly employees for hours that would have been ordinarily worked the week of April 27. This adjustment will be added [sic] will be added to your 5/29 paycheck.
The Orioles confirmed Wednesday that employees will be "reimbursing hourly Orioles employees who lost wages during that week."
Another Camden Yards employee who works for Delaware North, which manages concessions for the team, told BuzzFeed News the employee union will pay $200 for the time lost.
Delaware North issued a statement Wednesday about the compensation:
Delaware North Sportservice wants to publicly thank its loyal local associates who showed great patience during the week of April 27th. Due to the extraordinary circumstances that led to three games being moved from Oriole Park and another being closed to fans, we wanted to show our appreciation and support to our nearly 1000 game day associates by voluntarily providing each with a monetary payment. We are very proud of our associates and their dedication to serving up the best game day experience to Orioles fans.
In late April, as authorities clashed with crowds protesting the police-related death of Freddie Gray, the Orioles postponed two games against the White Sox and played the final game of the series without an audience present. Another homestand was scheduled for that week, but it was moved to Tampa Bay, where the Orioles acted as the home team.
The team collected no door revenue for the empty White Sox game, and though they were the home team in Tampa (and therefore collected door revenue), the disparity between Orioles attendance and Rays attendance is significant. In 2014, the Orioles averaged a home attendance of more than 30,000 fans. The Rays averaged just under 18,000 for home games. The attendance figure for each of the three relocated Rays-Orioles games is in the 11,000 range.
In April, Stacey Dash, a server at Dempsey's Brew Pub at Camden Yards, told BuzzFeed News that although the potential for lost income would be a tough hit financially for her, she appreciated the concern for the safety of employees.
Dash said she averages between $150 and $300 in salary, plus tips. Dempsey's is also operated by Delaware North, so Dash will receive $200 for the week, which she said is "better than nothing."
During the unexpected week off, Dash said she intended to "support the local bars and businesses that are affected by the curfew" with her coworkers.
The Orioles, despite taking a hit, never presented the financial repercussions of their organization as important in context of what was going on in the immediate surrounding area of their stadium.
John Angelos, an executive vice president and son of the team owner, issued a lengthy statement that focused heavily on the loss of jobs, opportunities, and civil rights protections in Baltimore.
"We need to keep in mind people are suffering and dying around the U.S.," Angelos said. "While we are thankful no one was injured at Camden Yards, there is a far bigger picture for poor Americans in Baltimore and everywhere who don't have jobs and are losing economic civil and legal rights, and this makes inconvenience at a ball game irrelevant in light of the needless suffering government is inflicting upon ordinary Americans."
After the empty stadium White Sox game, Orioles manager Buck Showalter spoke candidly about how he approaches discussions involving race.
"You hear people try to weigh in on things that they really don't know anything about," Showalter said. "I've never been black, OK? So I don't know. I can't put myself there. I've never faced the challenged they face, so I understand the emotion."