NYPD Commissioner Apologizes To Tennis Star After Officers Mistakenly Tackled Him
Bill Bratton said Thursday he had apologized after his officers mistook James Blake for a fraud suspect.
New York Police Department Commissioner Bill Bratton said Thursday he reached former tennis star James Blake by phone and personally apologized after Blake was thrown to the ground and handcuffed in a case of mistaken identity.
"I spoke to Mr. Blake a short time ago and personally apologized for yesterday's incident," Bratton said in a statement.
"Mr. Blake indicated he would be willing to meet with the Internal Affairs Bureau as our investigation continues. Additionally, he said he would be returning the Mayor's earlier phone call to speak to him. Mr. Blake said he would like to meet with the Mayor and me at a future date, which we would be agreeable to."
The city's top cop said at a news conference earlier Thursday that he and the mayor had tried reaching out to Blake to issue an apology but haven't been able to get in touch with him.
Bratton then went on to explain that Blake bore "a remarkable likeness" to a man suspected of committing credit card fraud.
"They look like twins," Bratton said of Blake and the suspect, who had been identified through an Instagram photo. The NYPD did not supply the photo of the suspect for comparison, explaining that he had been cleared of all wrongdoing. TMZ later released a photo of the alleged other victim of mistaken identity.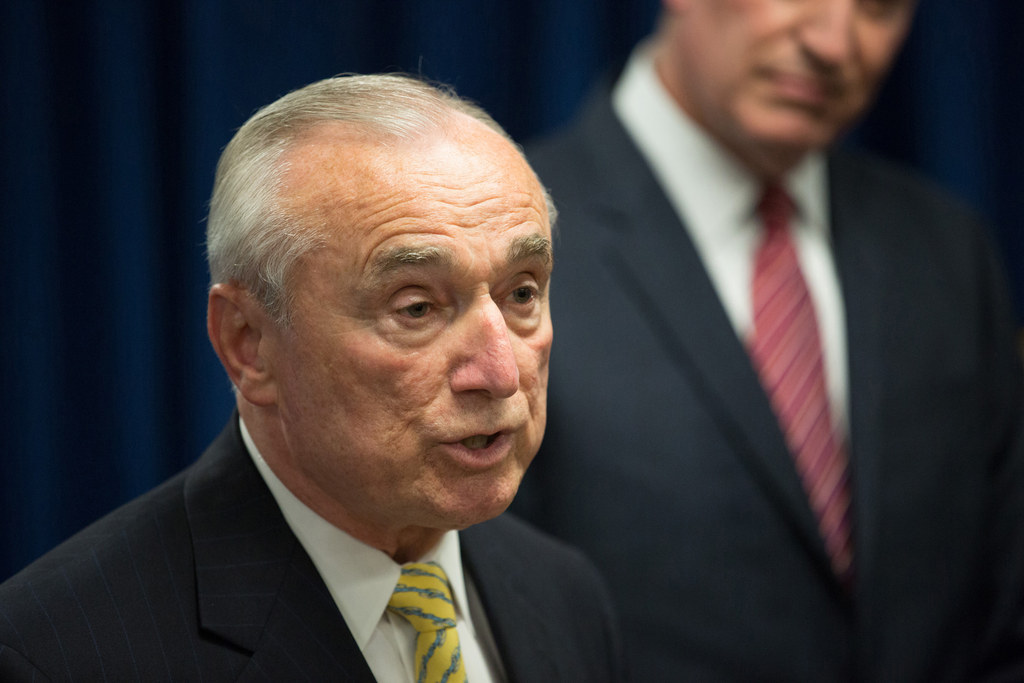 Blake was waiting for a car outside of the Grand Hyatt hotel just outside of Grand Central Terminal on Wednesday when the incident occurred. The former tennis player, who was about to head to the U.S. Open in Queens, was just standing there when suddenly a plainclothes police officer tackled him to the ground with the help of four undercover detectives and handcuffed him, according to the New York Daily News.
Police said Wednesday that Blake had been mistakenly identified by an informant during an NYPD sting operation to catch people using of fraudulent credit cards to purchase cell phones. The informant mistakenly told detectives that he had sold merchandise to Blake.
The former tennis player was released after 15 minutes when he provided identification and his U.S. Open credentials.
On Thursday morning the NYPD said in a statement that one of the officers involved in the incident had been placed on modified duty, pending an investigation by the department's internal affairs bureau.
"The use of force was such that I'm comfortable that it's in the best interest of the department to place the officer on modified assignment as the investigation moves forward," Bratton said.
He also said that he does not believe "at all that race was a factor," and that there has been a rush to place a "race tag" on the incident.
Blake, who is black, told the Daily News Wednesday that he sees it as a simple issue of "unnecessary police force, no matter what my race is. In my mind there's probably a race factor involved, but no matter what there's no reason for anybody to do that to anybody."
When reached by phone by BuzzFeed News Wednesday afternoon, Blake declined to comment further on the incident but confirmed the narrative in the Daily News report.
He appeared on Good Morning America Thursday morning, telling host Robin Roberts he'd "like an apology. We all need to be held accountable for our actions, police as well."
Blake told the Daily News he was initially hesitant to speak publicly about the incident, "but what about someone who doesn't have those resources and doesn't have a voice? The real problem is that I was tackled for no reason and that happens to a lot of people who don't have a media outlet to voice that to."
In a statement, Patrick J. Lynch, president of the Patrolmen's Benevolent Association, condemned the NYPD's decision to place the detective on desk duty:
"We agree with the Police Commissioner that the first story is never the whole story and believe that placing this officer on modified duty is premature and unwarranted. No police officer should ever face punitive action before a complete review of the facts."