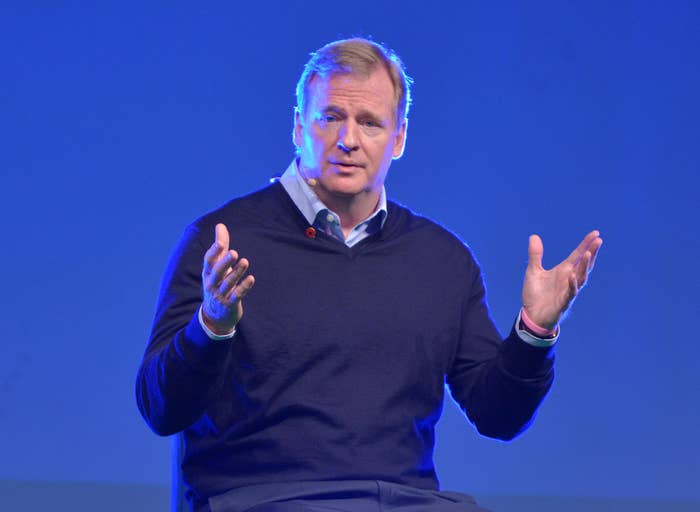 SAN FRANCISCO — NFL commissioner Roger Goodell on Thursday said that the league is working on "formalizing" a rule to interview women for executive positions — but later told BuzzFeed News that the policy is now underway.
"We're already going it," he said in a brief interview.
Speaking at the NFL's first-ever Women's Summit, Goodell likened the initiative to the league's "Rooney rule," which says that teams must interview minority candidates for head coaching positions.
The effectiveness of the Rooney rule has been debated since its implementation in 2003.
The commissioner pointed to the recent hiring of women as coaches — Dr. Jen Welter as a coaching intern for the Arizona Cardinals and Kathryn Smith as special teams coach for the Buffalo Bills — as evidence that "progress is being made" in regard to women in football.
Goodell also spoke of an upcoming partnership with the Women's Sports Foundation to develop a flag football league, with the intent of involving girls in the game. The commissioner mentioned his own twin daughters, now fourteen — admitting that they're more interested in tennis than football — but said he has seen the impact of youth sports on their confidence.
(Goodell also said when he told his twin daughters he was "boss of football." they told him "not in our house you're not the boss.")
The commissioner spoke at the summit for fifteen minutes before introducing Condoleezza Rice, who has often been mentioned as a potential candidate to become commissioner of the NFL. He did not take questions, nor did he address the league's handling of and recent initiatives regarding domestic violence and sexual assault in the league.
Goodell hinted that the two-day Women's Summit would potentially be an annual event to discuss and advance the role of women in sports.