NFL player Ray McDonald, who was arrested for alleged domestic violence and child endangerment on Monday was arrested again on Wednesday for violating a restraining order issued after the initial arrest, according to the Santa Clara Police Department.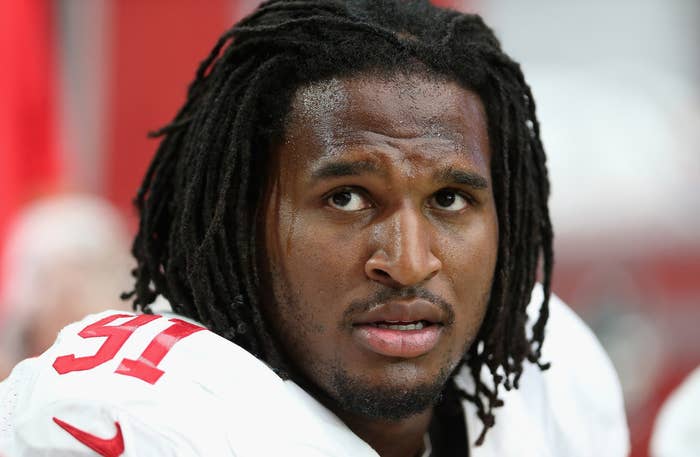 The Santa Clara PD released a statement shortly after his arrest on Wednesday:
On Wednesday, May 27, 2015, at about 2:52 PM., Santa Clara Detectives learned Ray McDonald violated a restraining order for being at a residence in Santa Clara. Detectives later located Ray McDonald at a nearby Togo's Sandwiches, 2203 Tasman Dr. in Santa Clara. Ray McDonald was arrested without incident and transported to Santa Clara Police Department for processing. He will be booked at Santa Clara County Jail.

The restraining order Ray McDonald violated was issued as a result of his earlier domestic violence and child endangerment arrest which occurred in Santa Clara on May 25, 2015.
McDonald was cut from the Chicago Bears on Monday after he was arrested for allegedly physically assaulting a woman while she was holding a baby.
Signed in March, McDonald never played for the Bears before being released.
McDonald started his NFL career with the San Francisco 49ers, but was cut from the team in December when he was accused of sexually assaulting a woman. In August 2014, McDonald was arrested for allegedly assaulting his pregnant fiancee.
Charges were dropped in the August incident because the victim did not cooperate with the police investigation. Formal charges were never brought for the sexual assault allegation, and McDonald later brought a defamation suit against the woman who accused him.
When 49ers GM Trent Baalke explained their decision to cut McDonald in December, he pointed to a "pattern of poor decision making."
In a statement on his release, Chicago Bears GM Ryan Pace said:
We believe in 2nd chances, but when we signed Ray we were very clear what our expectations were if he was to remain a Bear. He was not able to meet the standard and the decision was made to release him.
McDonald's signing with the Bears made headlines because of his recent spree of legal issues and an interview given by Bears chairman George McCaskey about how they conducted their interview into the accusations: "An alleged victim, I think -- much like anybody else who has a bias in this situation -- there's a certain amount of discounting in what they have to say."
BuzzFeed News has reached out to the NFL for comment. The Santa Clara Police Department said "further information will be released when it is available."