NFL Commissioner Roger Goodell Says He Is Not Stepping Down
"We take seriously anything that potentially impacts the integrity of the game." His comments came during a news conference in Arizona, two days before Super Bowl XLIX.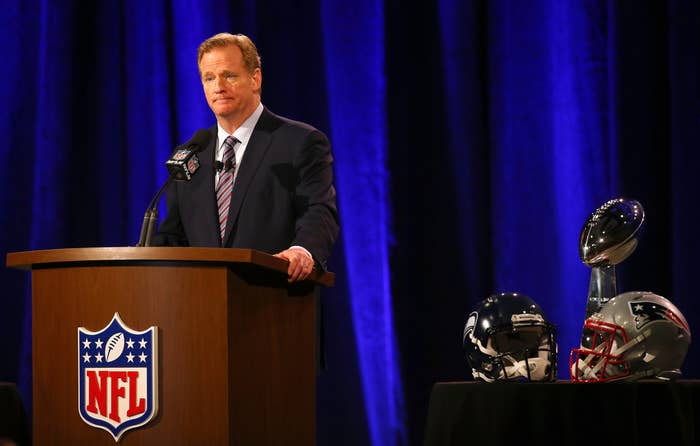 It's been a year of adversity for Roger Goodell and the National Football League, but the commissioner has no plans of resigning.
"Does that surprise you?" he said at a news conference in Phoenix, Arizona, adding that it's been a year of learning and an opportunity for the NFL to get better.
A number of questions asked were about the difficult year the NFL has had and how the public perceived the various scandals.
"We have enormous responsibility to lead every day by example," he said referring to the issue of domestic violence, adding that he personally visited hotline centers and spoke with advocates.
"We've all done a lot of soul-searching, starting with yours truly," Goodell said.
He also addressed Deflategate and the investigation the league is conducting with attorney Ted Wells.
"We take seriously anything that impact the integrity of the game," he said.
Goodell refused to go into any details of the investigation, stating that speculation will only compromise the process.
"We want the truth," he said. "That's what I think our fans want, that's what our clubs want … If there are violations of the rules, we take them seriously."
Asked if the NFL had ever tested the pressure in footballs mid-game prior to the AFC Championship, Goodell said he didn't know.
"That would be something I presume that Ted Wells will look into," he said.
When the investigation is complete, the report will be shared publicly, Goodell added.
The commissioner also announced the new position of chief medical examiner, which will oversee the league's medical policies and work closely with the league's medical committee, adviser, and National Football League Players Association.
Goodell repeated the statistic the NFL released earlier this week — that the number of in-game concussions decreased by 25% this season.