New York High School Will No Longer Use "Redskins" As A Mascot
School board members on Monday announced that Lancaster High School will have a new nickname. Earlier this month, three local school districts boycotted the school over the term.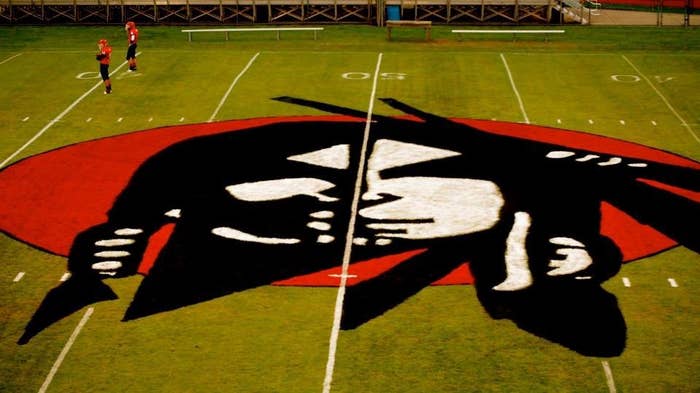 On Monday night, school board members announced that Lancaster High School in New York will no longer use "Redskins" as a nickname and mascot. The school's new nickname has not yet been decided, but "Red Hawk" is rumored to be a favored replacement.
When the decision was announced, parents in support of the name began chanting "Let's go Redskins," and told the school board that its action will be temporary. One supporter of the name asked, "Why are we being bullied?"
The debate over the school nickname, which it has held for 68 years, heated up when three nearby districts with large numbers of Native American students — Akron, Niagara Wheatfield, and Lake Shore — boycotted the school over the mascot name. Akron and Lake Shore also cancelled lacrosse games between the Buffalo-area teams.
Lancaster School District created a website dedicated to the debate, offering a place for interested parties to hear arguments for both sides. On a page called "Pros and Cons Websites," the school listed two Change.org petitions: One in support of the name with 2,802 supporters, and one opposed to the name, with 1,684 supporters. Another link on the page is RedskinsFacts.com, a PR firm–backed propaganda website that attempts to defuse criticism of the Washington football team.
During the contentious meeting, school board member Wendy Buchert said that "although the decision is not popular, we must make an immediate decision to change the mascot" to benefit the students. Buchert argued that the debate itself had the potential to cause harm to the educational and athletic opportunities of Lancaster students.
School board President Kenneth Graber explained that the nickname was chosen by football coaches in the 1950s and was meant to honor the bravery and courage of the Native American community.
"That was then, this is now," he said. "People, ethics, and standards evolve. What was acceptable 70 years ago is not acceptable now. Native Americans do not feel honored."
The school board showed unanimous support for changing the name. Patrick Uhteg told the crowd the school has an obligation to set a good example and protect the emotional and academic interests of the school.
"Let's be clear: This debate is over a school mascot," he said. "We are a school institution and not a billionaire-run football team."