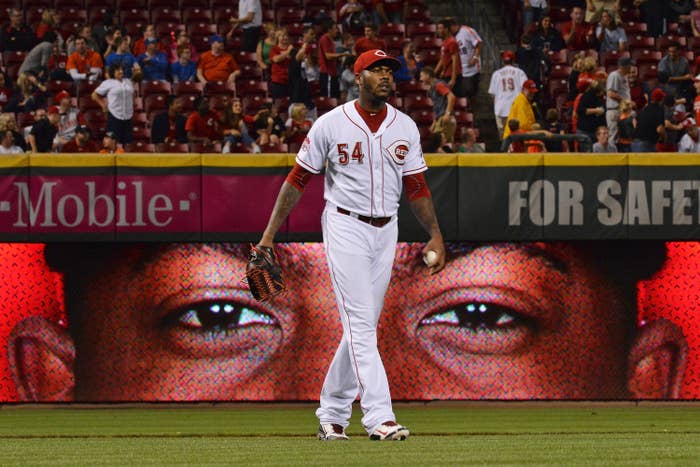 Yankees pitcher Aroldis Chapman has been suspended by Major League Baseball for 30 games following a league investigation into domestic violence allegations against him.
It was announced in January that Chapman would not face criminal charges for an alleged October 2015 incident in which his girlfriend told police the pitcher had "pushed her up against the wall" and "choked" her — but Chapman still faced discipline from the league.
Chapman's suspension is the first issued by MLB under the league's new domestic violence policy.
Under MLB's new domestic violence policy, a suspension is not dependent on a criminal conviction. League investigators present their findings to Commissioner Rob Manfred, who has the authority to issue a punishment "with no minimum or maximum penalty under the policy."
The 30-game suspension issued Tuesday is significant because it is potentially precedent-setting.
Players have the right to appeal suspensions to an arbitration panel. Chapman has declined appeal.
MLB is also currently investigating an incident involving Colorado Rockies shortstop Jose Reyes, who is currently on paid leave until the conclusion of a criminal trial in Hawaii for alleged domestic violence against his wife. The league has also said it is investigating Dodgers outfielder Yasiel Puig after he was reportedly involved in a fight in a Florida bar.
Chapman was traded from the Cincinnati Reds to the New York Yankees in December 2015. Earlier that month, it appeared Chapman would be traded to the Los Angeles Dodgers, but that trade fell through when a police report from the Florida incident was released to reporters.
Chapman has reported to Spring Training with the Yankees, who begin playing games Wednesday.
Shortly after the suspension was released, Chapman released a statement to Ken Rosenthal of Fox Sports:
Today, I accepted a 30 game suspension from Major League Baseball resulting from my actions on October 30, 2015. I want to be clear, I did not in any way harm my girlfriend that evening. However, I should have exercised better judgment with respect to my actions, and for that I am sorry. The decision to accept a suspension, as opposed to appealing one, was made after careful consideration. I made this decision in an effort to minimize the distractions that an appeal would cause the Yankees, my new teammates and most importantly, my family. I have learned from this matter, and I look forward to being part of the Yankees' quest for a 28th World Series title. Out of respect for my teammates and my family, I will have no further comment.
MLB Commissioner Manfred released a statement on the suspension:
I asked my staff to conduct a comprehensive investigation of the incident involving Aroldis Chapman on October 30, 2015. Much of the information regarding the incident has been made public through documents released by law enforcement. Mr. Chapman submitted to an in-person interview with counsel present. After reviewing the staff report, I found Mr. Chapman's acknowledged conduct on that day to be inappropriate under the negotiated Policy, particularly his use of a firearm and the impact of that behavior on his partner. I am gratified that Mr. Chapman has taken responsibility for his conduct, that he has agreed not to appeal the 30-game suspension, and that he has agreed to comply with the confidential directives of the Joint Policy Board established under the parties' Policy to ensure that a similar incident does not occur in the future.
The MLB Players Association, which negotiated the new domestic violence policy with the league, released a statement on the suspension:
The Major League Baseball Players Association and its members do not condone the mistreatment of others by playing or non-playing personnel. At the same time, the MLBPA remains committed to protecting and ensuring the rights granted to Players under the applicable provisions of the sport's new Joint Policy on Domestic Violence. As such, the MLBPA supports Mr. Chapman's decision to forgo his right to an appeal.