MLB Hires Firm To Assist Increased Hiring Of Women And Minority Employees
Baseball has taken a step toward diversifying its baseball operations personnel.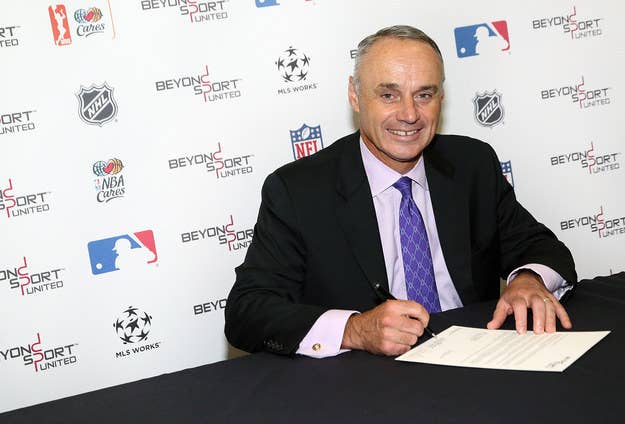 Major League Baseball announced today a partnership with search firm Korn Ferry to assist in deepening its pool of women and minority candidates for "key baseball operations positions."
The move is one of many personnel-related initiatives baseball has implemented in recent years. Commissioner Rob Manfred, who assumed the role in January 2015, has made the inclusion of minorities and LGBT people a priority of his tenure.
With its latest move, baseball is preparing for openings in front office and baseball operations positions, as the standard offseason shuffle begins. "Korn Ferry will assist executives in developing their résumés and interview skills in an effort to enhance their candidacies and to expand networking opportunities," MLB said in a statement.
Positions of note, the statement says, include "general manager, field manager, assistant general manager, scouting director and player development director."
MLB has been subject to criticism for its lack of minorities as managers, team GMs, and presidents.
The league has adopted a version of the Rooney Rule — the NFL-inspired mandate that teams must interview minority candidates when coaching positions open up — but those potential candidates are easily passed by with the promotion of an in-house candidate. Manfred recently sent all 30 teams a reminder of the rule.
Of the league's partnership with Korn Ferry, Manfred said: "We are proudly a sport of inclusion, and we must continue to pursue and develop more opportunities for minorities and women throughout our game, both in senior and entry-level positions. Our policy on this vital issue will ensure that active searches of outside candidates for leadership positions will include strong minority and female representation."