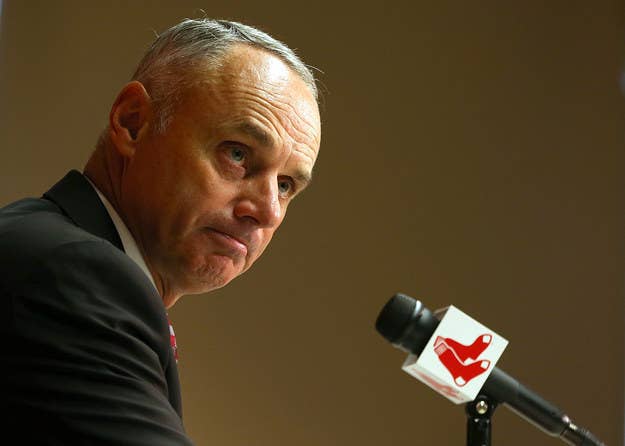 MLB and the players union on Friday announced a new policy regarding domestic violence, sexual assault, and child abuse.
The new policy includes discipline, treatment and intervention for players involved in abuse or assault incidents, as well as education programs and resources for players and their families.
MLB has had fewer known incidents of domestic violence, sexual assault, and child abuse than other professional sport leagues, with outfielder Milton Bradley and pitcher Josh Lueke as the perhaps the most well-known examples.
In a statement, the MLB said the program will extend beyond players: "[T]he Commissioner's Office will implement additional policies to cover Minor League players, as well as everyone employed by a Major League or Minor League club, and the Commissioner's Office, and the MLBPA will also implement an all-encompassing domestic abuse policy for its staff."
A three-member panel of experts will advise players of a treatment plan, which may include counseling sessions and, when relevant, "limiting interactions with his partner."
Following an investigation into the allegations, Commissioner Rob Manfred can issue sanctions by his own judgment of the incident. "There is no minimum or maximum penalty prescribed under the policy," and "the Commissioner's authority to discipline is not dependent on whether the player is convicted or pleads guilty to a crime."
If a player chooses to appeal sanctions issued by the commissioner, their case will be presented to a three-person arbitration panel comprised of one representative from MLB, one from the MLB Players' Association, and an "independent arbitrator."
This panel is a key differentiator from the power afforded to NFL Commissioner Roger Goodell, who the league claims has the power to act as disciplinarian and arbitrator. It is a hitch in the NFL/NFLPA Collective Bargaining Agreement that has received much push back from players, most notably in federal court as the subject of Tom Brady's ongoing lawsuit against the league.
In allowing the commissioner power, but limiting his role throughout the process, the MLB appears to be attempting to avoid similar complications down the line.
The new program also includes standards and provisions for addressing issues of domestic violence, sexual assault, and child abuse before any incidents may arise. An education program is mandatory for all in MLB-affiliated clubs (Majors and Minors), and a confidential 24-hour helpline — in English and Spanish — has been established for players and their families.
The MLB also announced that it will promote awareness of the relevant issues, including "domestic violence awareness days" at ballparks.