Aaron Hernandez's Fiancee Testifies At His Murder Trial
He faces first-degree murder charges.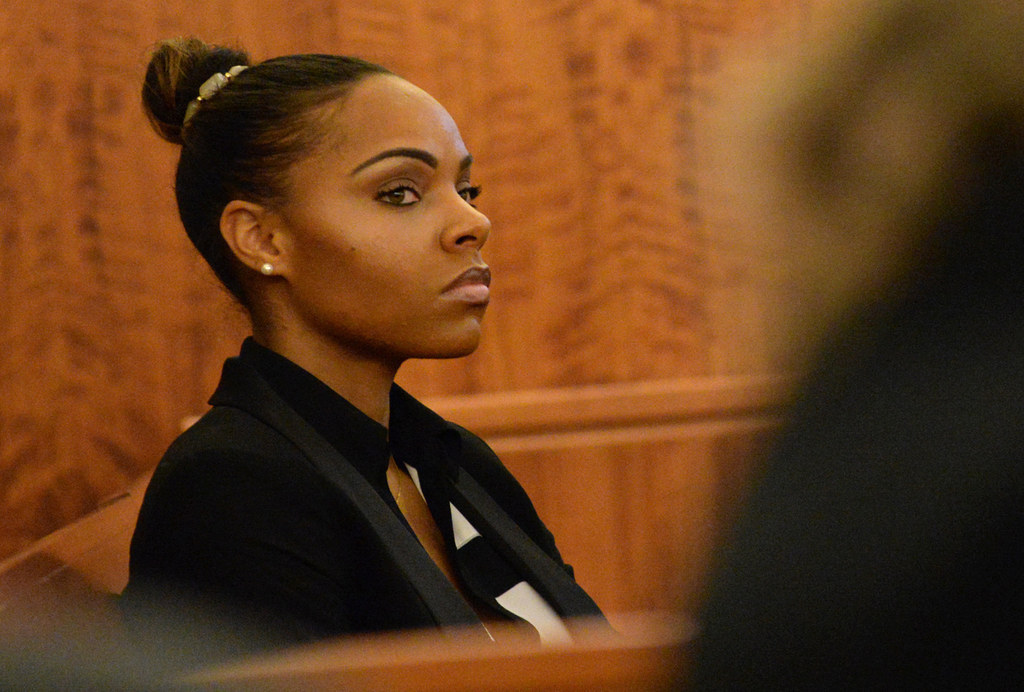 Here's What's Happening
Former New England Patriots star Aaron Hernandez is on trial for the murder of Odin Lloyd in 2013.
Hernandez's fiancee and the mother of his daughter, Shayanna Jenkins, was granted immunity from criminal charges in exchange for testifying against him.
Jenkins testified on Friday, saying they kept a black handgun in the drawer of their home.
Jenkins testified on Monday about a large box she removed from their home the day after Odin Lloyd was murdered.
Her testimony puts her in an unenviable position. Read an analysis here.
Updates
Prosecutor: "You said you saw the profound sadness in Hernandez after the death of his father? Did you see the same sadness in your sister when Odin Lloyd was found dead?"
Defense objects, sustained.
Shayanna leaves the stand after nearly two full days of questioning.
During a line of questioning from the prosecutor, Shayanna said she defines infidelity as intercourse with someone else.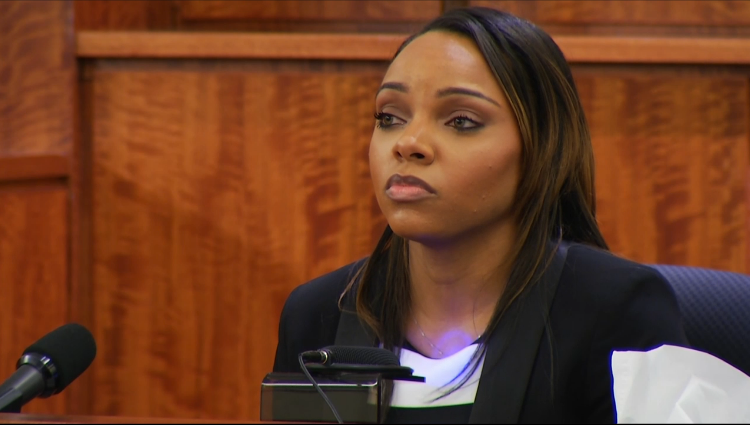 Shayanna bristled when the prosecutor asked her if she was okay with Hernandez attempting to cheat on her with their babysitter. She looked taken aback and offended, and asked, "excuse me?"
Earlier this month, their babysitter testified that Hernandez had kissed her multiple times, though it never went any further.
These questions about infidelity were part of a line of questioning about Shayanna's tolerance of Hernandez's behavior. She said she allowed Hernandez to smoke weed only in the basement, and that she was not happy about the gun in the home.
"During this time, he essentially did what he wanted?" "Yes."
Hernandez's attorney took his turn asking Shayanna about the box she removed from the home. She said she smelled something "funky" in the box, and has now revealed that she believes it contained marijuana.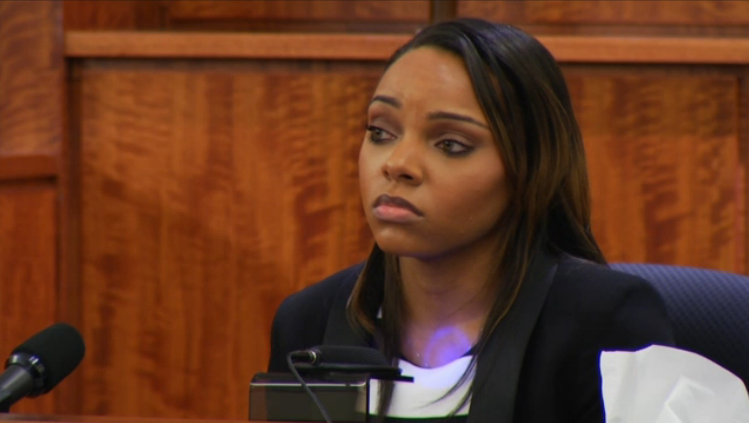 This is the first mention of the possibility of the box containing marijuana, and the prosecutor was quick to push Shayanna on that fact.
Shayanna says she and Hernandez were set to be married on April 12, 2014. Bristol County Sheriff Thomas M. Hodgson has said he won't allow them to be married while Hernandez is in jail.
Shayanna says it was not unusual for her to accept Hernandez's party lifestyle, even when it made her upset.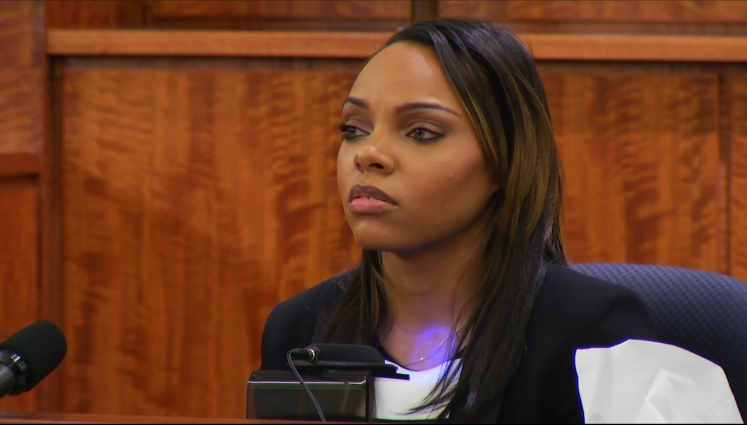 Shayanna is asked about nature of relationship between Hernandez and Lloyd.
Shayanna provided extensive details about when double dates between the couple. Both the prosecution and defense have tried to establish Hernandez and Lloyd as friends, rather than acquaintances.
The defense is attempting to use their relationship as proof that Hernandez wouldn't kill a friend. The prosecution is attempting to show a relationship between the men to suggest he orchestrated the killing. Massachusetts law requires prosectors only to prove that a defendant orchestrated a murder, rather than undoubtedly pulled the trigger.
Odin Lloyd's mother is back in the courtroom. Shanaeh Jenkins, Odin's girlfriend and Shayanna's sister, sits to her right.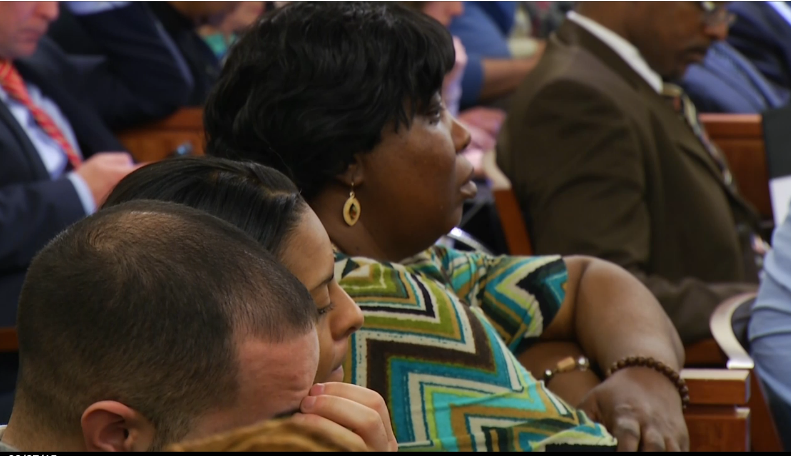 Shayanna begins crying on the stand when talking about "compromises" she made to stay with Hernandez after discovering he was cheating on her.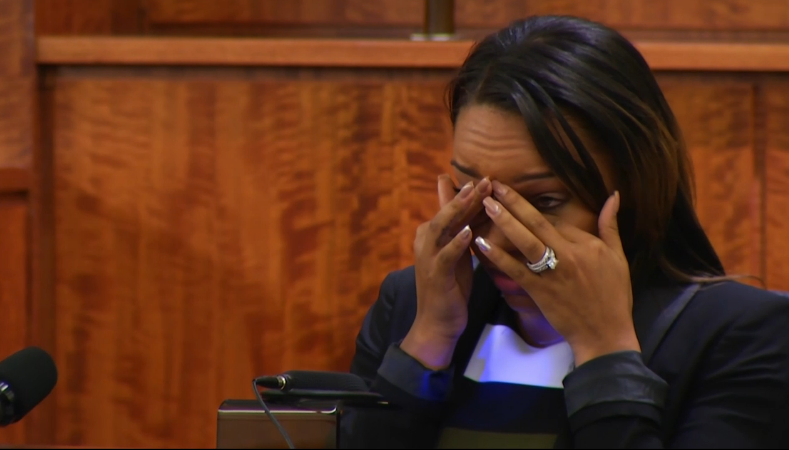 "I made a decision that if I was going to move back in with Aaron, I was going to have to compromise on his behavior, and that included infidelity."
Shayanna said Hernandez left his phone unlocked when she looked through it, she found "things she didn't like."
Earlier this month, prosecutors spoke to a babysitter who said Hernandez made multiple attempts to kiss her. Surveillance video of Hernandez grinding on a woman at a club was also shown that week. Ostensibly, prosecutors were attempting to persuade Shayanna to flip on Hernandez.
Courtroom reporters say Odin Lloyd's mother left the room when Shayanna began crying.
Shayanna is questioned about her history with Hernandez, says they've known each other since they were in elementary school. She says that despite the on-again, off-again nature of their relationship, they've always had chemistry.
When asked about Hernandez's family, Shayanna kind of laughed and said, "Where should I start?" Hernandez's adolescence was tumultuous and well-covered in a 2013 profile of him in Rolling Stone.
His attorney attempted to ask questions about his father, who died of surgery complications when Aaron was a teenager. The prosecutor objected to questions about Hernandez's sadness that were an obvious attempt to earn sympathy from the jury.
Hernandez remains expressionless while Shayanna is questioned by his attorney.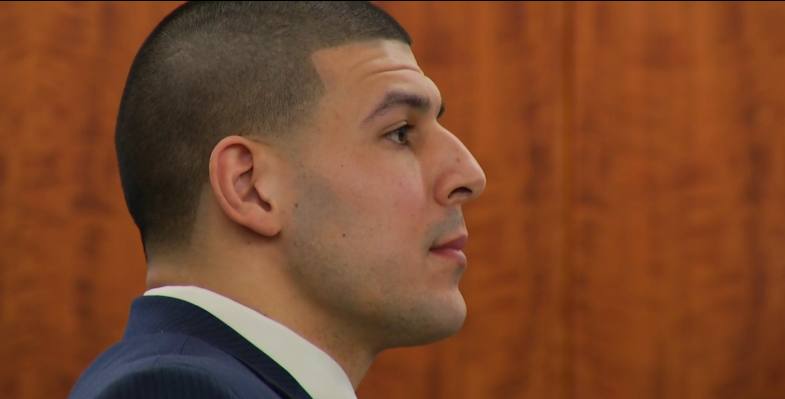 Hernandez's attorney asks Shayanna about her decision to install surveillance cameras in their home. He asks her if it was prompted by a break-in scare. She says yes.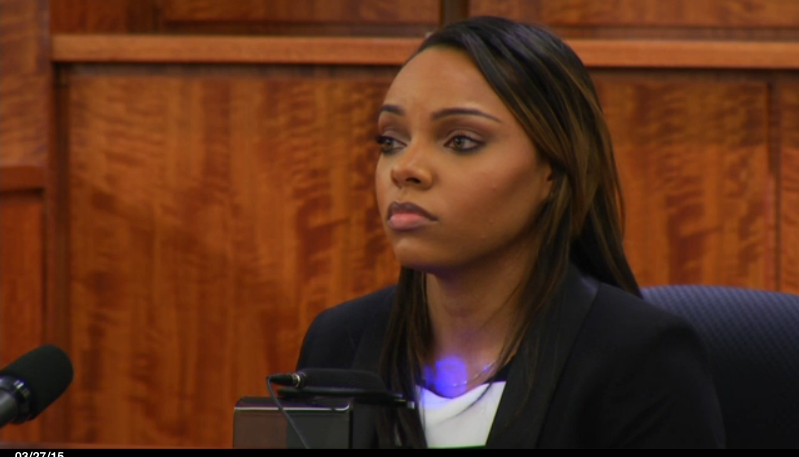 Prosecution's questioning of Shayanna Jenkins comes to an end. Hernandez's defense attorney begins cross-examining her, beginning with questions about her family and background.
Judge Susan E. Garsh called a morning recess for the jury. Read an extended write-up about Shayanna Jenkins' morning on the stand here.
Surveillance video from an ATM shows Shayanna withdrawing money from an ATM in Plainville, Mass. on the day she disposed of the large cardboard box.
Bank statements show she withdrew a total of $1300 from two ATMs that day. She told the jury she was getting money to pay the housekeepers. The prosecutor then showed a copy of a $300 check Shayanna wrote to her housekeeper for "Weekly Cleaning."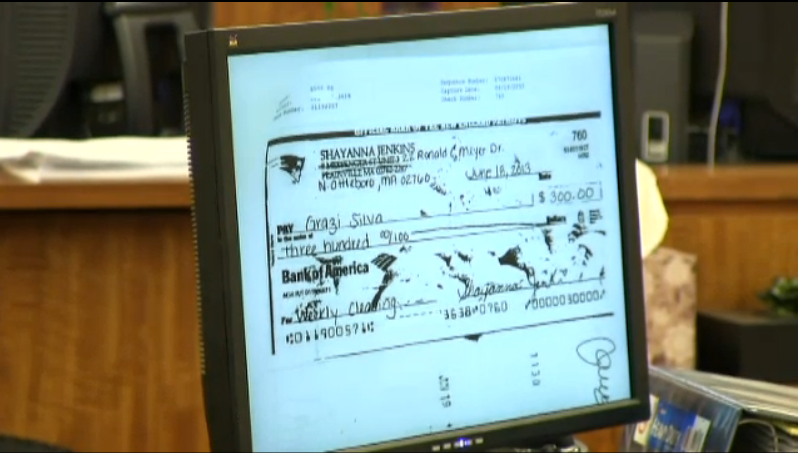 Shayanna says she received a call from Hernandez on June 18 instructing her to remove a cardboard box from their home. She says he told her it was "important," but she wasn't told what it contained or why it was important.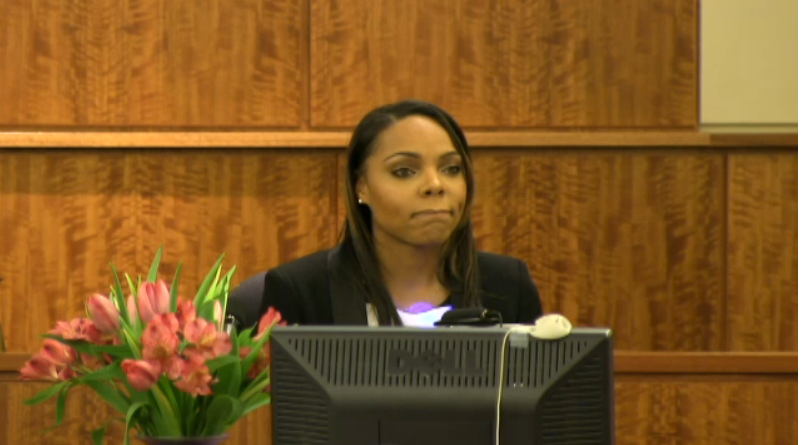 Prosecutors believe Shayanna threw away a box containing the murder weapon the day after Odin Lloyd was killed. Surveillance video shows her leaving the house with a large black trash bag on that day.
Shayanna testified that the box was open, but she only saw clothes and smaller boxes inside the box. She says she put more clothing into the large box, but did not feel around inside to see what else it contained.
She says she covered the top of the box in baby clothing because she didn't "have any tape on hand." When asked why she needed to cover the contents of the box, she made sure to assert that she was not concealing anything. When asked if Hernandez told her the contents of the box, or if she asked him about it, Shayanna said no.
Shayanna said the bag containing the box was around 35-40 pounds.
She maintains that she can't remember where she left the box, just that it was a "residential area."
Shayanna says she learned Odin Lloyd was killed during the initial police questioning on June 17 2013, the same day he was murdered. She says she spoke with her sister Shaneah during the early hours of June 18.
She says she asked Hernandez if he killed Lloyd, and he told her no.
Monday, 9 a.m. ET: Shayanna Jenkins takes the stand for a second day of questioning.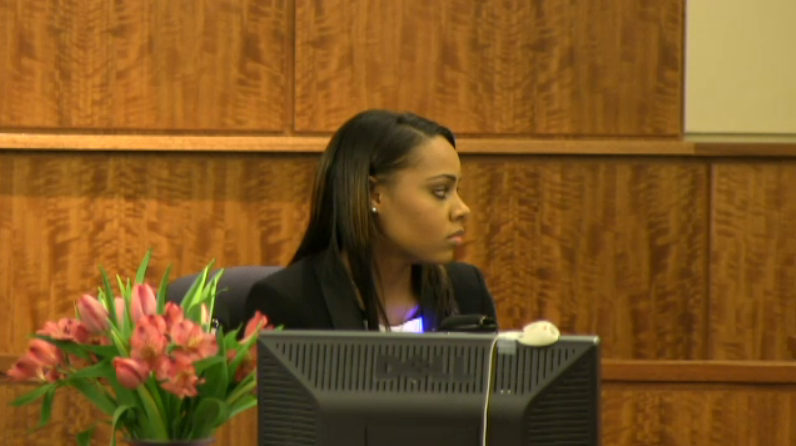 4 p.m ET: Court is adjourned, will resume Monday at 9 a.m.
Jenny Wilson of the Hartford Courant reports Jenkins' attorney told Judge E. Susan Garsh she can not be in attendance Monday due to another federal trial.
Wilson also reports Wilson also said she will not send another attorney with Jenkins. Garsh responded by telling her that if Jenkins does not take the stand on Monday, she will be held in contempt of court.
Shayanna says her sister, Shaneah, came over to her home the day after Lloyd was killed, but Hernandez was asleep for most of the day. She says he woke up and "washed a shirt," but can't remember what kind of shirt.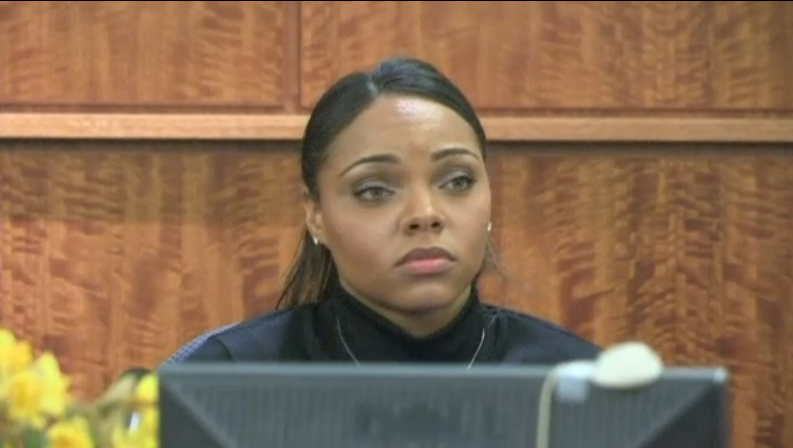 The prosecutor shows the text message from Hernandez to Jenkins that has long been believed to be a coded message instructing her to throw out the murder weapon. Jenkins says she didn't understand what it meant when she received it.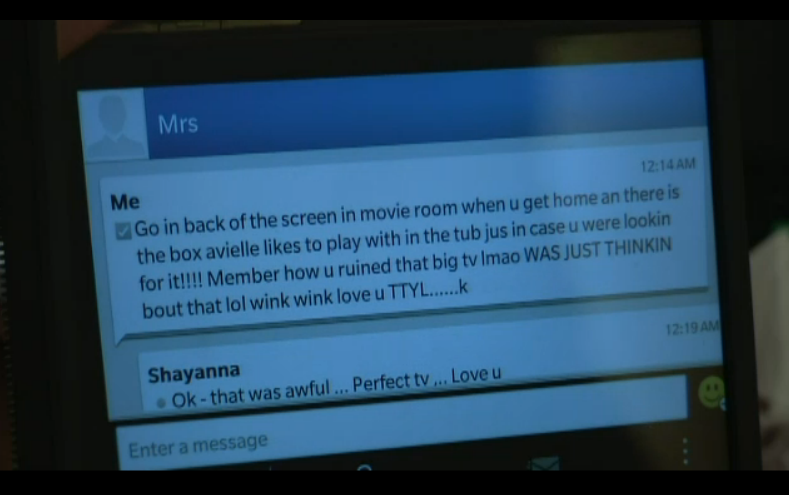 While questioning Jenkins about the text message, the prosecutor asked her to translate common internet slang for the jury.
Prosecutor: "Do you know what LMAO means?" Shayanna: "Um, laugh my ass off?" Prosecutor: "And TTYL?" Shayanna: "Talk to you later." Prosecutor: "LOL?" Shayanna: "Laugh out loud."
Jenkins says "Member how u ruined that big tv lmao" refers to a time when she placed a television too close to a fireplace and it melted.
Jenkins says she called her mother, sister, and Hernandez's agent on her way home from Rhode Island.
Jenkins says she called her mother, sister, and Hernandez's agent on her way home from Rhode Island.
Jenkins says after the initial police questioning, she went to meet up with Ernest Wallace on Hernandez's direction. During her grand jury testimony, Jenkins said she had gone straight home.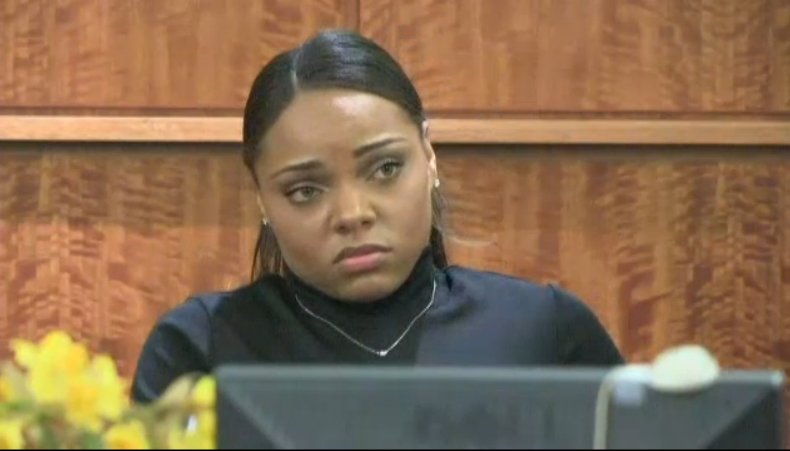 Jenkins drove to Franklin, Mass., a nearby town where Hernandez kept a spare apartment, to meet up with Wallace. Hernandez had told her to bring money to meet him. When Jenkins got to Franklin, she drove to a shopping center and waited for Wallace, but he told her they had to "meet up somewhere else," and directed her to go to East Greenwich, Rhode Island, about 45 minutes away from where they lived in North Attleborough, Mass.
Jenkins and Wallace met at a McDonalds, and he got out of his car to get the money from her. She says Wallace asked her if she was okay and told her that "everything will be okay." Jenkins says she doesn't remember how much money he asked for Wallace or what he said he needed the money for, but she was only able to get $500 out of an ATM.
Jenkins: "[Hernandez] let me know to call his agent" after he was questioned by police.
Prosecutors began asking Jenkins about the police showing up to her home the night after Lloyd was murdered.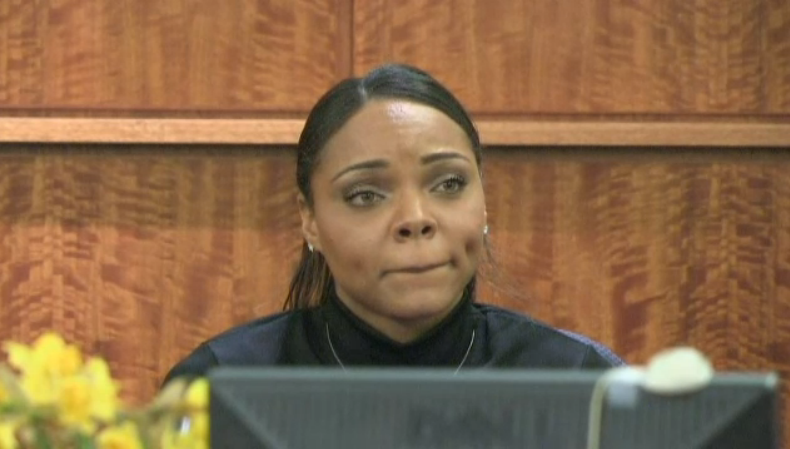 Jenkins says the night after Lloyd was murdered, she and Hernandez saw flashing lights shining into their bedroom. She says they went to look on the home surveillance system to see what was going on, but Hernandez waited about 45 minutes to answer the door.
Later, when Jenkins drove Hernandez to the police station, she says she thinks she might have asked him to explain what was going on. She says he told her he had no idea.
While being aggressively questioned about the afternoon after Lloyd's murder, Jenkins responds with a series of "I don't remember," "I can't recall," "I believe so, but I can't say for sure."
Jenkins says she went to bed the night of Lloyd's murder, and didn't see Hernandez until the next morning around mid-morning. She says she first saw him in the kitchen, and said he was acting "normal."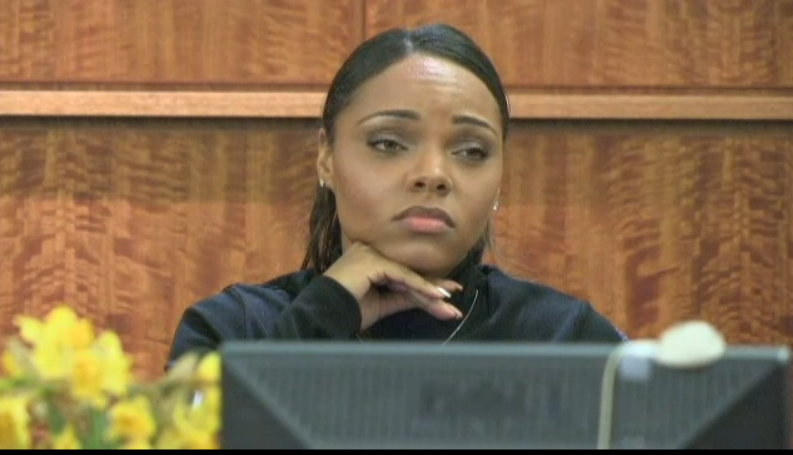 She says Carlos Ortiz and Ernest Wallace were still hanging out with Hernandez at their home, and they seemed "fine". Jenkins believes she made them breakfast.
2 p.m. ET: Shayanna resumes the witness stand. The prosecutor immediately asks about the night Odin Lloyd was murdered.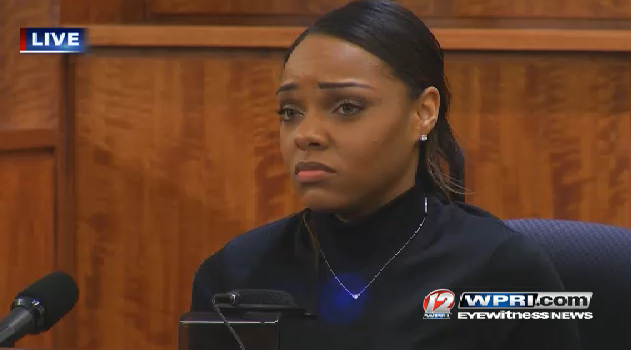 Shayanna says Hernandez was with friends Carlos Ortiz and Ernest Wallace the night Odin Lloyd was murdered. Wallace and Ortiz are charged with accessory to murder. The prosecutor asked Shayanna if she saw the men carrying anything out of the basement the night Lloyd was murdered, and Shayanna says she does not believe so.
She says that after Hernandez and his friends left the house around 1 a.m., he called her to ask for Lloyd's phone number. Shayanna got ahold of her sister, Shaneah, and communicated Lloyd's phone number to Hernandez.
Trial is recessed for lunch. Will resume at 2 p.m. ET.
Before excusing the witness and attorneys, Judge Garsh asked if both sides would be done with questioning Jenkins by the end of the day. Her attorney says she can't attend any other day. Attorneys are unable to come to a conclusion on how long Jenkins will be on the stand.
Jenkins says Hernandez was smoking marijuana on "a daily basis."
NFL players are tested for drugs before the season, and generally have an idea of when their next test might come. Players can be subject to random testing if the NFL has reason to suspect they might be using drugs. Hernandez, however, did not fail a single drug test in his three years in the league. (He had failed drug tests while playing football at the University of Florida, though.)
Prosecutors showed Jenkins a Glock handgun, which was the model of firearm used to murder Odin Lloyd. Jenkins says the Glock is similar in shape to the gun she found in the junk drawer, but that she's not sure if they are the same size.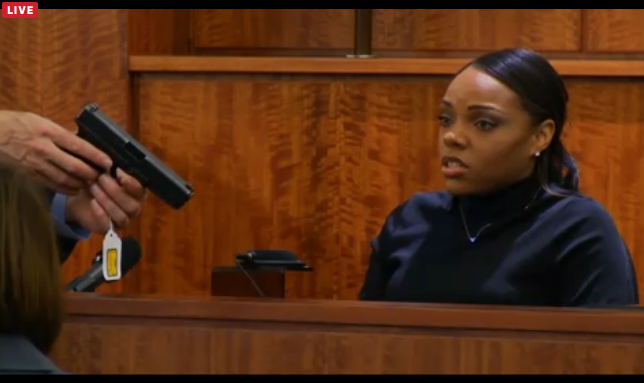 Shayanna testifies to the jury that there was a black handgun kept in the junk drawer in their kitchen.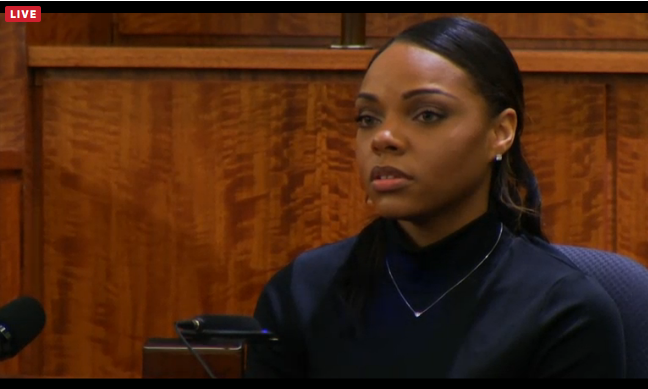 Judge Susan E. Garsh told the jury that Jenkins' testimony about the presence of a gun in the home should be used to determine whether Hernandez had the "means to commit" a murder, rather than use it to assess the likelihood of one.
Jenkins says when she discovered the gun in the house, she tracked down Hernandez in the basement and gave him a "stern look," but doesn't remember if they had a conversation about it.
The gun was no longer in the junk drawer the next time Jenkins opened it. She says she didn't have a conversation with Hernandez about what had happened to it.
Shayanna Jenkins, Aaron Hernandez's fianceé and the mother of his child, took the stand to testify in his murder trial Friday.
Shayanna Jenkins was granted an immunity deal in February. Before taking the stand, she was subjected to a line of questioning without a jury present to determine what she can be asked in their presence.
During that questioning, she said that after the initial police questioning, she asked Hernandez if he killed Odin Lloyd, and that he said no. She also said that she only knew of one gun in Hernandez's home, and that it was kept in the junk drawer in their kitchen. She told the attorneys and judge that she did throw away a black garbage bag, and that she took steps to conceal her actions.
In choosing what to say on the stand, Jenkins faces an unenviable dilemma. Read more about that here.
She still has a few choices on how she will approach testimony. She could:
• Tell the jury everything she knows about Hernandez's potential involvement in the murder of Odin Lloyd.
• Claim she does not remember details (which could potentially subject her to another perjury charge, in addition to the one she received during the grand jury hearing.)
• Lie on the stand (which, if proven, makes perjury charges very likely).
Jenkins is believed to have thrown away the murder weapon on the direction of Hernandez.
During the initial questioning without a jury present, Jenkins answered questions, but responded to a few by saying she did not remember.
---
This is a developing story. Please check back here for updates.