LeBron James broke down crying after leading the Cleveland Cavaliers to their first NBA Championship in franchise history and Cleveland's first professional sports championship since 1964.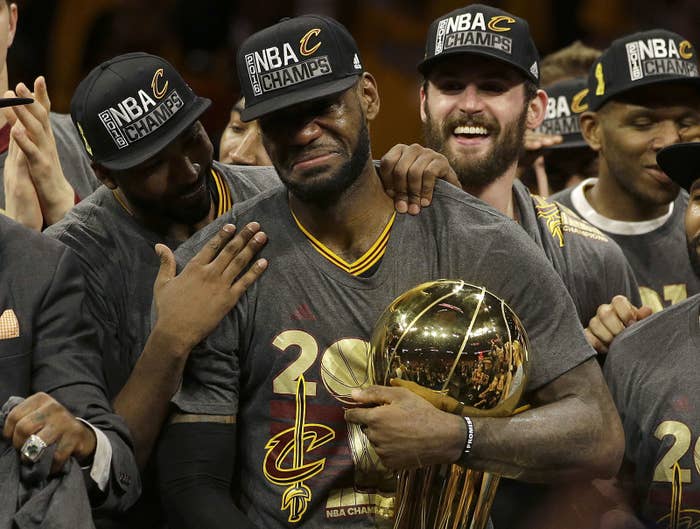 The win comes nearly two years after James announced in Sports Illustrated that he would return to Cleveland after four seasons with the Miami Heat, where he won two championships. James, a native of Akron, Ohio, spent the first seven seasons of his career in Cleveland, during which they made one Finals appearance in 2007, losing to the San Antonio Spurs.
In Sports Illustrated in 2014, James said:
When I left Cleveland, I was on a mission. I was seeking championships, and we won two. But Miami already knew that feeling. Our city hasn't had that feeling in a long, long, long time. My goal is still to win as many titles as possible, no question. But what's most important for me is bringing one trophy back to Northeast Ohio.
In 2015, after James' first season back with the Cavaliers, he led an injured squad to the Finals to face the Golden State Warriors. The Cavaliers lost to the Warriors in 6 games during the 2015 NBA Finals.
Entering the 2016 NBA Finals, the Cavaliers yet again faced the Warriors, who had just come off the greatest regular season win record in history.
After pushing the Finals to seven games — and coming back from a 3–1 deficit for the first time in NBA Finals history — James made good on his promise to bring a championship to Northeast Ohio.
James was named Finals MVP. Watch his on-court postgame interview below: