The Cavaliers are now one win away from winning the NBA Finals — and bringing Cleveland their first professional sports championship since 1964 — following a 115-101 win over the Warriors in Game 6 of the NBA Finals.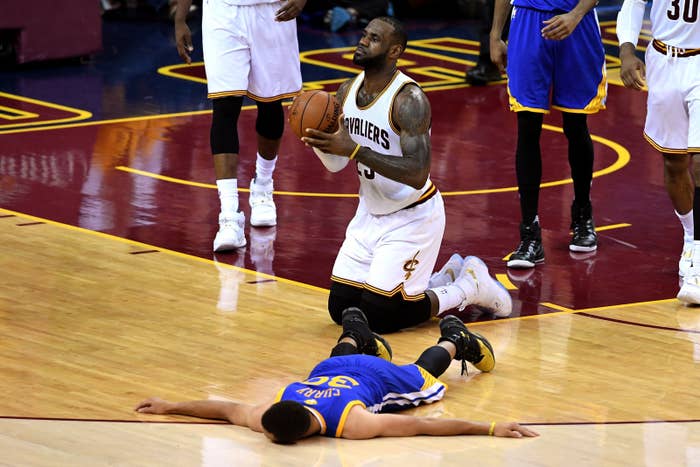 The Cavaliers subjected the Warriors to yet another stomping in Game 6 in Cleveland Thursday, pushing the series to 3-3 and pushing the series to a do-or-die Game 7 in Oakland.
The stakes are high for each team, obviously: LeBron James is looking to realize his goal of winning a championship for The Land, and the Warriors want to defend the sanctity of their record-breaking 73-9 regular season by capping it off with a win.
For NBA fans without strong allegiances to either the Cavaliers or the Warriors (or to LeBron or Steph Curry), a Game 7 that means so much to either party is a dream. For long-suffering fans of the Cavaliers and the Warriors fans who watched their team look invincible all year long, well, make sure you have a barf bag handy Sunday night for Game 7.
The Cavaliers jumped out early to an unbelievable 31-9 lead, holding the Warriors to a total of 11 points in the first quarter, and heading into the second quarter down 20. The Warriors later outscored the Cavaliers in the second and third quarters, but the Cavaliers never lost the lead.
As expected, James was the game's leading scorer with 34 points, but once again was helped immensely by point guard Kyrie Irving.
In the fourth quarter, Curry fouled out for the first time since 2013. He then racked up a technical and was ejected for this move:
A Cleveland win in Game 7 would be historic. No team in NBA history has come back from a 3-1 deficit in the series. The Warriors, who have now lost two games in a row, haven't lost three games in a row during the 2015-2016 season.
Game 7 will be held Sunday night in Oakland.