ESPN Suspends Keith Olbermann For Calling Penn State Students "Pitiful"
He didn't care that the school had raised $13 million to fight pediatric cancer.
On Monday, outspoken sports and politics pundit—and well-known Penn State critic—Keith Olbermann called a PSU alum "pitiful" after a student tweeted a link to a news item about a fundraiser to fight pediatric cancer.
His explanation wasn't much better...
...especially when he called The Daily Collegian, Penn State's student newspaper which wrote about the fundraising, a "fanboy site."
He then turned it back into a "criticism" of the institution at large:
With, again, a dig at Penn State students as an entity:
Olbermann seemed to be unable to recognize the merit of fundraising even within a school with a reputation as tarnished as Penn State's.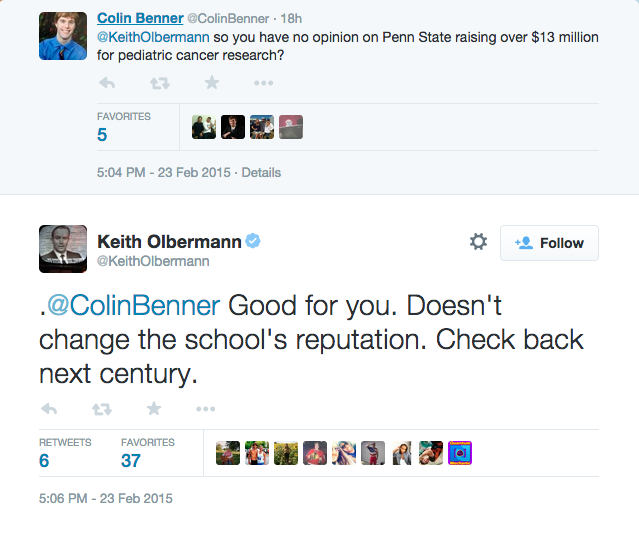 As a result, ESPN suspended Olbermann for four days.
We are aware of the exchange Keith Olbermann had on Twitter last night regarding Penn State. It was completely inappropriate and does not reflect the views of ESPN. We have discussed it with Keith, who recognizes he was wrong. ESPN and Keith have agreed that he will not host his show for the remainder of this week and will return on Monday.
Olbermann apologized for his dozens of angry tweets, calling himself "stupid and childish."
According to The Daily Collegian, Penn State students raised $13,026,653.23 for a fund to "support children and their families fighting pediatric cancer at the Penn State Milton S. Hershey Medical Center." The year before, they raised $13,343,517.33.