Meet The Jordanian Prince Running Against Sepp Blatter In The FIFA Presidential Election
If elected, Prince Ali bin Hussein vows to make FIFA more transparent. The U.S. said it will vote, along with Canada, for Prince Ali and not for incumbent Sepp Blatter.
Prince Ali bin Hussein of Jordan is Sepp Blatter's sole competition in the 2015 FIFA presidential election, scheduled to be held May 28th and 29th.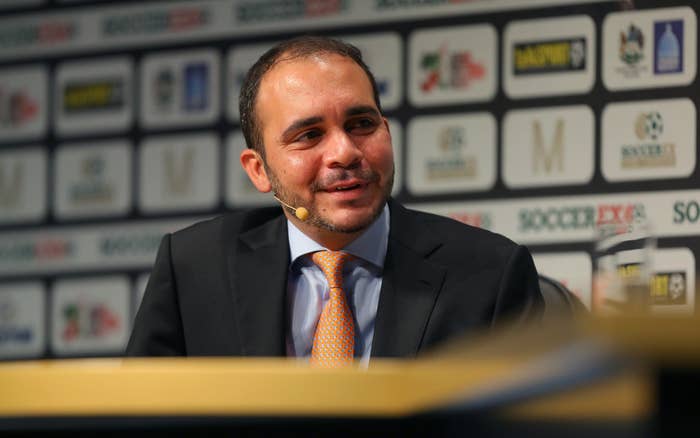 Despite arrests of seven FIFA officials on corruption charges on Wednesday, soccer's governing organization said the election will proceed as scheduled. Presidential elections occur every four years during the year after the World Cup.
Prince Ali bin Al Hussein was originally one of four candidates running against Blatter, who has held the position since 1998. One candidate, Jérôme Champagne, did not receive enough votes in the preliminary vetting process, and Luís Figo and Michael van Praag withdrew voluntarily.
The U.S. Soccer Federation on Thursday announced it would support Prince Ali in his bid to replace Blatter as FIFA president.
U.S. Soccer Federation President Sunil Gulati, said during a conference call Thursday Prince Ali would be, "good for governance."
Gulati said Canadian Soccer Association President Victor Montagliani told him Canada will also vote for Ali.
Figo, one of the previous candidates, on Wednesday issued a scathing statement about the election process, which appoints a leader through popular vote from the 209 member clubs. In the first round, a candidate can win by receiving 2/3 of the vote. If that is not reached, the candidate with the majority of votes in the second round is appointed President.
Figo said:
[T]his electoral process is anything but an election.

This (election) process is a plebiscite for the delivery of absolute power to one man - something I refuse to go along with.

That is why, after a personal reflection and sharing views with two other candidates in this process, I believe that what is going to happen on May 29 in Zurich is not a normal electoral act.
In January, Prince Ali said he was running because "the reputation of FIFA has taken a huge spiral downwards, and it has to be time for a change."
He added:
I am seeking the presidency of FIFA because I believe it is time to shift the focus away from administrative controversy and back to sport. [...] The message I heard, over and over, was that it is time for a change. The world's game deserves a world-class governing body — an International Federation that is a service organisation and a model of ethics, transparency and good governance.
The morning of the Switzerland arrests, Prince Ali tweeted about some of FIFA's institutional failings:
We cannot continue with the crisis in FIFA, a crisis that has been ongoing and is not just relevant to the events of today. FIFA needs leadership that governs, guides and protects our national associations. Leadership that accepts responsibility for its actions and does not pass blame. Leadership that restores confidence in the hundreds of millions of football fans around the world.
Born in 1975 in Amman, Jordan, Prince Ali is currently fifth in line of succession to the Jordanian throne.
His half-brother, Abdullah, is the current King of Jordan. Their father, Hussein, had 12 children through four marriages. Hussein's first marriage produced a daughter, and Abdullah was his first-born son in his second marriage. Prince Ali is the second child from Hussein's third marriage. Although Abudllah mother is not Jordanian, he was appointed as successor over Ali in 1999.
Prince Ali served in the Jordanian military before attending Princeton University.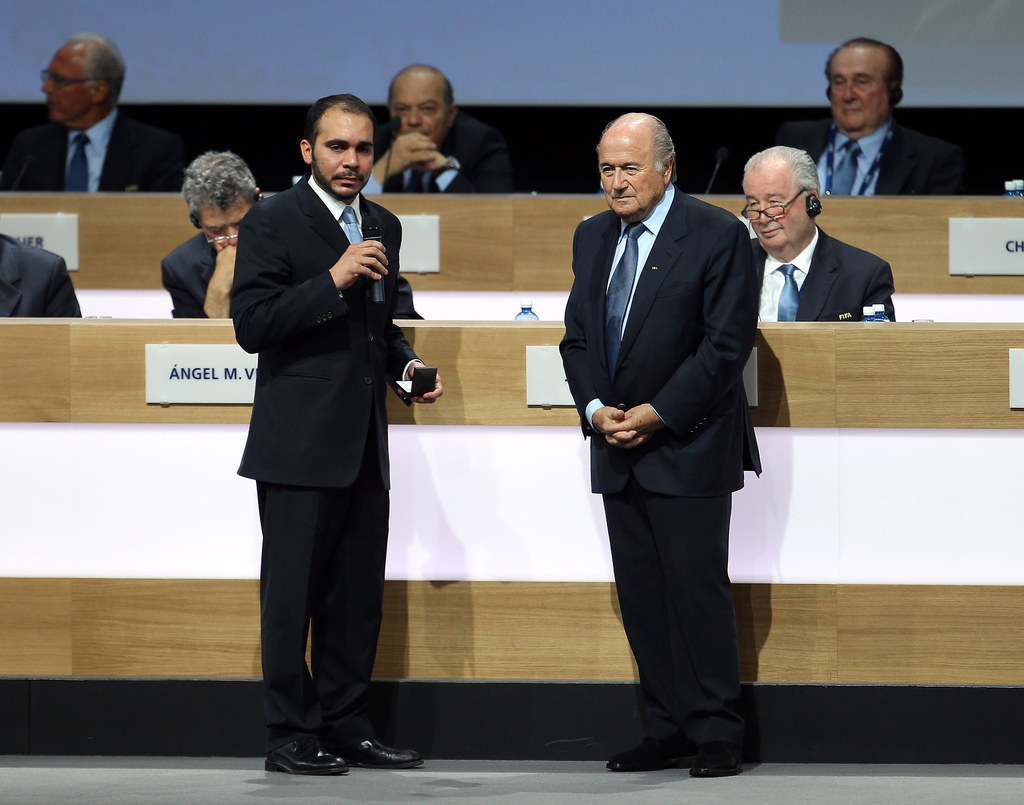 Prince Ali began his career in football in 1999 when he became the President of the Jordan Football Association, a position he still holds today.
A year later, he "founded the West Asian Football Federation (WAFF), which currently includes 13 countries," according to JAF.
He has been with FIFA since 2011, when he was elected FIFA Vice President–Asia in 2011. Ali has been outspoken about corruption issues in FIFA, and supports publishing the report from FIFA ethics investigator Michael Garcia. He investigated Russia and Qatar's bids for the 2018 and 2022 World Cups, respectively, and resigned when his findings were only released as a summary.
Prince Ali reportedly has solid support within the governing body of European football associations. But Blatter's chances of re-election are reportedly high.
The Guardian reports that in a "poll of more than 35,000 fans across 30 countries," less than 20% support Blatter winning another term. Still though, it's the votes of member associations that will determine the future of FIFA's leadership.
The Confederation Of North, Central, And Caribbean Association Football, known simply as CONCACAF, has 35 votes in the election and the Guardian reports they are "expected mainly to back Blatter."
Though Blatter was not arrested during Wednesday's raid of FIFA corruption, most of the allegations outlined in the indictment documents occurred during his tenure as president.
In a statement, Blatter distanced himself from the allegedly corrupt FIFA officials, saying that "such misconduct has no place in football and we will ensure that those who engage in it are put out of the game."
Van Pragg, who originally intended to run against Prince Ali and Blatter, said earlier in May that "it is impossible that FIFA moves on with its current presidency."
"Prince Ali Bin Al-Hussein convincingly demonstrated that at this moment in time he is the candidate who has the biggest chance to challenge Sepp Blatter," Van Praag said.