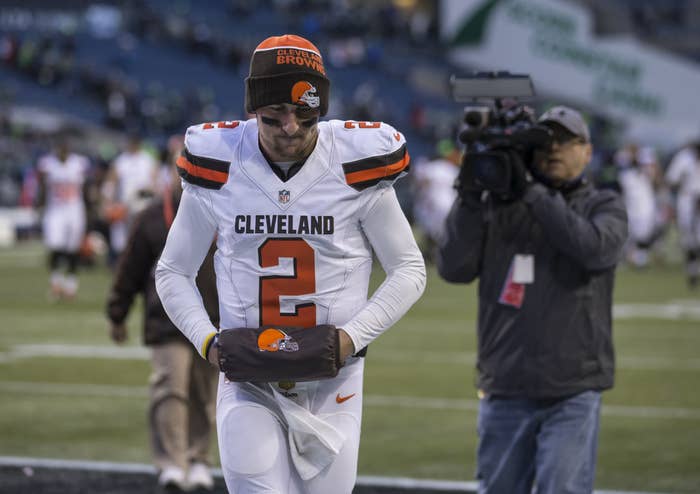 Quarterback Johnny Manziel has been dropped by the Cleveland Browns, the team announced Friday.
"The Cleveland Browns have waived QB Johnny Manziel," according to a statement released by the team.
The statement went on to list the quarterback's stats with the team and did not provide any additional context for the decision.
However, the move was expected. The Browns issued a statement hinting at it after Manziel was accused by his girlfriend of assaulting her in Texas in January.
"We've been clear about expectations for our players on and off the field. Johnny's continual involvement in incidents that run counter to those expectations undermines the hard work of his teammates and the reputation of our organization. His status with our team will be addressed when permitted by league rules," Browns Executive VP Sashi Brown said on February 2.
Manziel was dropped by his agent later that week.
The quarterback was accused by his girlfriend of hitting her at a hotel in Dallas, then forcing her to get into a car with him. Manziel then drove back to her apartment, where she says he continued to attack her. Manziel was not arrested at the time, but the Dallas Police Department has sent the results of its investigation to a grand jury.
Manziel was pulled over by police in Ohio in October for reckless driving and was accused by his girlfriend of attacking her in the car. They were sent home together by police; there were no arrests made and no charges filed.
Manziel entered rehab for alcohol abuse in early 2015. In early February 2016, Manziel's father, Paul, told the Dallas Morning News that he "truly believe[s] if they can't get him help, he won't live to see his 24th birthday."
The Browns drafted Manziel in the first round of the 2014 draft. In two seasons with the Browns, Manziel appeared in 15 games.