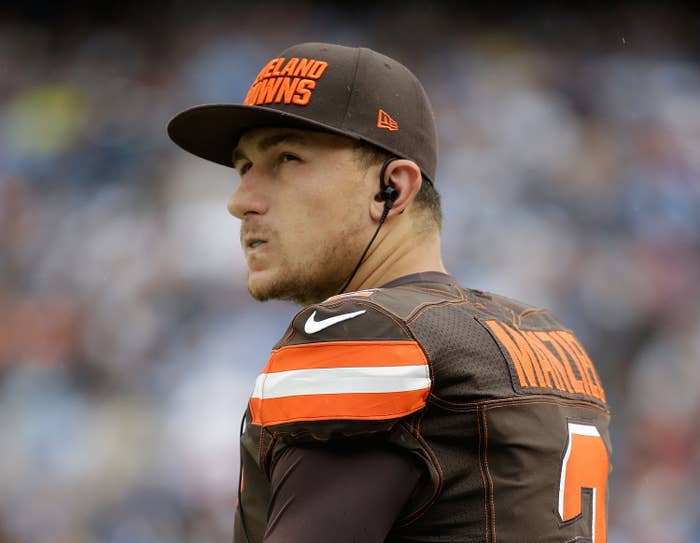 Johnny Manziel has been indicted by a Dallas County grand jury on a charge of "misdemeanor assault with bodily injury charge."
The indictment follows a January incident in which Manziel was accused of assaulting his ex-girlfriend in Dallas and Fort Worth. Manziel's ex-girlfriend currently has a restraining order against him.
Manziel is accused of hitting this ex-girlfriend first at a hotel in Dallas, then forcing her to get into the car with him. Manziel drove to her apartment in Fort Worth, where they allegedly had an argument that lasted until a neighbor called the police and Manziel left.
Manziel's ruptured his ex-girlfriend's eardrum during the alleged assault in Dallas, she said in an affadavit.
Manziel played two seasons in the NFL with the Cleveland Browns before he was cut from the team in March following repeated off-field incidents. Manziel entered rehab for alcohol abuse in early 2015. He was accused of hitting the same ex-girlfriend in October 2015.
Manziel has also been dropped by two agents during this offseason. Agent Drew Rosenhaus dropped Manziel last week after issuing a warning to Manziel to get treatment or lose his representation.
In a statement, Dallas County District Attorney said:
The Dallas County Grand Jury is responsible for determining whether there is probable cause that the crime alleged in the case they are presented with, has occurred and should move forward in the criminal prosecution process. During this secret proceeding, both the State and the Defense have the opportunity to present information about the case, to the Grand Jury. The Grand Jury's review of Mr. Manziel's case has resulted in a "true bill", which means that there was probable cause found that Mr. Manziel committed a Family Violence Assault against the complainant. Therefore, this case will move forward in the criminal justice system and be prosecuted by the District Attorney's Office. As always, we respect the criminal justice process and the decision that the Dallas County Grand Jury has made in regards to this case.