When ESPN's Jessica Mendoza takes to the booth as color analyst for Tuesday night's playoff game between Yankees and Astros, she'll make history as the first woman analyst for a national broadcast of an Major League Baseball postseason match.
Mendoza, a former softball outfielder and Olympic gold medal winner, made her ESPN debut on Aug. 24 during a Cardinals and the Diamondbacks game. It was the first time a woman sat as an analyst for a national broadcast ESPN MLB game. Six days later, during a Sundy Night Baseball game between the Cubs and Dodgers, she was asked to do it again after fellow analyst and former pitcher Curt Schilling was disciplined after posting an offensive meme on Twitter and Facebook.
Mendoza has been with ESPN since 2007, working as an analyst for the Women's College World Series — she is an alumna — and on Baseball Tonight, a recap of the day's action. But for the primetime game, the attention, and the pressure that came with it, was much higher.
"I was so nervous," Mendoza told BuzzFeed News about her assignment to call the Cubs- Dodgers match. "I felt the pressure of so many other women and I wanted to make sure I did well because it wasn't just about me. As an athlete, what I strive for is to be prepared for the unexpected moments. You're training and you're preparing for the things you don't expect and things out of your comfort zone."
That night, Cubs ace Jake Arrieta threw a no-hitter, making Mendoza's first week on the job one of historical significance in more ways than one.
The job of an analyst is entirely dependent on the amount of research and preparation done before the first pitch. Earlier that week, Mendoza had sat down with Arrieta and ESPN reporter Buster Olney to chat about Arrieta's pitching mechanics and what he felt was behind his already incredible season on the mound. "I was then able to share some of his reasons for success as the game was going on, and that was immensely helpful," Mendoza said.
Olney, a veteran baseball reporter who will be on the field during the Yankees-Astros American League Wild Card game, has been a helpful guide in Mendoza's first few weeks on the job.
"She's totally diving in and I love how hard she's working at it," Olney told BuzzFeed News. "She's coming out the day before the game and talking with players and coaches, talking to everyone she can when she's there. I've always thought that was the most important thing — to put in the time and be saturated with information when you're getting ready for the broadcast — and she's certainly done that. It doesn't surprise me though. You can't be as accomplished as she was without having a habit about putting in the time."
"I felt the pressure of so many other women and I wanted to make sure I did well."
The time commitment baseball broadcasting is unmatched in other sports, Mendoza said. "It's the only sport where every day they play," she said. "There is no 'Oh, I have today off,' unlike when I covered college baseball and softball. You have to work with that day-to-day and stay up to date on everything."
Mendoza's work in the booth has so far been met with praise from fans, fellow media, and, importantly, ESPN executives. When the final broadcaster lineup was announced by ESPN Wednesday, some fans even suggested John Kruk was more enjoyable with Mendoza in the booth over Curt Schilling.
Still, as is expected when a woman makes a place in men's sports, Mendoza's appointment has also been met with sexism disguised as criticism.
Some fans question the baseball expertise of an athlete who played softball, which Mendoza contends "is a different game, it's not exactly the same." She mentioned, though, that she was "coached by baseball coaches. My college coach was a baseball guy. So why is no one questioning why a baseball player is coaching or analyzing softball when the reverse happens? To the average viewer, it's not just like 'This is a seamless crossover,' but for me, it's all I've known. The strategies, mind-set, coaches — it's identical."
When asked about the same line of criticism, Olney was less lenient:
"You can take that line of thought to so many different places," he said. Reporters who never played any variation of the game hear it too, he said. "You just kinda roll your eyes about it. You could have a position player and some would say, should that person be talking about a pitcher? I've gotten emails about it from people in the game and I've just ignored them."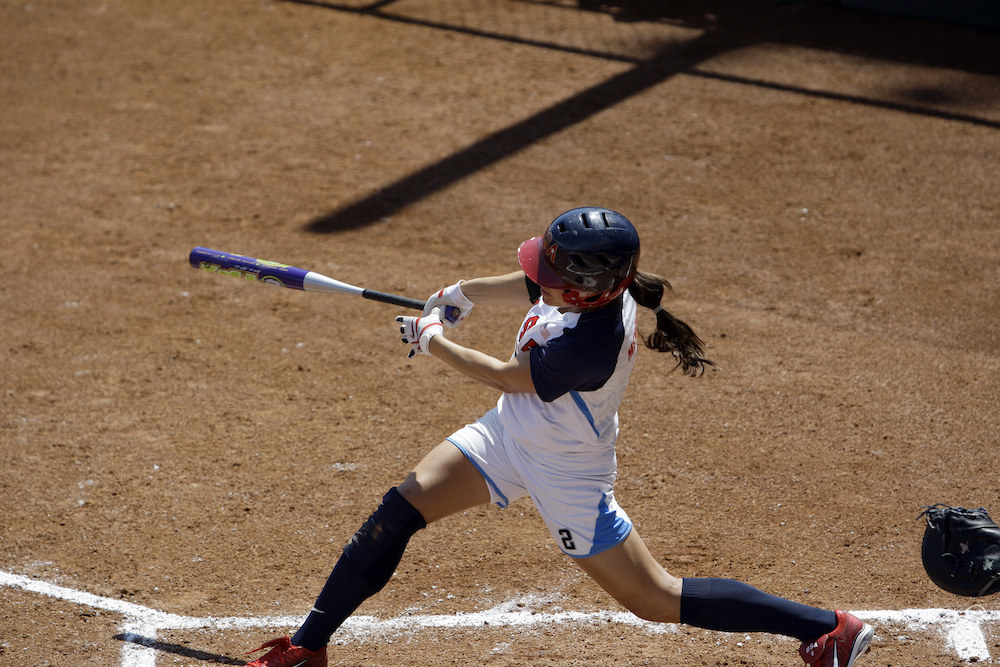 Though Mendoza was an outfielder, she says she has found herself "obsessed" with learning and talking about pitching mechanics. She also speak with experience about what a batter is looking for in the box. Still, she said, it's all about the days-long preparation and being able to explain the beauty of other positions to viewers.
"As much as I love offense — and I think the viewers love offense — there's something fascinating about what pitching can do, so I try to share that because I know that you can say, 'Oh, he's striking out everyone. It's boring,'" she said. "But let's look at his body and what he's doing to get those strikeouts. It really opens up a new aspect of the game for viewers."
Amid the pressure and attention, Mendoza has found that "the conversation has been open to me, and not closed."
"So many women together, and honestly, so many guys have reached out to me," she said. During a recent Yankees game, longtime sportscaster Suzyn Waldman — currently the color commentator for WFAN radio — sat down next to Mendoza and gave her cell and home phone numbers with the instruction to call any time she needed help. "Genuinely like, 'I want to help,'" Mendoza recalled.
"It just gives me the continued confidence that we all love this game," she said, "and we're all doing this together."