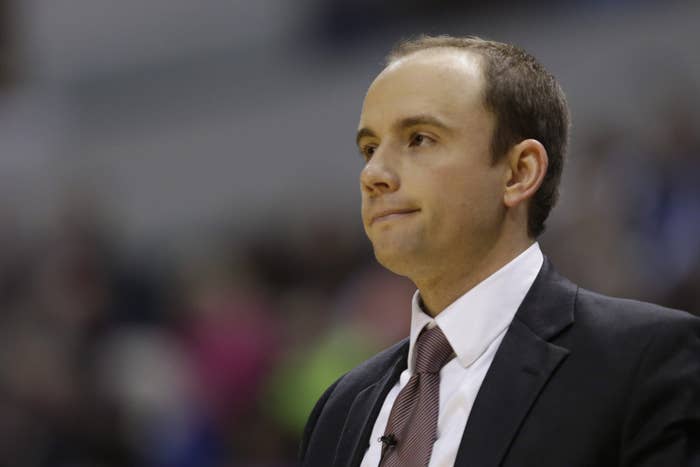 A high school basketball coach in Indiana will plead guilty to exchanging sexually explicit images with a 15-year-old female student, according to court documents filed Wednesday.
Kyle Cox faces up to 14 years in prison on federal charges of coercing a minor into illegal sexual activity at Park Tudor High School in Indianapolis, where he was a teacher and basketball coach.
According to the criminal complaint, Cox at one point attempted to convince the student to lie to her parents in order to have sex with him at his home while his wife and kids were away.
Cox began sending the girl photos of his penis last year, sometimes without prior warning, prosecutors said. He also began asking the girl to send sexually explicit photos and videos of herself to him.
During the sexting exchange, Cox gave her a role on the team, according to the criminal complaint.
Many of the images and videos between Cox and the student were sent over Snapchat, with Cox using the handle "bigsilkysmooth."
In addition to trying to get the student to have sex with him at home, he also attempted to have sex with her in a "restricted area" of the high school after a home basketball game, prosecutors said.
In November, the student's father discovered text messages and photos sent to Cox, but she said they were to a fellow student. The father learned it was Cox messaging his daughter in December when he read a text message discussing his grandfather's funeral.
After taking screenshots of the communication, the father turned the evidence over to Park Tudor High School officials.
It was then that Cox told the student via Instagram that she needed to lie about their relationship if she wanted him to stay at the school, and asked her to claim that she created both sides of all of the text messages, according to the criminal complaint.
Cox was fired by the school on Dec. 15, but received a confidentiality agreement that allows him to tell prospective employers that he resigned from Park Tudor at will. The confidentiality agreement was intended to prohibit Cox from having any communication with any Park Tudor students, but the day after he left the school, prosecutors say he texted a male student, telling him, "I've positioned myself to be marketable."
He also asked if it was making the girl "feel better to slander me."
Cox entered federal custody in February.
In submitting his guilty plea, Cox is waiving his right to appeal and will be required to register as a sex offender.