Former NFL Player Darren Sharper Sentenced To Twenty Years In Prison For Rape
Sharper was charged with multiple counts of drugging and raping women in four states.
Former NFL player Darren Sharper on Monday pleaded guilty to rape charges in Las Vegas, Arizona, and New Orleans, and no contest to charges in Los Angeles in a plea deal to resolve accusations against him in all four states.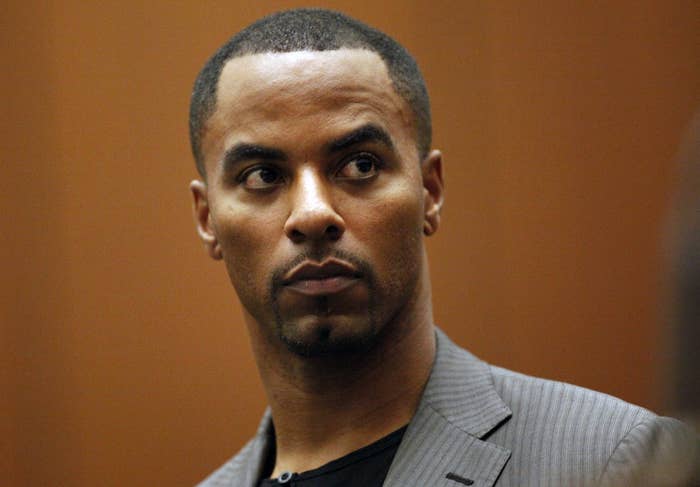 Sharper is accused of raping nine women in 2013. The alleged assaults have led to charges in New Orleans, Los Angeles, Las Vegas, and Tempe, Arizona.
Prosecutors have called him a "serial rapist" due to the formulaic nature of the allegations against him: In each state, he is accused of drugging women he met at bars then sexually assaulting them later that night.
Sharper reportedly pleaded guilty to "two counts of forcible rape and a count of simple rape" in New Orleans, for which he was sentenced to 20 years in prison. Sharper faced state and federal charges accusing him of drugging and raping women in Louisiana.
Earlier on Monday, Sharper reportedly pleaded no contest to similar charges in Los Angeles. TMZ reported that he was sentenced to 20 years on charges of drugging and raping women, but will only have to serve 10 years of that with credit for time served since January 2014. Ultimately, he will be responsible for nine years that can be served concurrently with his other sentences.
In Arizona, he pleaded guilty to two counts of attempted sexual assault and one sexual assault charge. He was sentenced to nine years in prison with credit for time served. This sentence can also be served concurrently.
Sharper's plea deal to resolve the charges in Las Vegas reportedly will have him pleading guilty to two counts of attempted sexual assault with a punishment of up to 8 years in prison. This time can reportedly be served concurrently as well.
If Sharper's sentence in New Orleans is not reduced (federal charges carry stricter mandatory minimums), Sharper will be incarcerated for 20 years.
Sharper's NFL career began in 1997 when he was drafted by the Green Bay Packers. He retired in 2011, having most recently played with the New Orleans Saints, with whom he won a Super Bowl.
He was working for the NFL Network as an analyst at the time of his arrest.