Florida State Quarterback Jameis Winston Wins Personal Conduct Hearing
The 20-year-old will not be disciplined by Florida State for sexual assault accusations.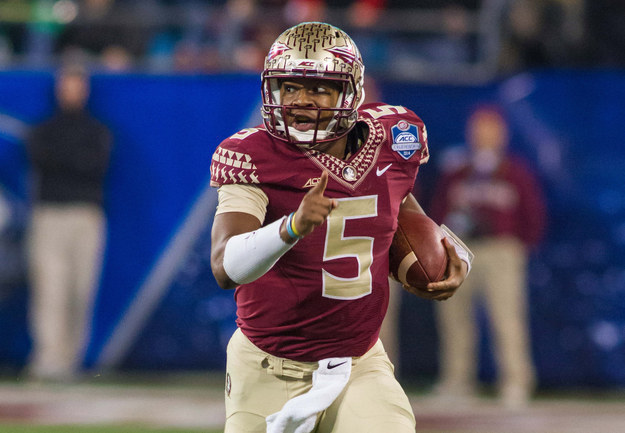 Florida State Quarterback Jameis Winston has won his personal conduct hearing with the university and will not face discipline from the school for allegations of a sexual assault that was said to have taken place in 2012.
In 2012, a Florida State student filed a report with the Tallahassee Police Department, accusing Winston of sexual assault. There were no charges brought against Winston at the time. In early 2013, the state attorney began an investigation into the allegations, but again, no charges were brought. However, the New York Times did its own investigation into the handling of the allegations and published a detailed explanation of errors made by the investigators.
Eventually, Winston was required to attend a hearing to determine if he had violated Florida State's personal conduct code. The hearing was originally scheduled for November 2014 but was pushed back at the request of Winston's attorney to December 2014, just under two years after the alleged sexual assault took place and the alleged victim filed her report.
Former Florida State Supreme Court Justice Major B. Harding presided over the Dec. 2 hearing. He reportedly did not rule on whether Winston or the alleged victim was more credible, but determined there was not enough evidence to punish Winston under school code.
The alleged victim can still take her case to a court of law, but the FSU personal conduct ruling would negatively impact chances of a conviction in a case that already lacks a considerable amount of evidence.
Winston's full statement was published the day after the hearing took place. He said he had sexual relations with the woman, but described them as fully consensual.
Winston was the winner of the 2013 Heisman Trophy, and won MVP after he led his team to a 34–31 win over Auburn in the 2013 BCS National Championship. Florida State is undefeated this season.