Federal Appeals Court Says NCAA Should Only Pay For Student Athlete College Costs
The ruling is part of an ongoing case concerning college athlete compensation.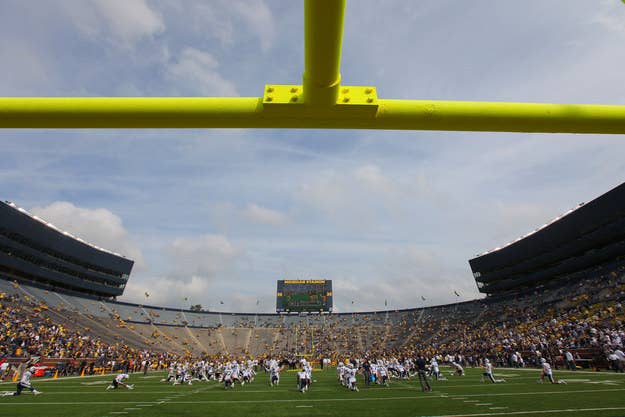 A federal appeals court on Wednesday ruled that the NCAA's restrictions on paying student-athletes violate antitrust laws, and that student-athletes should be compensated for full cost of attending school. However, a provision suggested by the district court to pay student-athletes $5,000 per year was thrown out.

The appeals court called the NCAA "more restrictive than necessary to maintain its tradition of amateurism," and said that full cost of attendance would be compliant with antitrust laws.
Wednesday's ruling is part of an ongoing case, started in 2009, regarding compensation for student athletes in light of the NCAA's making billions of dollars off college sports. It also may set the stage for the NCAA to take the case to the U.S. Supreme Court, USA Today reported.

In a statement, NCAA President Mark Emmert said: "Since Aug 1, the NCAA has allowed member schools to provide up to full cost of attendance; however, we disagree that it should be mandated by the courts."
The court decision said that "by the NCAA's own standards, student-athletes remain amateurs as long as any money paid to them goes to cover legitimate educational expenses." It's in support of student-athletes being compensated for the full cost of attendance — beyond tuition and board, though it is yet to be determined how that would be calculated — to comply with antitrust laws but remain within definition of amateurism.
"The market for college football is distinct from other sports markets and must be 'differentiate[d]' from professional sports lest it become 'minor league [football],'" the federal appeals court argued.
In overturning the district court's plan to compensate student-athletes for use of their names and likeness by a $5,000 payment, the federal court said: "The difference between offering student-athletes education-related compensation and offering them cash sums untethered to educational expenses is not minor; it is a quantum leap."
This is a developing story. Check back for updates and follow BuzzFeed News on Twitter.