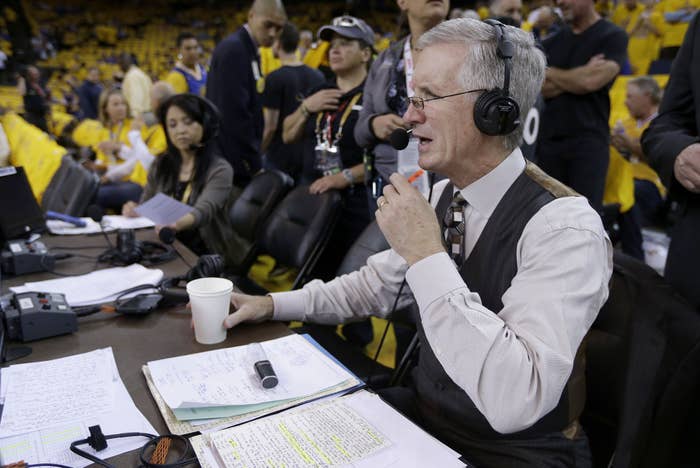 ESPN signed NBA announcer Mike Breen to a "long-term deal" ahead of the NBA Finals between the Golden State Warriors and the Cleveland Cavaliers, he told BuzzFeed News. The deal is expected to take Breen well into the next decade.
This will be Breen's 11th NBA Finals series, the most ever for a play-by-play announcer. Breen will be on the call with Jeff Van Gundy, Mark Jackson, and Doris Burke — the crew's seventh season together.
The Warriors are attempting to seal the deal on their historic year — they broke the NBA record for most wins in season — with a back-to-back NBA Championship. The Cavs, led by LeBron James, are looking to bring a championship to Cleveland for the first time since 1964. They lost to the Warriors in the finals last year.
Breen has called all seven of James' NBA Finals appearances. He said with all the attention on Steph Curry and the Warriors this season, James is "almost flying under the radar."
"His numbers are magnificent and historic and we have taken him for granted," Breen said. James last year led the injury-plagued Cavs to six games against the Warriors, often looking like he was doing it all himself.

This year, the Cavaliers are healthy as they prepare to face the Warriors, who rebounded from a 3–1 deficit against the Oklahoma City Thunder in their last series to get to the finals.
Breen also said Steph Curry's meteoric rise to superstardom from the backcourt "has such appeal because of the way he's built."
"He's this thin, almost weak-looking guard who is as tough and as strong as anybody and plays the game in a way we've never seen. I think people can relate to him because anyone who plays pickup basketball on the weekend can look like Steph Curry, maybe a couple inches shorter," Breen said. "His skill level — when you combine his ball-handling and his shooting — is the best I've ever seen."
Breen noted the tough position his colleague Mark Jackson was in last year when he called the Warriors' success just one season after he'd been fired as the team's head coach. Fans have wondered about Jackson's objectivity.

"I know it wasn't easy last year for him but there's also an immense sense of pride because he was a big part of building" that championship team, Breen said of Jackson. "I think it can't be easy for him, but I don't know if there's anybody on the planet who could handle it as well."