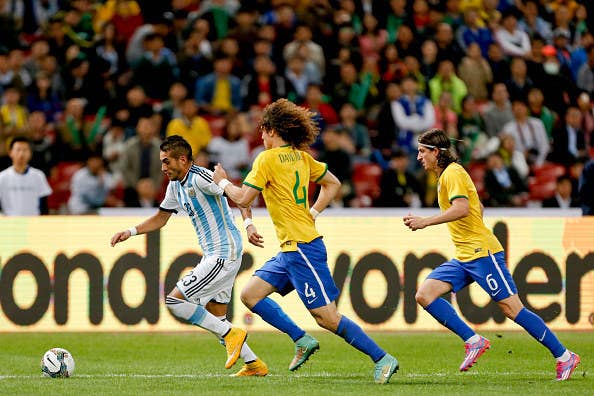 A major United States-based sportswear company used a Swiss bank account to pay $30 million to a Brazilian sports management executive – who then used a portion of it to bribe a "high-ranking FIFA official," according to a 166-page indictment, made public on Wednesday, outlining corruption and fraud charges against FIFA and corporate executives.
The sportswear company, which was unnamed in the indictment, began sponsorship discussions with the Brazilian Football Confederation after they won the 1994 World Cup in the U.S. (At the time, Brazil's team has an apparel partnership with Umbro.) Negotiations between the sportswear company and the team "lasted into 1996," according to the indictment, upon which a deal was reached "to be one of [Brazilian Football Confederation's] co-sponsors and to be [Brazilian Football Confederation's] exclusive footwear, apparel, accessories, and equipment supplier."
Nike has been the team's official sponsor of apparel, footwear, and more since 1996.
The indictment claims there was a 10-year, $160 million agreement reached between the sportswear company and the Brazilian team, but that "additional financial terms were not reflected in the Agreement."
A portion of the $160 million owed to the team was, according to the indictment, paid to Traffic Group, a Brazil-based sports event management company, for "mediating" the agreement.
The sportswear company also agreed to use a Swiss bank account to pay $40 million to an "affiliate" of Traffic, the indictment said. The affiliate received $30 million directly from the sportswear company between 1996 and 1999, the indictment said.
The founder and owner of Traffic, José Hawilla, who has pleaded guilty to charges, allegedly paid half of that money — "totaling in the millions of dollars" — to a high-ranking FIFA executive as "a bribe and kickback," according to the indictment.
The agreement that involved the three parties came to an early end in 2002, according to the indictment.
According to the DOJ press release:
On Dec. 12, 2014, the defendant José Hawilla, the owner and founder of the Traffic Group, the Brazilian sports marketing conglomerate, waived indictment and pleaded guilty to a four-count information charging him with racketeering conspiracy, wire fraud conspiracy, money laundering conspiracy and obstruction of justice. Hawilla also agreed to forfeit over $151 million, $25 million of which was paid at the time of his plea.

On May 14, 2015, the defendants Traffic Sports USA Inc. and Traffic Sports International Inc. pleaded guilty to wire fraud conspiracy.
Nike released a statement that did not mention the potential ties to Traffic Group, but said they have been "cooperating with the authorities":
Like fans everywhere we care passionately about the game and are concerned by the very serious allegations. Nike believes in ethical and fair play in both business and sport and strongly opposes any form of manipulation or bribery. We have been cooperating, and will continue to cooperate, with the authorities.