Aaron Hernandez Juror Released For Lying About How Many Patriots Games She's Attended
The trial was heavily delayed on the day the victim's family was set to take the stand.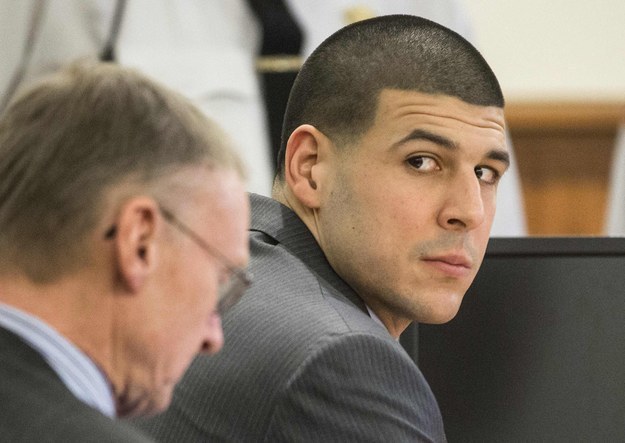 The Aaron Hernandez trial faced yet another snag today when it was revealed that one of the 12 jurors had misrepresented the number of Patriots games she's attended. She was dismissed from the jury, and one of the 6 alternates will take her place.
The trial was suspended on Monday due to a snowstorm in Boston, and the day prior, Hernandez's former team won the Super Bowl in dramatic fashion.
The juror in question, described as a middle-aged woman, reportedly "expressed interest previously" in serving on the jury for the Hernandez case. After hours of deliberation with attorneys from both sides, Judge E. Susan Garsh determined that the new information revealed about the juror would greatly compromise her ability to remain unbiased.
It appears the juror was familiar with details of the case, and that her discussions of evidence the court had ruled inadmissible strengthened Garsh's decision to dismiss. There are a few details of the current trial that the jurors won't hear, but Hernandez's upcoming trial for involvement in an unrelated double homicide is the most well-known story that has been deemed inadmissible.
The juror reportedly told others that she knew the weapon used to murder the victim in the current trial was never found, and that it would make it "hard to convict" Hernandez.
Odin Lloyd's girlfriend, who is also the sister of Herandez's fiancée, will resume her testimony when court reconvenes this afternoon. Lloyd's mother, Ursula Ward, was scheduled to take the stand as well.