Aaron Hernandez's Lawyers Want To Know If One Of His Jurors Called Him A "Thug"
The comment was left in a public post-trial survey that was filled out by a person claiming to have served on the jury in Aaron Hernandez's murder trial.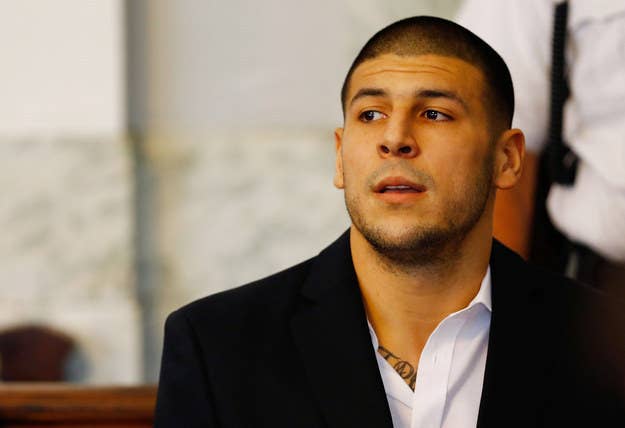 A person identifying themselves as a juror in the murder trial of former New England Patriots star Aaron Hernandez reported that fellow jurors improperly discussed the case among themselves, and that the court was treating them as being "too trustworthy," according to a motion filed Thursday.
"I hope you pick us again so we can do it to anither [sic] thug," the person wrote in a post-trial survey.
The alleged juror's answers to the survey were included in the court motion filed by Hernandez's attorneys, who are seeking a subpoena to identify the person through their IP address. The attorneys said the internet service provider has agreed to release the information if a subpoena is obtained.
Charles Rankin, an attorney for Hernandez, reached out to Jury Commissioner Pam Wood, who said the survey is publicly available on a Massachusetts government website.
Wood told BuzzFeed News that the form is essentially a customer service survey, like one that would be filled out in a restaurant or retail store, but that it is "primarily meant to be for people who completed jury service."
A person would "probably have to find the link independently," Wood said, but added that the website is listed on every jury summons.

The relevant questions from the survey are as follows:
19: Were you brought into a courtroom?
19a: Comments: "The witnesses on this case were very boring I'm glad we convicted him"

22: Has your opinion of jury service improved, diminished, or stayed the same as a result of your service: "Diminished"

23: Please provide any additional comments or feedback in regards to your experience serving as a juror: "I'm glad the trial is over. Even though we weren't supposed to talk about things with others, I find it humorous now that nobody knows we did talk amongst ourselves and you still believed we didn't. What you don't know doesn't hurt you after we convicted him (: too trustworthy you people are. I hope you pick us again so we can do it again to anither thug."
Hernandez was convicted of first-degree murder and sentenced to life without parole on April 15. The jury held a press conference immediately following the conviction, but has since stayed mostly private.
Hernandez is also the defendant in a double homicide trial in Boston slated to begin later this year.
On June 15, James Sultan, one of Hernandez's attorneys, filed a document in which he revealed he had received an anonymous phone call from a woman who claimed to have discussed the case with a juror.
The woman told Sultan "she recognized one of the jurors from TV" and remembered having a discussion about Hernandez's double homicide charges, which were inadmissible during the first trial.
In subsequent weeks, Hernandez's attorneys requested to interview the anonymous caller on the stand after a subpoena of Sultan's phone company revealed her identity. But the caller later changed her story and no longer wished to be involved. It was later revealed that the caller had exchanged "sexually explicit" prison letters with Hernandez.
Prosecutors have repeatedly requested more information before proceeding with the anonymous caller, and a hearing to determine the validity of the her claims will be closed to the public.
Prosecutors declined to comment on the alleged juror survey.
Though Hernandez was convicted more than five months ago, he has a vocal and loyal set of fans who continue to maintain he was wrongly convicted. A Facebook page called "Support For Aaron Hernandez" — where the group administrator post in all capital letters and distribute mugs bearing the convicted murderer's face — has only grown in popularity since the conclusion of the murder trial.
Regular posters on the Facebook page have often claimed the judge was biased against Hernandez, and many have commented on her attitude during the case. Members of the group often claim to exchange letters with Hernandez as well.