Aaron Hernandez Charged For Allegedly Shooting Friend In The Face
Prosecutors claim Hernandez shot his friend, Alexander Bradley, and left him for dead after Bradley made a comment about a 2012 double homicide that prosecutors said Hernandez committed.
Aaron Hernandez was charged with witness intimidation on Monday for allegedly shooting a witness to a 2012 double homicide that the former New England Patriot will stand trial for later this year.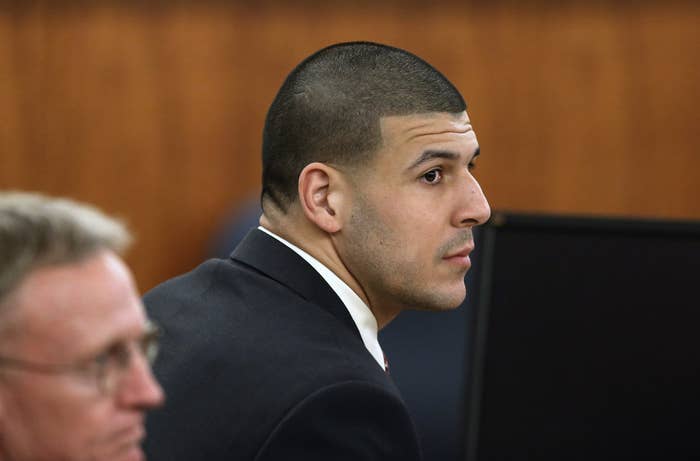 In 2013, Hernandez allegedly shot his close friend — and godfather of his daughter — Alexander Bradley in the face in Florida and left him for dead. Bradley survived, and prosecutors said Monday Hernandez shot him after he made a comment about the 2012 double homicide.
The Suffolk County district attorney said:
Though this shooting took place outside of Massachusetts, it may be prosecuted under Ch. 268, Sect. 13B, of the Massachusetts General Laws as willfully causing physical injury to a witness with the intent to impede a Suffolk County criminal investigation. The charge carries a maximum sentence of 10 years in state prison.
A hearing for the 2012 double homicide is scheduled for May 21, but an arraignment date has not been set for this new charge. In the double homicide case, prosecutors claim Hernandez shot and killed two men after leaving a nightclub. Another man was shot at, but survived, and will serve as a witness for their case.
Less than a month ago, Hernandez was convicted of first-degree murder for the 2013 murder of Odin Lloyd. He was sentenced to life in prison without parole. In that case, he was convicted on circumstantial evidence — the murder weapon was never found, nor was a motive established. In the 2012 homicide case, the weapon was recovered and the county has witnesses.
Bradley, who was once close friends with Hernandez, took the stand as a witness in the Lloyd trial. He was not allowed to disclose anything about the alleged 2013 shooting, but took the stand with a visible scar between his eyes. Hernandez's attorneys warned the judge that if he said the defendant shot him in the face, it'd be cause for an immediate mistrial. When asked if his friendship with the defendant ended in 2013, Bradley simply answered "yes."
For Hernandez, this latest charge is one of several criminal and civil cases in Massachusetts.
In the 2012 double homicide case, he faces the following charges:


-Two counts of murder
-Three counts of armed assault with intent to murder
-Assault and battery by means of dangerous weapon
-Unlawful possession of a firearm
He also faces various gun and ammo possession charges, along with charges of assaulting an inmate and threatening a corrections officer.
He is also the defendant in four civil suits in Massachusetts and Florida. The family of Odin Lloyd will press forward with their civil suit, and the two victims of the Boston double homicide have sued him as well. He is also a defendant in a civil suit in Florida for allegedly shooting Bradley.